Over the years, we've often heard about Julian Edelman's relationship with his dad, Frank, whom he credits for much of his success in sports. But all along the way, from Pop Warner right through his days as a Patriot, Julian has had another supporter on the sidelines: his mother, Angie, who's lovingly nicknamed Edelmom. In an exclusive interview, we caught up with Angie to find out more about her role in Julian's early days as an athlete, his competitive spirit and what football fans don't know about her son.
Julian has talked about how his dad was sometimes tough when it came to athletics, but he's also said that you struck a good balance as parents.
Well, you know what, his dad was tough and he loved Julian just as much. But, yeah, I was the referee. I was a stay-at-home mom. I was the room mother [at school] and I was the team mom for all the sports, for all the kids. I was just always there for them in that way. And, Jules' fun side is me. His serious side, his work ethic, is his dad and his little lighter side is more me. We had a lot of fun.
So you were also a big part of his career as a youth athlete?
Of course. Our whole family was. My husband was the president of Pop Warner football, he was the head coach of a team and I was the team mom for whichever team they were on – Julian, Jason and Nicole [his siblings]. I was always on a field or a court.
Julian's the middle child. Did his older brother ever give him a hard time?
Every day of their lives [laughs]. They still do. It's really funny. They've always been close but they're even closer now. After every single game that Julian plays, he first calls us and then he calls his brother, just to check in and say he's safe and OK. But yeah, they fought a lot. One time Jason took Julian to the school down the street and made him jump off the roof. Jules would do whatever Jason said, but he is tough as nails and he always has been. He was fine; he jumped into some bushes, but Jason had scared him.
He's always been a bit of a daredevil then?
Yes, and he always wanted to impress his older brother. If Jason could do it, Julian was going to do it better. Not that he did, though. Jason's much older; they're seven years apart, but Julian competed with everyone.
At this year's Super Bowl, you got to see him achieve success at the highest level of competition in professional football. What was that like for you?
Oh my goodness, I'm going to cry. The whole team, they're so amazing. What's it like? It's overwhelming. It's a dream. I'm just so happy for him.
Other than Super Bowl and his other big achievements in football, when you think of your son, what are you most proud of?
I really do think it's his work ethic, and not just in the NFL. When he was playing Pop Warner at eight years old, he rode his bike to the field with his football bag on his back, and he would get there and he would be waiting for the coach, no matter who the coach was, his father or somebody else. If he does something, he puts everything into it. He gives his all, no matter what it is.
We certainly see that on game day, because Julian really leaves it all on the field. Given how physically demanding football is, do you ever find it difficult to watch him play?
It was exciting when he first got on the team. People came over every week and then he started playing more and more and more. Now I don't want to entertain; I just want to watch the game. I want to make sure he gets up after every play, you know what I mean? It's terrifying to watch him get hit.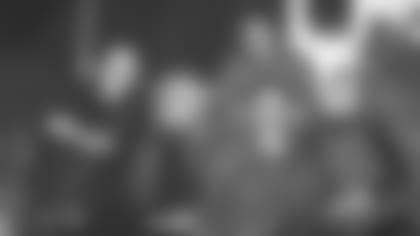 Since the Super Bowl, we've seen Julian at the Grammys and in magazines like Maxim. Does it ever surprise you to see that glamourous side of your son?
That does not surprise me one bit because Julian always loved to go shopping. [When he was younger], we didn't have that much money but every now and then I'd sneak Dad's credit card and we'd go to the mall. He loved looking good and he always started trends. That's just Julian. We're not Catholic, but he went to Catholic school and they wore uniforms. He got in trouble for wearing his socks too short, because they had to be a certain height. He started the trend with the short socks. It was pretty funny.
Does he ask for your opinion on fashion these days?
Oh, gosh no. He just always looks great. As far as I'm concerned, he can't look bad. I see all the pictures and I go, "Wow." He amazes me.
So he's always had great style?
He's always been like that. He used to tell his sister how to dress [laughs].
Other than his love of shopping, what's something people don't know about Julian?
He's a great cook. All my kids cook. I was a stay-at-home mom, so when they came home, there was always a snack or baked goods on the counter. I cooked every single night, even before sports and after sports. There was always a meal on the table. They watched and they learned and now all three cook.
What's his specialty?
Crepes. He can make them blindfolded and he makes them so good. He makes them for me every time he comes home.
Speaking of food, what's up with his burger obsession? Did your family eat burgers a lot when he was a kid?
No, that came later. He and his friends would go out to the burger places in San Francisco. They just would try all the burger places and he loved them.
It's Mother's Day. What are your family's traditions for the holiday? Any memorable gifts from your kids?
We'd just go to dinner or have a barbecue. We'd take a ride to the beach, Half Moon Bay, and take a hike with the kids and the dogs. Best gift? I don't know. I can't think of anything, honestly. Whatever the kids made or gave me was always great. … Jules did get me a nice purse for my birthday when he first got in the NFL. I love it but I would have never bought that for myself in a million years. My husband wanted him to take it back – it was too much money – but he [Julian] was just so proud to give that to me. He really meant it. He said, "You deserve it. You've done so much."
In honor of Mother's Day, here are 15 of our favorite photos of Patriot players with their moms.