When Deatrich Wise Jr. and Adam Butler celebrated a big defensive play against the Jets on Dec. 24, 2017, they made a lot of anime fans happy with their chosen celebration.
Instead of a high five or a dance, the then-rookies opted for a more memorable celebration, an homage to one of their favorite shows -- "Dragon Ball Z." Channeling the iconic Kamehameha energy attack, Deatrich and Adam put their hands together, as if holding a baseball, wound up and pushed it forward, opening their hands up.
"It was planned," Deatrich said. "We were talking about it one day, and then Adam was like, 'Our next sack, we got to hit the Dragon Ball Z.'"
With the move, the Patriots solidified their dedication to the genre, and that passion is something that helped them connect with fellow teammates early on.
From a young age, both Adam and Deatrich grew up watching anime, shows like "Dragon Ball Z," "Naruto," "One Piece" and more. So as rookies coming in to the Patriots locker room, their interest in anime sparked immediate conversations with at least one veteran -- Lawrence Guy.
Lawrence had a similar path to the genre.
"I've been a fan for years, and it's always been out on Cartoon Network for a long time. After 8 p.m. is when all the good shows used to come on," Lawrence said. "I've been following along ever since and having a blast with it and the new material they've released."
The dog days of training camp are some of the season's longest. From the heat to the intensity in each practice, it is a grind, but it is also a chance for the guys to get to know one other.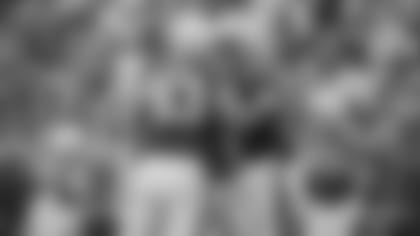 "It was pretty that somebody had the same interest as me, and I could build a connection that because having that connection and that chemistry with your teammates is very important," Adam said.
Their common interest started when Adam wore something from "Naruto," and from there on, it became a way for the guys to connect beyond football. Though the core group is Lawrence, Deatrich and Adam, some of their former teammates got in on the conversations as well, including Alan Branch, Geneo Grissom and Eric Lee.
"It just went back and forth, and it was a way to pass the time because we're there every day with each other. It's another way to have fun in the locker room and separate it," Lawrence said. "All we're doing is learning about football. It's just a new outreach of, 'Hey, let's talk about a 'Dragon Ball Z' character' or see how far behind we were on certain shows. It was a blast talking about and hearing. We still send each other memes on Instagram, Twitter or a group chat about different things happening and it grew from there."
Through these shows and movies, the Patriots keep their childhoods alive, Adam said. Around Halloween, Adam and a few of his teammates went to a haunted house with Patriots.com, and to summon strength to get through, he rocked a costume from one of his favorite shows, "Naruto."
"I'm a little nervous, but I dressed up in my ninja outfit to give me some confidence," Adam told the cameras beforehand.
Adam said watching the shows and movies he grew up on keeps him in tune with his inner child.
"I guess it's that I get to feel like I did when I was a kid. I had a great childhood growing up, and those things were part of my childhood," he said. "Now that I'm an adult, I don't feel that I should have to shy away from that stuff just because other people say that I should or shouldn't."
Lawrence echoed that, saying it might surprise some Patriots fans to know they can relate to players on more than just Sundays.
"Everybody thinks because you 're athletes and you do this and you beat up on people on the field that you can't like the nerdy things in life, like anime, cartoons, conventions," Lawrence said. "It humbles people to realize that we're into the same things that they are into and talk about it."