Over the years, cartoonist Phil Bissell has told the story of how he created the Pat Patriot logo countless times. It goes something like this: it was 1960 and he was working at the Boston Globe when the name of the city's new American Football League team was revealed as the Patriots. In just 45 minutes, Phil illustrated the news with a rugged revolutionary who looked ready to play ball. He called him Pat. The following day, the cartoon appeared in the paper and team owner Billy Sullivan decided to adopt Pat as the team's mascot.
Ever since, even as logos, uniforms and locations have changed, Pat has remained a much-loved emblem of the Patriots.
"Just mention his longevity, don't mention mine," insisted Bissell, 88, with a laugh, as he recalled the story.
"It seems like it was just yesterday and you know it wasn't yesterday," he added. "But the thing is, old Pat did start way back then in 1960 and he's still around."
Now both Pat's and Phil's legacies have been immortalized in a new anthology highlighting the cartoonist's long and distinguished career. The book is entitled "PatsPa!," a play on the phrase 'Pat's Pa,' which has long been a nickname for Phil. He released it in November after a decade of development and some prodding from friends to take on such a project.
The catalyst, Phil explained, was the death of his wife, Bevvie, to whom the book is dedicated. When she passed away, friend Ed Carpenter suggested it was the perfect time for Phil to put all his stories down on paper, believing the book would be therapeutic.
"He was right on the money," Phil said. "It was great therapy. It gave me a chance to relive some wonderful moments that I had over the years with my wife of 55 years."
He continued, "Because I was a cartoonist – pardon the expression – I didn't work for a living. Every job was a joy and therefore I had a lot of free time [while] doing my work. Because of that my wife was able to go with me."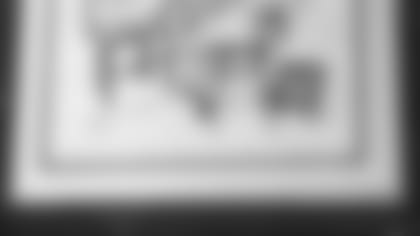 The book features more than 100 drawings and dozens of anecdotes, including the encounter Phil had with Vice President Gerald Ford at a Worcester, Mass.-area golf course and the illustrations that followed.
Then there was the last-minute drawing he did for the Worcester Evening Gazette after football legend Vince Lombardi died.
"It went all over the country and was picked up by all these other newspapers," Phil recalled. "Eventually that ended up in the [Pro Football] Hall of Fame in Canton, Ohio, and a copy of it is in the museum of the Green Bay Packers. I got a wonderful letter from the Packers. They said, 'You must have felt the same way about Vince as we did because you certainly captured it in his face.' Those things, hey, money can't buy."
Phil has had many money-can't-buy experiences over the course of his career, from seeing his Pat cartoon on the back of cars everywhere he goes, to rubbing shoulders with Patriots legends like Babe Parilli and Gino Cappelletti, the latter of whom wrote one of two forewords to "PatsPa!" (the other is a note from original team owner Billy Sullivan, written before he died in 1998).
Stories like these and the illustrations that go with them fill the 222 pages of the book, although there are many more that didn't make the cut, as Phil estimates he's drawn 60,000 people over the course of his career.
"I lived at the best time to be a sports cartoonist," he said. "We had five in Boston at that time. Can you imagine? Five."
Though the golden age of newspaper cartoons may be in the past, Phil's career has endured to the present day, and he continues to illustrate from his home in Rockport, Mass. Sixty five years on, the work resonates with him as strongly as ever.
"Humor and laughter can hold mankind together and if you can share it with your fellow man, I feel it's a successful day's work," he said, quoting something he wrote years ago. "That's all there is to it. That's what it's all about."