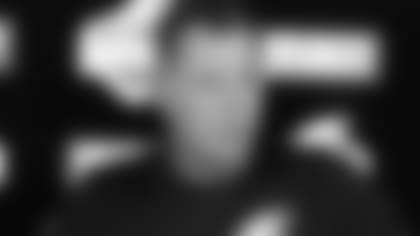 Q: Are you going to be looking at this as something that you wouldn't normally practice, or are there different things you look for? **
PS: No, you know, this is a training session ‑‑ this is very valuable. We went back and looked at all the training we did last year against the Patriots and we got a lot out of it. At this time in training camp to be able to work our scheme, and we're really not game planning, but work our scheme against a different opponent, it's very valuable for us. And so we're going to grade it like we would, we'll evaluate it like we would if we were playing against ourselves.
Q: I know you've only had one padded practice since the game but how would you say WR Jordan Matthews snapped back from his preseason debut?
PS: We'd like to think it was just a first‑game deal. He's trained well all the way through the spring and certainly through training camp so we are going to anticipate he'll be back out there running routes and catching balls. He's fine.
Q: Do you this he felt like that was an awakening with so much attention throughout camp that he's received ‑‑
PS: I don't think so. I think it was one of those deals where he had some drops and he's just got to get over it and play through it. I don't think it's anything too revolutionary.
Q: You've got a local guy TE Emil Igwenagu. Can you say what he's brought to the team?
PS: Emil has been with us for two years now and done an outstanding job. He's a very steady guy. He does everything we ask, he's a terrific teammate. When he gets out there, he's had a chance to make some plays for us. I would say he's probably a better run blocker than he is a route runner but when we throw him the ball, he catches it. He's been really good for us.
Q: How much do you expect WR Riley Cooper to do today?
PS: We'll just have to see. He's working his way back. He did some individual stuff the last couple of days, so we'll just have to see.
Q: QB Nick Foles has talked a lot this summer about reducing the sacks, getting rid of the ball quicker. How much of what we saw, maybe the mistakes he made in Chicago the other night are a product of that and just working through that process?
PS: Well, I'm going to talk about the two interceptions. Certainly the first one was on a third‑and‑long and he tried to force it in there and make a play, which typically he won't do. So he's just trying to see what he can get away with, and then the keeper on the second down, as we were getting into the red area, that's just the throw. They did a good job of covering it. He's done it in the past. He's just got to pull it down and get what he can with it and then we play third down. That had nothing to do with what he's been working on. Nick's training well. Nick's doing some good things. Fortunately, if you make some mistakes in the preseason, it doesn't hurt you, and he certainly learns from every rep he gets.
Q: Was there a route issue on that second interception?
PS: No, no route issue. Just when things are covered, the quarterback knows, especially when you're out of the pocket, you've got to do something with your legs. We're in a situation where we needed to force it and that's part of the mindset that I know he's discussed with you already.
Q: With C Julian Vandervelde out, what does C David Molk bring to the center position?
PS: Dave is really taking advantage of those extra reps. I've seen steady improvement from him as a center. It kind of starts with him. He gets everything going for us and he's done a good job. Actually, he's been playing well.
Q: WR Ifeanyi Momah has gotten extra reps due to the injuries at that position. How much progress has he made?
PS: He's made a lot of progress. I said it early on and I'll stick by it. I think he's one of the guys, especially in the receiving core that's made the most improvements since he kind of came on the scene last year. So he's steadily improving. He's more and more comfortable with what we're trying to do offensively and he's found a way to make some plays.
Q: In what ways can Foles benefit from being around Patriots QB Tom Brady?
PS: I think any time you watch one of the great players in the league playing, especially one at your position, you can see ‑‑ nothing specific, but how he functions, how he operates. Tom has obviously got a great level of professionalism and I'm sure Nick can learn from that.
Q: You moved OL Matt Tobin to guard this offseason. What have you seen from his development and why did you guys do that? Can he swing and be able to handle the tackle role?
PS: We feel like he's multiple. He can play guard and tackle. [OL] Andrew Gardner came in and was primarily a tackle-position-type guy, although he can play guard, as well. We just felt like that was a good combination. Through the training sessions, Tobin gets some reps at tackle and so we just felt like it was part of his development. Unfortunately if you're the sixth or seventh lineman, you have to be multiple and you've got to be able to play guard and tackle. You know, hopefully he'll be in that role for us.
Q: As the offensive coordinator, what's it like going up against a defense with CB Darrelle Revis and CB Brandon Browner at cornerback?
PS: It's going to be a challenge. That's what's going to be fun for our guys. We get a chance to play against good corners every day in practice, and these are two very, very good corners that we feel like we can kind of gauge where our guys are, especially on the outside.
Q: Do you feel like you get a better evaluation of your guys in camp when they are going against different teams?
PS: I think we have to look at it like this is a training session and we just happen to play against guys in silver helmets. I think that's the way it's got to be. We are not game planning. We are not doing the things you normally do during the season. We need to go out there, call plays and run routes and if it's time to block, block. I think we just look at it that way.
Q: When you guys go against each other for five, six, seven, eight, nine days, you know each other's tendencies. When you go against another team, does that give you a better evaluation of your guys?
PS: It gives us another evaluation or added evaluation. I wouldn't say anything too revolutionary. I don't want to downplay this. I think this is going to be fun for everybody. I think when we look at it, we are out here practicing against the Patriots and I'm assuming that's the approach they will take.
Q: What did you see on the film from the first team offensive line against the Bears?
PS: I thought we did some good things. Unfortunately, what we didn't do well is we got penalties and any time you have penalties, you can see what happens to an offensive drive ‑‑ or really the ones ‑‑ we had penalties and we got knocked back, you couldn't get in a rhythm. You see when we play our best ball, we get a couple good plays and then we get on a roll. We had a couple good plays that were brought back because of penalties and so then it kind of knocks you out of sync a little bit. Those are things that we can learn from.
Q: Is T Lane Johnson going to stay with the twos throughout camp or do you want to see him back with the ones at some point?
PS: He's working in there. The ones, twos, threes thing for us doesn't really matter right now. There's times when he goes against the ones, and so he's getting the training he needs. But certainly because he's going to miss a month, we've got to get [G/T] Allen [Barbre] ready to play, and I think it's important. We all know how important it is for those five guys to work together as much as possible. That's why we're doing it.
Q: What is the difference when o-linemen talk about learning to play right side as opposed to left side, even if it's the same position. What is the obstacle or challenge? What do they need to do?
PS: Well, when you play on the right, as opposed to the left, you're in a different stance, and if you've done one thing for so long, it's like a left‑hander trying to learn how to be a right‑hander. I'm probably overstating that to some degree. The communication is different. And when you're going to the left, when you're on the right side, you're cutting off and when you're going to the right, you're reaching. Not to mention the little nuances of the pass protection.
Q: We spoke before about TE Zach Ertz's improvement in blocking ‑‑ how has he improved as a ball catcher?
PS: He's consistently caught the ball better through the training sessions and then he displayed an ability to make a play the other night. We hit him on some passes down the field where he caught the ball and ran with it. Like I mentioned earlier in the month here, I think he's developing his total game.
Q: Barbre was so comfortable last when he had to go in and now he said he's kind of doing the whole right side thing, so do you see a learning curve for him there?
PS: You'd have to ask him. I see him doing a good job on the right.
Q: You mentioned your backup offensive linemen being able to play both inside and outside. Do you feel confident in T Andrew Gardner's ability to play inside as far as competing for a roster spot?
PS: Sure. I think he's done a good job. Yeah, we'll see how it all shakes out. But I think that crew, that's lining up with the twos has done a very good job. There's going to be some tough decisions for us I would imagine, and that's what they should do. Every player should try to make it tough on us to decide who we keep.
Q: Foles has not had a whole lot of time with his full group of receivers. Any concern there and does that have anything to do with the fact that he has not been maybe as efficient?
PS: I think when you've talking about his lack of efficiency, you're talking about two bad decisions. I think he's done well in camp. Certainly, you'd like to be able to play as many reps as you can with all the guys you're going to be playing with. Unfortunately, this time of year, there's a lot of skill players that deal with some soft tissue issues and missing practice. So there's a lot of time left. We've got a lot of time and there was a lot of great reps throughout the spring and so I think you just go back on that.
Q: Is RB Chris Polk ready to practice?
PS: He is getting there. We'll have to see how much he can do.
Q: Did RB Matthew Tucker show you anything the other night that you didn't know about?
PS: Yeah, you know what, he's a tough guy. He had some good, hard runs. Unfortunately, he had the one fumble where he fell down. That's one of those that running backs go through. It was blocked extremely well, and he's in a big hole and he just tripped and as he went down, the ball came out. So yeah, we're learning a lot about Matt. He's much improved from a year ago and unfortunately had the one booboo there. But I think he's playing more consistent than he did a year ago.
Q: People have made a big deal about Ertz and the progress he's made, not just in Philly but nationally. Can you talk about TE Brent Celek and how has he responded and how do you see the two meshing together?
PS: I look at that tight end group as a unit. They are all a little bit different in what they bring to the table. Celek is kind of the veteran guy that does everything really well. I see him playing better than he did last training camp. I think even though he's a very veteran guy, I think he's doing better. I think he's just more steady, more consistent blocking, very steady as a receiver and he can run with the ball, as well.
Q: What does it say about Celek that he's at that level?
PS: Well, I think he's been a good player for a very long time and I think he's really embraced what we're doing off the field as far as getting his body right and his training, his rest and recovery. He's kind of following it to a tee, and I think that's really helping him.
Q: It seemed WR Arrelious Benn's snaps were somewhat limited compared to others in the game; why was that?
PS: Nothing in particular. We just had a substitution pattern and he maybe didn't get as many as some of the other guys but he was in there playing. He had a couple opportunities so there's nothing to that.
Q: How is he coming along?
PS: He's doing a good job. He's doing a really good job. He's a big, physical guy, plays well on special teams. As you know, that's kind of where it starts and I think he's really developed as a receiver for us. He's made more plays in the training sessions than he did a year ago, and you know, he's doing well.
Q: How would you say Momah is on special teams?
PS: Yeah, he's doing fine. He's doing fine. He's good.
Q: He's such a tall, lengthy body; is there an area where he can carve a niche?
PS: He's practicing on special teams. He's doing fine.
Q: Your second group of backup receivers are so young and inexperienced, does Benn give you something that the other guys don't really give you because he's been around and been in the league? You don't have a lot of that at that position?
PS: No, we don't. We're young at a lot of spots there. Yeah, he's doing a good job behind the scenes as I mentioned with a couple other guys, a really good teammate. He studies hard. He does everything he can to improve. And I think he's steadily getting better. So I think our players look at that, and they see a guy that's going through it over and over and over, and I think they learn from it.
Q: QB Matt Barkley's numbers weren't good, but there were some drops and the interception. Was that a miscommunication issue and were you happy with what you saw from him?
PS: Yeah, I think he's improved. I think he's much better than he was in the spring, and that specific throw, he probably liked to have that one back, the concept we were probably looking to go somewhere else, so it was a decision‑making deal. So there wasn't any miscommunication there.
Q: When QB G.J. Kinne came in, it seemed like he was very jumpy in the pocket and trying to make plays from the start. Are you trying to work with him ‑‑ there was a lot of time left on the clock ‑‑ did it feel like he was --
PS: G.J. is a very competitive guy, and out of all our quarterbacks, he can probably do the most with his feet. And so he trusts that. And so when he sometimes sees things that are not quite as clear as he wants them to, he'll take them and run. That's kind of his game. So certainly we want him to be able to execute from the pocket, do it on a consistent basis and if it's not there, pull it down and run. And we're not dissatisfied with his progress, and I think he'll do better as he goes along.
Q: When you had WR Danny Amendola on the practice squad in St. Louis, what distinguished him? How did he set himself apart and what did you see in him?
PS: Well, my first real time with Danny is when I was in St. Louis. I was the offensive coordinator and [QB] Sam Bradford was new in the league. I think he became the offensive rookie of the year, and he threw Danny about 90 balls that year. He was smart enough to realize that he was an outstanding player, awesome on special teams for us, and I think the Patriots are very lucky to have him. Tough guy, there are not many neck negatives to Danny, so I'll look forward to seeing him when we get out there today.