Patrick Chung is many things: a dad, a Patriot, a cook, a philanthropist and now, a cover star.
Patrick and his signature smile grace the September cover of "The Improper Bostonian." Every September, "The Improper Bostonian" celebrates the boys of fall with a Patriots dedicated issue, and this year, the monthly magazine takes a look at Patrick's unique tenure with the Patriots.
The article, which also appears on its website, hits on his first stint with the Patriots, his time in Philadelphia and his eventual return in 2014. That time has continued to shape how he approaches every day.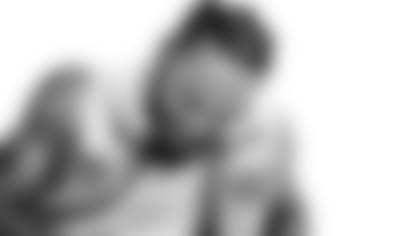 "I was just sort of hanging out and working out in Arizona. I got the call and I was like, 'I got a chance. They brought me back for a reason.' But still my mindset was that I had to pretty much start over," Patrick told the magazine. "I never really thought of myself as a lock. I was pretty much coming out here to see what I could do, just play ball. I kept working and kept being consistent—not getting complacent like my first time here."
Since then, Pat has blossomed into one of the vibrant personalities in the Patriots locker room, and his friendly nature is captured in "Second-Down Success." This includes his off-the-field hobbies, how he aims to treat all people with respect and his close friendship with Nate Ebner.
"He's the type of person I know that if I called him and I needed him, I can count on him," Nate said. "I can't say that about a ton of people, but I can confidently say that about Pat."
It a fun must-read for every Patriots fan. Be sure to check out the article here or on newsstands.