Patriot Place is abuzz as December winds down. Last-minute shopping means busy stores and frantic shoppers, but Bass Pro Shop had a different feeling on Dec. 18.
Patriots players, alumni and cheerleaders spent the evening shopping with 50 kids from local homeless shelters at the annual Gifts from the Gridiron event. Hosted by the Patriots Walter Payton Man of the Year nominee Devin McCourty and the Patriots Foundation, each kid is paired with a personal shopper, given a $400 gift card and a list of items they must buy, like a jacket, gloves and a gift for someone else.
Armed with calculators and shopping lists, Patriots players grabbed shopping carts and got to work, including Devin, Jason McCourty, Matthew Slater, David Andrews, Patrick Chung, Duron Harmon, Dont'a Hightower, James White, Rex Burkhead, Kyle Van Noy, Joe Cardona, Ryan Allen, Nate Ebner, Brian Hoyer, Lawrence Guy, Jacob Hollister, Adam Butler, Isaiah Wynn, Ja'Whaun Bentley, Braxton Barrios, Danny Etling and more.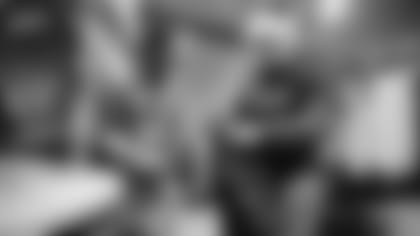 "I think the cool thing about being on this team is winning football games, but I think the more important thing is all the men in this locker room care a lot about this community," Devin said. "They care a lot about others outside of themselves, whether it be their families, supporting and taking care of them, but also taking free time and coming to do this this evening. I think it's a great thing that shows where their hearts are."
"Not too long ago, I was in the same position you guys are in right now. My family, we suffered from hard times. We suffered from homelessness, but right now, you can see where I'm standing today," he said. "Right now, my message to you is to keep going. Keep going."
Ja'Whaun encouraged the group to surround themselves with good, positive people, to ask the Patriots questions and reminded them that they are enough.
"Your best is good enough. Like I said, anything you want to be is at your fingertips, but your best is good enough," Ja'Whaun said. "Be the best version of yourself. You don't have to be anybody else except yourself. Wake up in the morning and say I'm going to be my best today."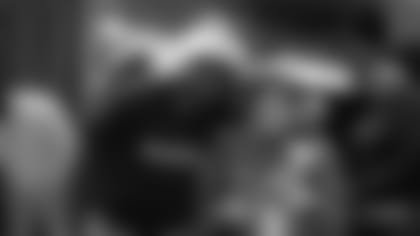 And on this day, doing their best was shopping for themselves and their loved ones. Ryan Allen and his shopping partner, Tabitha, picked out special gifts for her big family. Tabitha said Ryan was a helpful shopping partner and gift wrapper.
"I tried to the best I can, but most of the thoughtful process was Tabitha here," Ryan said. "She's putting her family first, which is a big deal."
After getting everything on their lists, the Patriots and their new friends got pictures with Santa, wrapped a few gifts and signed autographs to end the night.
Though Jason McCourty said he did a similar event in Nashville, it was his first time at Gifts from the Gridiron with his brother hosting.
"It's always fun to be out with the kids, taking them shopping," he said. "Really I think the special thing is hearing them say who they want to buy gifts for and what they want to give. I had fun today going shopping with Anthony."
You can check out more photos from Gifts from the Gridiron in the gallery below.
New England Patriots Foundation, in partnership with Bass Pro Shops, hosted "Gifts from the Gridiron," a holiday shopping spree at Bass Pro Shops at Patriot Place for 50 children from local homeless shelter programs on Tuesday, Dec. 18, 2018. The children were matched with a current Patriots players or alumni - their personal shopper - and received a $400 gift card to use for winter clothing and other gifts.