Conversations, magic tricks, jokes and laughter often prove the best medicine when tackling tough times. When paired with some of the city's more familiar faces, they can provide some lasting memories. Patriots fans have supported the team through it all, and on Tuesday four players returned that encouragement to patients in need of it at Boston Children's Hospital and Spaulding Rehabilitation Center.
With a bright smile and a football in hand, offensive tackle Eric Smith marched from room to room in a way that commanded attention. The practice squad Patriot left a lasting impression on the patients he visited on Boston Children's Hospital's oncology floor. As one long-term patient showed off her Mario Kart skills and raced defensive end Derek Rivers, Eric tried his best to distract Izzy by singing "Radioactive" by Imagine Dragons. Though she began singing with him, her focus never faltered.
While Eric brought the laughs and singing, Derek led the conversations. Chatting with each person he visited, he quickly found something that he could relate with them on. In one patient's case, he bonded over the patients' interest in physical therapy. As the son of a physical therapist, Derek shared his mother's experiences with Imaan who plans to attend school for physical therapy.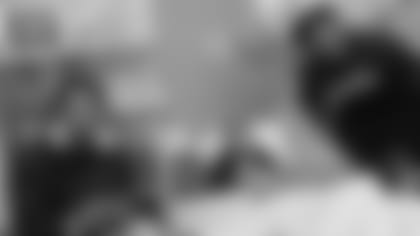 "We love it and I'm glad this is something we're able to be a part of," Derek said. "Daniel, his magic tricks were on point. Playing Mario Kart with Izzy, that's something my wife and me do. Lucas and everybody and Imaan. He's going to be a physical therapist. So the same folks that are helping him, he'll be able to help some other folks as well."
As one Patriot visited a future physical therapist, two observed current ones in action across the Charles River at Spaulding. With words of encouragement and a few gifts in hand, defensive end Deatrich Wise and long snapper Joe Cardona visited patients and staff at the rehabilitation hospital.
Making their way through the spinal injury unit, the two chatted with a number of die-hard fans. Listening to their stories and the progress they've made throughout their stay at the hospital, Deatrich and Joe felt the impact of how quickly life could change. In one patient's case, the football was the tie that binds them all together.
For Connor Walker, one wrong hit led to a spinal injury. Now looking to the future, Connor has brought bounds of energy to his recovery and has made huge progress. A surprise visit from the team he has supported his entire life left him speechless.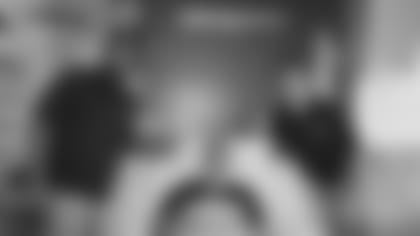 "To have their support and to have them come down here, show their love and wish me well, it makes things so much easier," Connor said. "Things like this is how I get through, and this injury is nothing good and no one ever wants it. But when people like them, especially considering they do what I do and to have them come down and show their support, it makes it a much better experience."
Connor's optimism blew Joe and Deatrich away and they couldn't help but smile as they chatted with his family and friends who visited him in the hospital.
"For him to keep moving and keep taking steps forward, I mean he says with the support of his family and the staff here at Spaulding, he's going to walk out the door and that's so incredible to hear," Joe said.
Meeting with all of the patients in the spinal cord injury unit left an impression on the two and they hope that their visit left one on the patients as well.
"It was an honor to come in here and to see the smiles on their faces, to uplift them and we brought that, not only to them, but their families," Deatrich said. "I hope that this day will be something that they remember for the rest of their lives."