'Tis the season of giving and now is the time to start getting into the holiday spirit. Fourteen Patriots helped ring in the holiday season with a night of caroling, stories and dinner.
Whether or not you're ready for snow, winter weather is just around the corner, and the children visiting Gillette Stadium on Tuesday night for the 25th annual Children's Holiday Party channeled their own winter wonderland and built their best snowmen.
Outfitted with rolls of toilet paper, orange felt noses and black felt buttons, kids from the Salvation Army and other local group homes fashioned some of their favorite Patriots into some first-rate Frosty the Snowmen.
"It's amazing," Lawrence Guy said. "If you've never experienced being wrapped up as a snowman, you've got to do it."
Several Lawrence's teammates transformed into snowmen and played games with the visitors. Devin and Jason McCourty, Duron Harmon, Calvin Munson, Eric Smith, Keion Crossen, Eric Rowe, Trent Harris, Stephen Anderson, Brandon King, Trey Flowers, John Simon, Braxton Berrios and Danny Etling helped make the 25th Annual Children's Holiday Party a night these kids will remember.
Many of the children face tough circumstances and the night helped them gear up for the holidays. Nights like these give them something to look forward to the moment they hear of it.
"This is something that we're honored to be in a position to do," owner Robert Kraft said. "I'm really proud of so many of our players that do so much and they really enjoy doing it and understand that their celebrity is a chance to do simple things to make people feel very good."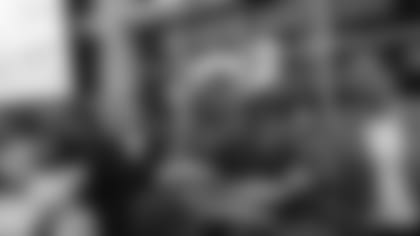 They also decorated their finest Christmas trees. In the "Build A Tree" segment of the night, the visitors wound green streamers, gold and silver tinsel, hung ornaments and feathers to the guys to turn them into some well-dressed trees. The kids took the opportunity to make Devin and Jason one big tree and tied them together. They were so tightly tied that they had shuffle their way to the center of the room where the crowd could marvel at the decorators' work.
"It's cool. I think this is like my seventh time doing it or something like that," Devin said. "To me, it's a good time on our off-day just come and have fun and we get to be kids again attending this event too."
Jason echoed that sentiment and fortunately got some good notes from his teammates about what to expect.
"It's been fun," he said. " I've heard from other guys how awesome of a night it is. For me, anytime you get to be around kids and to be able to be a kid again, it's always a lot of fun."
With a story from Santa and Mrs. Claus to wrap up the festivities, the Patriots' guest ended the night by receiving teddy bears and other gifts to bring on the holiday season.
Check out the gallery below to see all of the shenanigans your Patriots created at Tuesday night's party.
The New England Patriots Foundation hosted its 25th annual Children's Holiday Party on Tuesday, Dec. 4, at Gillette Stadium. Approximately 250 children in need from the Salvation Army and community centers throughout New England were in attendance for a night of food, holiday-themed games, presents and a visit from Santa Claus. The children also met and interacted with several Patriots players.