With unadorned walls and simple desks, the classroom at Dominican orphanage Fundacion Un Mundo Mejor para la Ninez Desamparada was a far cry from the Boston-area middle school where Patriots Cheerleader Lauren spends her days.
"Anytime I have an experience with underprivileged children, I think to myself, 'Wow, I'm so lucky to teach where I teach,'" she said. "It makes me reflect on what else is out there and how we can potentially help."
Last week, in the middle of their annual swimsuit calendar trip, the second-year cheerleader and her teammates left their luxury beachside accommodation at Punta Cana's Paradisus Palma Real Resort to spend a morning out in the community. Accompanied by resort staff, they traveled an hour to the orphanage, which is located in the impoverished city of Higuey and currently houses 25 boys from ages two to 18.
When they arrived, the women were greeted by timid "holas" but, handing out basic bagged lunches one by one, they managed to break the ice. Within minutes, the silence was replaced by a symphony of chatter and laughter and woosh-ing pom-poms being shaken in the air.
"I was so impressed with how excited the boys were to see us when we got there," Lauren said. "Their eyes lit up. To be able to walk in the room as a Patriots Cheerleader and make their day just by being there, that was really special for me."
Likewise, fellow veteran cheerleader Lasondra found the first impression to be a powerful one.
"The best moment was giving out the food when we arrived," she explained. "The little boy that I connected with, he just grabbed it and immediately asked me to open his cereal box. It was a mini cereal but he had such appreciation for it. A little box of cereal – that's something we taken for granted."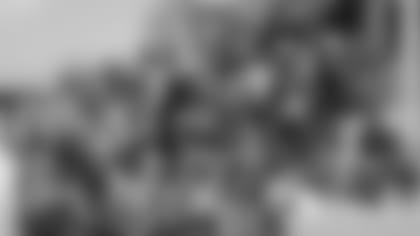 The food was donated by Paradisus, which has had a relationship with the orphanage for four years, ever since Sustainable Development Manager Jannin Soto first learned of the organization and its needs. Now, whenever individual guests or groups like the cheerleaders ask about community service opportunities, she recommends making the journey to Higuey.
For the cheerleaders, the excursion was brief but meaningful, as they danced, played and chatted with the boys, managing to overcome the language barrier through facial expressions and gestures.
"Although it was quick, we really got to interact with them," Lauren remarked. "Just looking into that little boy's eyes, it was like he was saying, 'Please don't go.' He was clinging on to me. Despite the language barrier, we had an immediate connection."
Such experiences are hugely valuable, according to Andrea German, vice president of the foundation that runs the home.
"Look how happy they are," she said, motioning to the boys as they said goodbye to the cheerleaders with big hugs and enthusiastic waves.
"They like to have visitors. It makes them feel that they're people and they're part of society. Visitors like [the Patriots Cheerleaders] show them affection and love, and that's very important."
"I've never seen them so happy, honestly," added Jannin, who often comes to the orphanage with resort guests. "Even though I've brought food and other things with me in the past, they've never been as happy as I've seen them today."
Day 5 of the Patriots Cheerleaders Swimsuit Calendar trip was a special one.  The cheerleaders began the day with a trip to an orphanage in Higuey, Dominican Republic where they met some great new friends.  In between photo shoots and video shoots, they spent down time on the beach and even hosted a Newlywed Game Show in the Paradisus Palma Real lobby lounge.  Photo Credit: Laszlo Tarko