When the Patriots first started handing out "Thanksgiving in a basket" 25 years ago, Eric Smith was negative two years old.
"I wasn't even a memory. I wasn't even thought of at that point," he said.
Yet on Tuesday night, Eric and his Patriots teammates were out in full force at Morgan Memorial Goodwill in Boston taking part in one of the strongest Patriots traditions.
The event is meant to provide everything a family would need for a hearty Thanksgiving meal. Robert Kraft started this tradition 25 years ago, but the enthusiasm and impact around it has never wavered.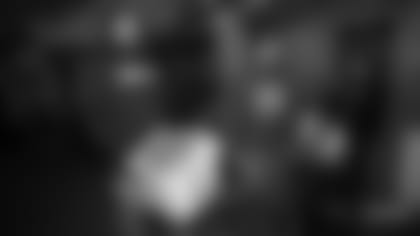 "I thought how lucky we were to be able to be in the position of doing this for 25 years," Mr. Kraft said. "There are still communities in need, and it's important that all of us understand that we have to share our good fortune."
More than 200 families lined up to receive their baskets filled with the fixings for a Thanksgiving dinner. Dozens of Patriots players, alumni and their families carried the baskets to their cars, and with the basket filled to the brim, it wasn't an easy feat.
"They are heavy," Stephen Gostkowski said with a laugh. "I'm not the strongest guy on the team, so I might need a sub here in a little bit."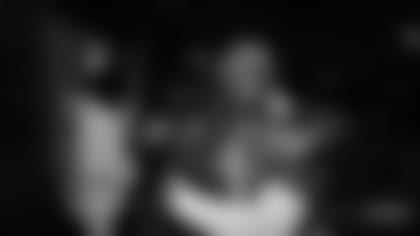 Stephen and Eric were joined by David Andrews, Kyle Van Noy, Ted Karras, Derek Rivers, Isaiah Wynn, LaAdrian Waddle, Keion Crossen, Frank Herron, Brian Schwenke, Keionta Davis, Ja'Whaun Bentley and more.
"We love the holidays. It's all about giving back. We're happy to be able to step in and do something for somebody else and help make their holiday better," Marissa said.
"Family is very important, and we just want them to know we're here to help out," Kyle continued. "It's a precious time, and we know we're able to give our time to help out. That's all we want to do is help out."
In addition to the basket of goods, Mr. Kraft and the Patriots Foundation donated $25,000 to Morgan Memorial Goodwill. You can check out more photos in the gallery below.
For the 25th consecutive year, the Patriots teamed up with Stop & Shop and Morgan Memorial Goodwill Industries to provide 220 complete Thanksgiving meals to families in need at the Goodwill headquarters in Boston on Tuesday, Nov. 20, 2018. Robert Kraft was joined by several Patriots players, including David Andrews, Kyle Van Noy and Stephen Gostkowski, to help distribute the baskets during the charitable event.