When Patriots players walk into a room, they capture the attention of young fans, but that's nothing compares to when their favorite Disney characters show up to a party.
For a group of kids at Gillette Stadium on Monday, it was a perfect storm with Patriots players dressing up as Disney characters for the annual Halloween party hosted for pediatric cancer patients. David Andrews dressed up as Winnie the Pooh, and Devin McCourty suited up as Tigger. Jason McCourty rocked an inflatable Genie costume. Danny Shelton was The Beast, while Derek Rivers dressed as Sully from "Monsters Inc." Geneo Grissom learned what it means to be a snowman as Olaf from "Frozen," and Eric Smith was Buzz Lightyear from "Toy Story."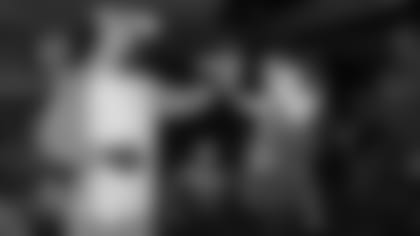 "The one and only," Eric said. "Not the one from Al's Toy Barn."
The kids showed up to Gillette Stadium in costumes of their own, including a taco, Cinderella, Rapunzel and a tiger. They decorated cookies and pumpkins, colored and posed for pictures with the guys. Once everyone got a picture taken, the Disney stars got to work helping their friends get in the Halloween spirit.
This wasn't Danny's first rodeo as a Disney character for Halloween.
"I wish I brought my costume from last year. I was Maui from "Moana," but I think the Beast will be cool," he said.
Whether he was Maui or The Beast, Danny knew the kids were going to enjoy every second of seeing their favorite Patriots players dressed up. That significance wasn't lost on him or his teammates.
"I think it's really unique for us especially," Danny said. "I know a lot of guys see this as a special moment, not only for the kids but for them as well. For me, I just see it as a time to have fun with the kids and let the kids be kids."
It helped that the Patriots didn't hesitate to get into character. Quoting their memorable lines from their respective characters only added to the fun.
"We enjoy it a lot. It's a good group of guys," David said. "It's always fun to get to hang out, hang out with some kids who probably don't even who you are or really care, but they're just here having a good time. 
The Disney costumes the Patriots wore were generously donated by Party City. You can check out more photos of the Halloween party in the gallery below.
Patriots players Devin McCourty, Jason McCourty, David Andrews, Danny Shelton, Derek Rivers, Geneo Grissom and Eric Smith dressed up as Disney characters and helped host a Halloween party for pediatric cancer patients at Gillette Stadium on Tuesday, Oct. 30, 2018.