ATLANTA – The picture may not be entirely clear, but it's beginning to come into focus.
In preseason game number two, we can start to see patterns form. At the very least, we have a basis for comparison against the first game. On the most stable NFL rosters, the jobs and roles are well established, with entrenched starters and designated backups well aware of each other's responsibilities.
On this year's Patriots, however, very little is certain in all three phases. So many starting jobs and reserve spots are up for grabs that there is plenty of opportunity for nearly every player on the 80-man roster to have a legitimate chance of making the final 53.
This week, against the Atlanta Falcons, PFW examines how the roster performed at three of those positions.
The news that Ty Warrenwould spend the rest of the season on IR was the top headline of the week, meaning that the Patriots would be searching for new starters at both right and left defensive end.
For the first three defensive series of the game, Gerard Warrenlined up on the left, Mike Wrighton the right, and Vince Wilforkat the nose. That base front remained constant but for a pair of plays when Warren and Wilfork swapped spots, both on third-down occasions.
When New England substituted its nickel and dime personnel packages, Myron Pryorand Wright were the only d-linemen on the field for the Patriots. Unfortunately, the Falcons offensive line seemed to have the upper hand against all these combinations. Atlanta's offense moved the ball particularly well on the ground and the Warren-Wilfork-Wright triumvirate didn't get much pressure in the Falcons backfield. Of the original three, Wright appeared to have the best opportunity to make plays, though they were limited in number.
On the fourth series, Ron Brace, Pryor, and rookie Brandon Deadericktook over up front. Pryor continued to stay in on nickel/dime packages, sometimes with Deaderick, other times solo. Pryor's best play of the night came when he read an Atlanta shovel pass and dropped the Falcons ball carrier for a five-yard loss.
Brace, meantime, in his first extensive action of the summer, nearly came up with a sack of Falcons backup QB John Parker Wilsonearly in the third quarter. Then, after an offside penalty by Pryor, Brace forced a fumble on the very next play, which New England recovered.
"I just remember I saw an open gap," Brace recalled in the locker room afterward, "I saw that man with the ball and I knew I had to hit him. So, I did just that. I'm glad I was the one able to make that play."
Indeed, any game-changing play is what Brace needs right now, as he struggles to catch up to the rest of his teammates, most of whom have been participating throughout training camp and the preseason. The permanent loss of Ty Warren this season, though, could be a blessing in disguise for Brace and his chances of winning a job on the 53-man roster.
"I really can't talk about his situation," a diplomatic Brace remarked, "but we all have to know each other's job because you never know when someone's going to go down. And we've got to be able to back each other up."
The Patriots rushing attack was effective for the second week in a row. But against Atlanta, New England's running back committee added some flash and dash to complement its power.
Fred Taylorand Sammy Morris, both of whom were inactive against the Saints in the opener, put on clinics versus the Falcons. Taylor, the 13-year veteran, got the start and looked strong, shifty and speedy on most of his 11 carries, and in particular on his highlight-reel touchdown jaunt in the first half. Had he gained one more yard, he would have averaged exactly five yards per carry on [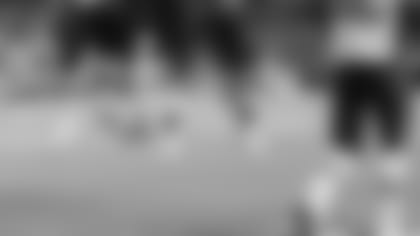 ]()the evening (he finished with 4.9 per).
Morris saw most of his opportunities in the second half and looked equally impressive, averaging just under nine yards a clip and finding the end zone on one occasion. Like Taylor, Morris exhibited good vision bursting through the hole and cutting to avoid would-be tacklers. Third-down back Kevin Faulkalso picked up eight yards on his lone carry of the night.
"All the backs ran pretty well tonight," head coach Bill Belichicknoted in his post-game comments to the media. "They all broke off long runs at one point or another. It was good to see. Fred's had a good camp. He's worked hard."
"I feel good … feel good," Taylor emphasized in front of his locker, reflecting on his injury-shortened first season in New England last year.
"Had a good offseason training. Practice is one thing, but I've been around long enough to know how to prepare and be ready. That's always the key, is be ready. It felt good to get out there. Just want to build on it."
"As a group, I think we did well," added Morris. "The way we rotated everybody by the end, kind of allowed us to be fresh. We're doing things better and will try to improve next week."
Taylor and Morris both credited the blocking of the Patriots offensive line for much of their success against Atlanta. Morris also benefited from being given the ball in obvious passing situations, when the Falcons defense was in sub packages and not loading up the box.
Last week's starter, BenJarvus Green-Ellis, did not fare so well, with just seven carries for a total of 12 yards, all in the second half. Neither did Thomas Clayton, who lost a total of five yards on four tries. Laurence Maroneyand Chris Taylorboth played, but neither touched the ball.
The entire first half saw Darius Butlerand rookie Devin McCourtystart at right and left cornerback, respectively, just as they did a week ago. But throughout the evening, the Patriots corners weren't directly tested all that often by the Falcons offense. Atlanta appeared to target their tight ends over the middle against linebackers, while the slot receivers often ran post patterns to find space in the middle against New England's safeties.
McCourty nearly picked off his first NFL pass late in the first half, but his replacement, Jonathan Wilhite, actually did get an INT off Wilson in the second half. Terrence Wheatleysubbed for Butler on the right side nearly the entire second half.
Kyle Arringtonmay have gotten shaken up a bit, which could explain his limited appearances in the game, but not before he came up with the most memorable hit of the evening. He laid out Atlanta's Antone Smithto force an incompletion – a play that clearly jacked up Arrington and the rest of his defensive mates.
"Oh, yeah … yes, sir," he said smiling. "We were in a Cover 3, zone coverage. One thing Bill preaches more than anything is, 'See the quarterback, see the ball thrown, and react.' I saw the quarterback scramble, saw an open receiver in the flat, and I tried to run as fast as I could, make up as much ground as I could, so as soon as he caught it, it would be a bang-bang play."
One down note for this group came on Atlanta's lone touchdown. It appeared that Wheatley was in position to make a tackle, but his own teammate, safety Brandon McGowan, over-pursued the receiver and inadvertently took Wheatley's legs out from under him.