When Don Cox was invited to the Patriots Hall of Fame presented by Raytheon, he thought he would be doing an interview about a relic he donated to the museum: a 1964 game ball. Instead, he was in for the surprise of a lifetime.
On Tuesday afternoon, former Patriots linebacker Andre Tippett, stunned Don, who has made it his life's work to give back, with tickets to Super Bowl LIII.
"I was shocked," Don said. "I heard the voice and I recognized it immediately. I thought he was just over here. I didn't realize it but when I saw the tickets, I was like 'You've got to be kidding me.'"
Don traveled to The Hall for what he thought was the chance to talk about the game ball used during a 1964 match up against the Jets at Fenway Park. At the game, Don served as the ball boy and at the end of the Patriots victory, then-owner Bill Sullivan gave Don the ball.
Don's father, who was a huge fan of the team, held on to the ball up until his passing, and Don thought that other Patriots fans may appreciate the history.
The Patriots selected Don as the ticket winner for his tireless work with military service members and veterans in Boston and on Cape Cod through the Cape Cod Military Support Foundation.
Through many programs, Don and his associates provide support for families who have loved ones deployed, as well as veterans who need help with every day things. Through empowerment centers and food security assistance, they make sure that members of the military, veterans and their families remain taken care of.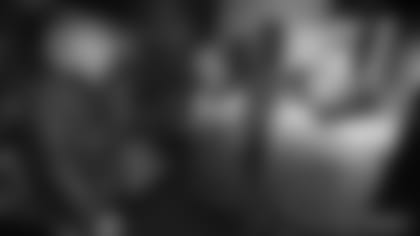 "We're feeding thousands of families and that's the most important thing to me to make sure that those families are getting by," Don said.
They also throw holiday parties throughout the year for military children. This year they provided more than 12,000 presents to children via parties they held across the state
"We're there when people need us," he said.
After being surprised with a once-in-a-lifetime gift, Don is ready to head to Atlanta with his wife, Lindsay. They're making all the necessary arrangements and can't wait for February.
"Only thing that can make it better is if they win the next game, and the next game so that they be there with us," he said.