Football just got a little more fashionable.
Legendary designer Tommy Hilfiger put on a runway show inspired by the sport on Monday, as he presented his Autumn-Winter 2015 collection at New York Fashion Week. The venue, the Park Avenue Armory, was transformed into a football stadium, as turf replaced the traditional catwalk and models strutted out of tunnels. There was even a goal post and scoreboard, which displayed the home team winning 20-15, a clever nod to the year.
The clothing and accessories also seemed to take inspiration from football, with jersey-like dresses and lace-up booties on display.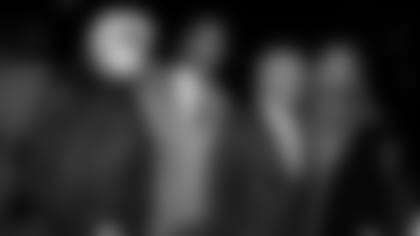 While the show was wholly dedicated to Team Hilfiger rather than any particular NFL franchise, the fashion designer did sneak in a few tributes to the Super Bowl champions. Supermodel Gigi Hadid was seen posing in a Do Your Job knit hat and Mr. Hilfiger himself came out to greet the audience with a Patriots helmet tucked under his arm.
The display was particularly fitting since his friend, Patriots owner Robert Kraft, was in the audience along with stars like singer Rita Ora and Giants receiver Victor Cruz.