When ideas come to life, it's tough not to feel proud of the hard work and creativity that pulled everything together. On Tuesday afternoon, with a gift bag in tow, the Patriots stopped by Boston Children's Hospital to hand deliver one patient's creation: a Patriots hat that will be sold at the ProShop.
Jose DeJesus Jr. came up with a design of a red, white and blue beanie with a pom sprinkled with yellow, red, white and blue. The Patriots Flying Elvis logo rests gently on the front fold of the hat, outlined in yellow. And Elandon Roberts, Joe Thuney, Eric Smith and Adrian Clayborn were on hand to deliver the first one to Jose.
Before they even entered the room, Jose, eager to see the Patriots, peeked through the blinds of his room's window, just trying to catch a glimpse.
As the guys chatted about video games and football with Jose, they pulled the hat he created out of a gift bag. Before Eric could show off the hat, Jose took it from his hands and immediately put it on his head.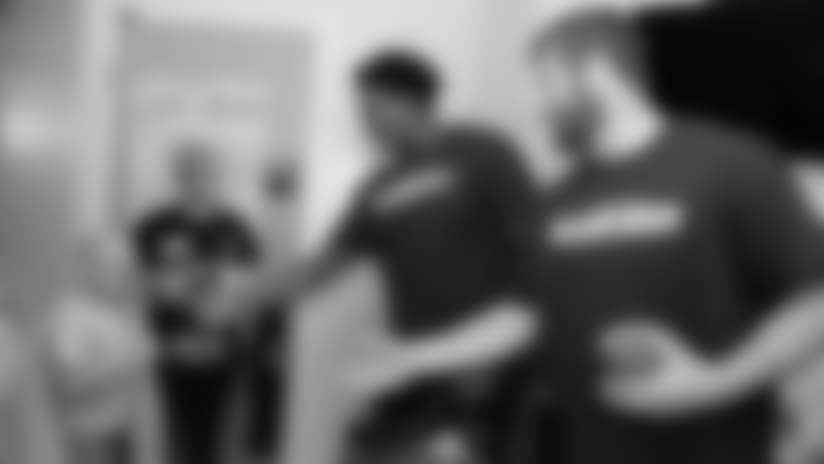 "I don't think I've ever seen a kid put on a hat that fast," Eric said. "I mean he took pride in his creation and he's going to stay warm from it. He's going to be able to see multiple fans wear this hat. Being that he's the first one to wear his product, it was just pure excitement and pure enjoyment."
The guys also talked Jose Sr. and saw how much of a fan his son is. When he saw a Patriots sign in his gift bag, he left his room and went down the hall to grab tape so that he could hang it up on his wall.
"He's very excited," Jose Sr. said. "But he is grateful and he is doing well. But on his behalf, he's happy to design a New England Patriots hat for them."
 The passionate Patriots fan was selected as one of two patients being treated at Boston Children's to design the hats, which would benefit a good cause. For every hat sold at the Patriots ProShop, $5 will be donated to the Boston Children's Hospital Oncology department.
The players also brought excitement and laughter to plenty of other patients in the halls of hospitals and at their bedsides. Many of them and their families have dealt with a lot of emotions throughout their time in the hospital and the opportunity to see some of their favorite players instantly put a smile on their face.
"You could just see a side of [Jose] that even probably the staff members probably haven't seen in a while here," Elandon said. "It just takes you second to be like 'Wow, the position that we're in to be able to come and brighten these kids' days, it's really a blessing."