FOXBOROUGH, Mass. – Among the record crowd of 25,317 in attendance for the New England Patriots joint practice with the Philadelphia Eagles on Tuesday, Aug. 12, were 50 members of the US Armed Forces, as the team celebrated its annual Military Appreciation Day on the fields behind Gillette Stadium.
The Kraft family and New England Patriots Charitable Foundation (NEPCF) showed their appreciation to the men and women who devote their time and lives to serving our country by inviting 10 members from each branch of the US military to Tuesday's training camp practice and surprising the group with tickets to Friday's preseason game against the Eagles at Gillette Stadium.
The servicemen and women watched the Patriots square off against the Eagles from the NEPCF's VIP tent, where they were greeted by New England Patriots Chairman and CEO Robert Kraft before meeting some of their favorite players, including Patriots tight end Rob Gronkowski and wide receiver Julian Edelman.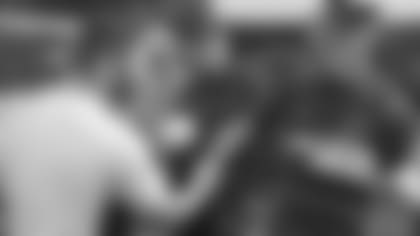 "It's unbelievable to be out here," said Petty Officer 2nd Class Stephen Getchell, 27, who is part of a hand-picked Navy crew serving on the USS Constitution in Boston. "I'm from New Hampshire and have been a huge Patriots fan my entire life. This is one of those experiences where you can't ask for anything better."
While Getchell, a native of Salem, N.H., has attended plenty of Patriots games over the years, Tuesday was his first time attending a training camp practice.
"I like being able to watch the rookies and see who might make the team and who might not," Getchell said. "Obviously, I'm also excited to see the veterans like [Tom] Brady and Vince [Wilfork]. It's unreal."
Gunner's Mate 3rd Class Adam LaMantia, of Chicago, Ill., said he was honored to be invited to Tuesday's practice, calling the Patriots his "East Coast team."
"I grew up with the Chicago Bears, but the Patriots have always been near and dear to me," said LaMantia, who serves with Getchell on the USS Constitution. "When I found out I was coming to Boston to serve on the USS Constitution, I was really looking forward to seeing the Patriots. I knew I would eventually get to a game, but this has been by far the coolest thing I have done during my time in Boston."
For Frank Velasquez, 22, and Lucas Brochu, 22, both of the Navy, Tuesday's visit was a dream come true.
"It doesn't get any better than this," Brochu said. "I grew up in Wilmington, Mass., so to be able to come here and watch the team practice like this is an awesome experience."
Said Velasquez: "My dad brought me up on the Patriots. Through the very bad times and the very good times, I have been a Patriots fan, so to be able to see them up close like this is incredible."
George Boudreau, 25, also of the Navy, agreed.
"I can't believe Tom Brady is 50 feet from us," Boudreau said. "It's awesome."
Brochu added he liked seeing the Patriots go toe-to-toe with the Eagles.
"It's fun seeing the Pats practice against the Eagles, too," said Brochu. "Philly has some good players in [LeSean] McCoy and Nick Foles, who is coming off a great year last year. It's good that we get to work with teams like this and get a little jump to the preseason."
Alex Lomonte, 21, of the Air Force, said he was hoping to get a good look at the Patriots' new-look defense.
"I really want to see how our defense does against the Eagles," said Lomonte. "I'm excited for the defense this year now that we have Revis and Browner. Hopefully we can stay healthy."
For Air Force Staff Sgt. Jennifer Starr, Tuesday's practice was all about seeing Gronkowski.
"My favorite part about this experience is being able to see Gronkowski," Starr said. "He's my favorite player."
Starr, a Virginia native who became a Patriots fan four years ago when she was stationed at Hanscom Air Force Base, got to meet and pose for a picture with Gronkowski following practice.
"This is pretty cool to be invited out here and awesome of the Patriots organization to let us experience something like this," Starr said. "We couldn't ask for anything better."
Air Force Senior Airman Christopher Hahn, 25, enjoyed his first exposure to the Patriots and NFL.
"This is a lot of fun," Hahn said. "I've never been to an NFL game before, so this is a great experience for me."
As for Tuesday's crowd, which set the Patriots' single-session practice attendance record, Hahn said it was unlike anything he had ever seen.
"I am in awe of the crowd," said Hahn. "They are lining the ramps in the stadium. It's crazy to see all those people standing up there just to watch the Patriots practice. It's pretty awesome."
For many, Tuesday's visit was about enjoying the experience and creating memories.
"My favorite part about today is that I'm going to have these memories for the rest of my life," Hahn said.