As the players zipped across your TV screens Sunday night, you may have noticed something different on the Patriots helmets. Next to their numbers were the initials of a fallen soldier. Each player honored the life and legacy a service member on the field.
Through TAPS and the Patriots Foundation, each player and coach learned about a man or woman who made the ultimate sacrifice. Their families were invited to take part in a pregame ceremony in honor of Salute to Service, and alongside them were active duty members of the military and veterans.
In his post-game press conference, before taking questions, Coach Bill Belichick spoke about the ceremony and being able to represent Naval Petty Officer second class Andrew Bibbo.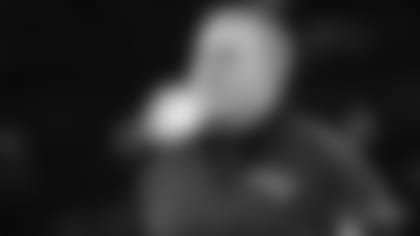 "I just want to give my appreciation and respect to all of the TAPS families that were here and the Salute to Service from the organization for this game. I was proud to wear [Andrew] Bibbo's button here for the game, from Clinton, from Milford. I actually spent a lot of time in Milford," Coach Belichick said. "I had several friends there from college and I spent a lot of time in that town. It's a great town. Of course, he was in the Navy so I'm proud of that. I'm really just proud for all of us – all of our players, coaches – that we recognized that and what they've done, the sacrifices they've made and their families have made for our behalf."
The families of the 25 fallen soldiers were invited to Gillette Stadium on Nov. 3 for a dinner and a chance to meet Robert Kraft before the game. With the faces of their loved ones on the stadium's big screens and a helmet autographed by those players and coaches who represented them, the TAPS families were reminded that their family members were not forgotten.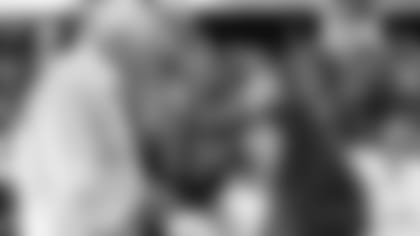 Tia Decoito-Johnston lost both of her sons, Amandio "A.J." and Jim, who served in the Navy. She said it was amazing to be able to remember her sons with the Patriots Foundation and other TAPS families.
"It's just incredible the love that you feel and the kindredness, and everybody else understands what you've been through and what you're still going through because we'll go through it forever," Tia said.
When Patriots players saw their helmets with new decals and the coaches received buttons to wear during the game, they each received a biography of the person they were honoring. With this, they learned about each soldier's service, family, interests and how they lived. This, Tia said, meant the most of all.
"A parent's biggest fear is that your child will be forgotten, or children in my case," she said. "For the Patriots to be honoring them, as well as playing in their honor, it's mind blowing."