Milly Arbaje-Thomas, Jennifer Martin and Nancy Chito sat at the counter, their freshly manicured hands placed under the dryer. They chatted away, filling the otherwise quiet nail salon with laughter.
On Monday morning, the women gathered in a suite at Gillette Stadium. They were served a healthy breakfast and then led in a gentle yoga session. Later, they were brought to local businesses for manicures, massages and shopping.
For Milly, from Hyde Park, Mass., the itinerary couldn't have been better.
"These are exactly the kind of things that I would have picked for myself if I were to tell my husband, 'I need a day for me,'" she commented. "It would have included everything that we have today.
"The last time I did nails and a spa treatment was prior to cancer," she added. She was diagnosed in January of this year.
Mother-of-three Jessica Hefner of Abbington, Mass., echoed that sentiment.  
"Between treatment and getting my kids where they need to go, I don't pamper myself very often, so this is nice," she said. "It's definitely a unique experience."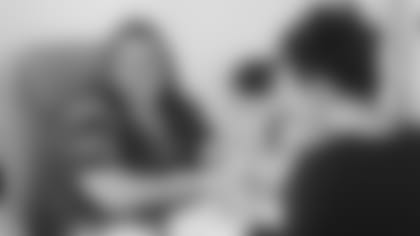 In the end, though, the day was about much more than just spa treatments. 
"It was really nice to be able to talk about my experience with my daughter in a positive way," Milly said. Her 10-year-old daughter, she explained, was excited when she came home from the hospital last week with a football signed by Patriots rookie Jordan Richards.
"Then I had to do a little presentation at a hospital the other day about what I'm going through. I used that picture [of me and Jordan] and I labeled it 'the perks' – basically trying to look at the positive side of having cancer. You know, sometimes you get a little perk like this."
For the women, one of the "perks" of the day was simply being in each other's company and having an opportunity to share stories. 
"I've enjoyed meeting and talking to you ladies, because I don't talk to anybody about it," East Boston native Jennifer told Milly and Nancy. "I haven't spoken to anybody else who's going through it, so this is kind of nice chatting with you. When you're in there getting your infusion, you don't want to talk to anybody. It's almost taboo."
On Monday, however, the conversation flowed all morning long and even into lunchtime when the wives of several Patriots players and coaches joined the group to show their support. Among them were Kristen LaFell, Laura McDaniels and Alyssa Cannon, the latter of whom spoke about her own experiences with cancer. Alyssa's mother battled breast cancer at the age of 37 while her husband Marcus was diagnosed with lymphoma shortly before the 2011 NFL Draft.
Alyssa said she felt compelled to be part of the event despite having some nerves about speaking on such an important topic and sharing her personal story. 
"I'm so glad I came," she said. "I think these women do more than anybody could even imagine. It's nice to just spend time with them and do something positive so they know that there is life beyond cancer and treatment and all the things they're dealing with right now."