PATRIOTS TE AARON HERNANDEZ
(On the potential nicknames for him and Rob Gronkowski)
"I say a good one would be Rob and Aaron (laughter). I actually heard something about that and I saw that there were six of them. One of my friends was showing me them."
(On the fans' support)
"It is awesome. Obviously, I love the support and I love my fans. In New England, we have great fans."
(On Tom Brady's leadership)
"I say to be considered one of the best and if not the best quarterback in the game, you have to have more than one thing that sticks out as outstanding and his all-around (game) sticks out as outstanding for him."
(On his expectations for the game with all that is at stake)
"You have to treat it like every game. The coaches we have every week, whether it is the first game of the season or preseason we treat it like it is the Super Bowl. Every week we come in and it is full attention. If you don't have your full, undivided attention than you probably won't be playing much."
(On whether him and Rob Gronkowski are competitive with each other)
"What is crazy is we are not. I have always been in my life; maybe in college I was competitive against him or high school. I would say now we are so close we are more like brothers and a lot of people just say that to say it, but we really are. We are really close and we love each other and we have a great relationship."
(On all the hard work that has been put in to get to this point)
"It was a lot of screaming at us, a lot of discipline and obviously over the two years we have had a lot of help and we have great players around us that get us ready and prepared for the game. We are in a great organization that makes sure we know each detail of each route, how to run it and where we need to be, and we got taught a lot of discipline. That is obviously why we have some success."
(On the Patriots' defensive performance last week)
"They had a great game last week and as a team we just want to keep it going, get better and understand the mistakes that we made in that game and understand that we have to attack this team differently than we attacked the team we played last week."
(On whether this offense has peaked yet in comparison to the 2007 offense)
"Just like you said, the key is to get better each and every week. It is now the time of the year that the weeks are more and more important and this is probably the most important because it is the next one."
(On if he thinks the 2007 offense hit a wall and peaked too soon)
"I never hit a wall, but if that is what you want to call it. I don't know, I can't tell you that, but I don't think so."
(On the effectiveness of Ray Lewis after all these seasons)
"It has to start with the way that you prepare yourself. With Ray, you all see it, his passion and the way he talks, he doesn't have to be playing the game. Him just talking about it and some aspect of it, you can see it on him and you can see it in him. That is what keeps him here. You all can tell just the way he talks about the game; it just lets you know how much love he has for the game and how much he will do anything to continue on playing the game of football."
(On talking advantage of opportunities in the postseason and not take anything for granted)
"It is easy to talk about and take advantage of it, but it is like he (Wes Welker) said, that first year he thought it would be easy going back every year, but what we fail to realize is that each and every year, each and every team has that understanding that those are the Super Bowl champions and if we play, we have to play 10 times harder, better and make no mistakes and that is how every team plays a Super Bowl champion team the next year."
PATRIOTS TE ROB GRONKOWSKI
(On if he feels any added pressure personally this week to do well)*
"No. I don't know, I never really thought about it like that. It has been going on all year and you just have to put everything in the past. If you have a good game, that is all over with and you just have to keep moving on forward to the future and make sure you have a good practice week, make sure you are working hard during the practice week, so when you go out to game time you're prepared and you can give the best that you have and that is all that counts."
(On what jumps out on film with the Baltimore Ravens)
"They have overall a great defense. They have a lot of great, big players. They are all fast and they are all skilled and they can all cover and they can all play the run. We just have to be ready for them and they are physical, too. It is going to be a physical game and we have to make sure we are ready."
(On the play of Ed Reed)
"He can just cover so much ground, it is unbelievable. From the left side of the field he can be at and he can go make an interception on the right side of the field. It is just unbelievable his talent and how fast he can move across the field."
(On the thought that him and Aaron Hernandez will be the difference makers in the game)
"It is definitely not what is going to make the game a win or loss. It is an overall team game and that is all that matters and we just have to make sure we go out as a team and we all play together as a team. Whoever is making the plays, makes the plays and just basically go out and we have to have a good run game and a good pass game and that is all that matters and the defense plays well and all that matters is about the whole team."
(On the competition between himself and Aaron Hernandez)
"It was definitely weird at first. We always knew about each other and everything, but it has been two years now. We are buddies now, we are good buddies. We have a lot of fun together and that is all in the past and we don't even think about it anymore really that we were competing against each other. We are just trying to help each other out now. We are just trying to get to the same goal and that is to be working hard every day and just be focusing every game that we have that upcoming week."
(On if he allows himself to get excited for the game)
"Oh yeah, you have got to get excited. This is a big game. It is the AFC Championship Game. How can you not be excited? Going out to practice, that is what is motivating you. You saw the excitement that is going on and everything and it is going to be a lot of fun. I obviously can't wait for the game, but we have a big practice week right here and I'm excited."
(On why he settled on the spike for a touchdown celebration)
"Because all the fans liked it, so I just kept with it. I always wanted to spike and you couldn't do it in college or high school, so I just started it here and I guess it caught on and everything. I guess it is going pretty good, so it is cool."
(On the possible nicknames for him and Aaron Hernandez)
"I keep getting asked about the two nicknames. Aaron and I are going to meet together and we are going to think of a name. It is pretty fun that they are thinking of a name, but Shake and Quake? I like the Boston TE Party that was pretty cool. I guess those two are the top contenders right now."
PATRIOTS LB BRANDON SPIKES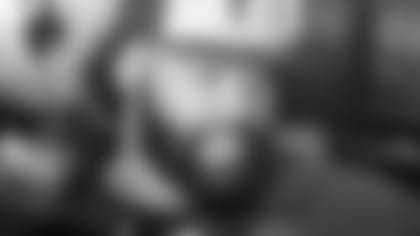 (On whether he looked up to Ray Lewis)*
"Not Ray, I'm more of an old time guy like LT (Lawrence Taylor), but he is definitely a great player and he plays with a lot of emotion. He can absolutely get the guys around him to play at a high level, so that is key too. He is a great role model and he is someone I definitely notice on the field."
(On the different offensive weapons for the Ravens)
"As a whole unit over there, they have a lot of guys that can make plays. Like I said, without our gapping it could go the distance, we know that. We just want to key on their big playmakers and their key guys."
(On playing with Jerod Mayo)
"I think his strengths and my strengths are totally different, just like my weaknesses are different from his. I just think as long as we are on the same page and we communicate and try to make adjustments when we have to and make sure we are talking to each other. The defense goes through us and we have to make sure we get the D-line going and the secondary. We definitely have to be on the same page. As far as us playing together, I think it is fine. We just feed off of each other and we run around and make plays, there is no greater feeling."
(On the return of himself and Patrick Chung to the defensive lineup and how hard it was to watch from the sidelines)
"Personally, it definitely cut me deep; I never really dealt with injuries. This was my first one. My teammates kind of had my back and they held me down throughout the whole thing and just kept pushing me. As far as just watching the guys play, it definitely killed me. It was good to be back."
(On the Ravens defense)
"[They're] great players. Great players, great defense, great team. [An] experienced team, well-coached team. There's a lot of positive things going with that program, their organization. They're doing a lot of great things. We've got our work cut out for us this week; it's going to be a good game."
(On how the Ravens defense makes it tough on the receivers)
"It isn't me against one guy, it's me against the whole team. It's the Patriots versus the Ravens. It's not me versus this guy, that guy. As a whole, we have to go out and do our job."
(On how specifically the Ravens make it difficult for the Patriots' receivers)
"Everything is game-planning. It's all about what they're doing game-plan wise. We'll find that out Sunday."
(On his appreciation for how difficult it is for teams to cover two Patriots tight ends)
"I'm glad they're with us. That's a good thing. Those guys do a great job isolating certain guys, pretty much causing the defense to focus on them."
(On how having two tight ends makes his job easier on the outside with more attention on the tight ends)
"They have to pick and choose. I think with our offense, the things that we do: we do a lot of different things. The defense has to figure out what is their game plan, what are they planning on going in and focusing on."
(On the number of different ways he's seen defenses try to cover the two tight ends)
"It's all football. It's all cover two, cover one, cover five. It's all the same, it's just how guys play it. What defensive coordinators [do], how they want to attack certain guys. I think all the defense is all the same."
(On the preparation for the AFC Championship)
"Well, this is it. You win, you stay in. You lose, your season's over. I think that's the main focus. We want to continue playing, and if guys have that attitude, we'll continue playing. Like you said, it's a one week season and this is it."
PATRIOTS DB KYLE ARRINGTON
(On how it all came together last game)
"It's playoff time. Our records, our stats go out the window this time of year. We're fully committed to play for one another."
(On if the team thinks they finally put forth a complete effort last week)
"It was definitely satisfying to be able to move on at this time of year. Our job is not done so we know we're facing another talented bunch, so we're going to have some work ahead of us."
(On if the Patriots pass rush made the secondary's job easier)
"Those guys did a heck of a job and that's what it's all about – complimentary football. We try to go out there and cover guys and they go out there and try to get the quarterback and [that] makes our job easier and vice versa, so that's definitely always a go."
(On how difficult it is to manage your emotions this week)
"Like I said before, we know the challenge we have ahead of us in the Ravens being a very, very talented [team with] running the ball and explosive plays, as well in the passing game, so it's definitely another 'do your job' type of week."
(On the difference Patrick Chung's return to the field makes)
"You can't say enough about the guy. He brings a very physical element or more physical element to our defense. His presence is definitely known and felt when he's back in the lineup."
PATRIOTS DB DEVIN McCOURTY
(On if the Ravens lull you to sleep with the un and then surprise you with a deep pass)
"A little bit. They have a great running game but as a secondary you got to realize Anquan Boldin [has been] a great receiver for years in this league and so is Lee Evans. Then with Torrey Smith being a rookie – what jumps out on the screen is that he can fly and he gets vertical. I feel in the secondary we realize that they have some good weapons and we got to be ready to go."
*(On the nightmare he thinks Rob Gronkowski and Aaron Hernandez cause opposing teams)  *
"They're great players. Going against them in practice we see those nightmares too. We just try to compete against them and we love watching them from the defensive side on game day, but they help us get better in practice and preparing for whatever tight ends we're playing because this league has a lot of good ones and getting ready for Sunday with [Dennis] Pitta and [Ed] Dickson they're good tight ends as well, so we got to be ready to go. Our tight ends will give us a pretty good look this week."
(On if the defense changes their normal running back assignments due to Ray Rice's versatility)
"We always have different schemes, different game plans. Just the biggest thing is being aware of where he is at all times."
(On relationship with Ray Rice)
"We're friends. We'll hang out a little bit in the off season. We're still competitors, but we went to school together, so we're pretty good friends."