FOXBOROUGH, Mass. (Oct. 19, 2018) - Eight years ago, the Kraft family and Patriots Foundation introduced Celebrate Volunteerism, a season-long initiative focused on recognizing community volunteers and promoting the importance of giving back to the community through service.
Throughout the 2018 season, the foundation will continue its Celebrate Volunteerism initiative by teaming with nonprofit organizations to educate fans about the need for volunteering, highlighting deserving volunteers from across the region and seeking to inspire Patriots fans to become lifelong volunteers. The foundation will present a weekly "Patriots Difference Maker of the Week" award, which recognizes deserving volunteers who go above and beyond to support their New England communities.
"We originally started the Celebrate Volunteerism initiative as a tribute to my sweetheart, Myra," said Patriots Chairman and CEO Robert Kraft. "Over the past eight years, it has become the heart and soul of the Patriots Foundation, just like Myra was. We enjoy shining the light on local volunteers that are committed to improving the lives of children and families across the region and we hope that this inspires our fans to get more involved in their communities."
Tara Ball from Exeter, N.H. was selected as this week's Patriots Difference Maker of the Week for her commitment to Connor's Climb Foundation.
Tara lost her 14 year old son Connor to suicide in 2011. Instead of running from her loss, she has led the charge to change the culture around mental health and suicide prevention.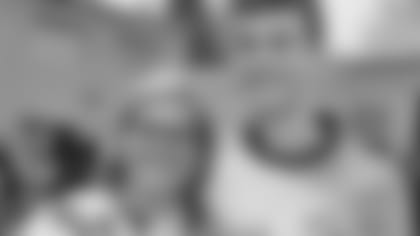 "Losing Connor was nothing I ever expected," said Tara. "He was a smart, funny, gregarious boy who loved playing hockey, baseball, reading, traveling and everything New England Patriots."
Tara has volunteered tirelessly to provide the evidence-based Signs of Suicide (SOS) program, free of charge, to New Hampshire schools. Her work has provided the SOS program to 58 schools, trained more than 20,000 youth and over 500 educators and community members. Tara has spoken throughout the state about her loss and how it evolved into the formation of a foundation dedicated to making sure that no other family ever experiences the loss of a child to suicide.
She has built a community dedicated to suicide prevention and her work has brought many other organizations and stakeholders together to prevent youth suicide. Tara has turned her loss into something positive and through her volunteer efforts, she has brought attention to mental health and helped to save lives.
"My goal from the start was to have the SOS program in our Exeter schools," said Tara. "When I saw the need throughout our state, Connor's Climb Foundation was the logical next step. Just last week in Dover a mother told me that her son was alive and thriving because of the SOS program we provided. That validates all of this work."
Fifteen individuals will be named Patriots Difference Makers throughout the season. The outstanding volunteers will be recognized on the Patriots website and in print materials, including Patriots Football Weekly and Patriots GameDay magazine. They will also be honored during a special ceremony at the Patriots final regular season home game against the New York Jets on Sunday, December 30.
Fans are encouraged to nominate a local volunteer for the Patriots Difference Maker of the Week award by visiting www.patriots.com/community.
Tara Ball of Exeter, N.H., pictured with her son Drew, was selected as a 2018 Patriots Difference Maker of the Week for her volunteer efforts at Connor's Climb Foundation. Tara has been invited to take part in a special in-game ceremony at the Patriots final regular season home game against the New York Jets on Sunday, Dec. 30.