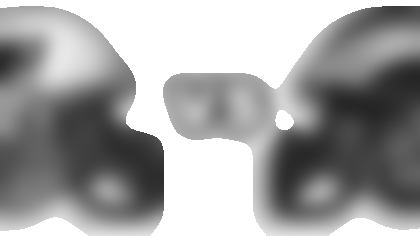 PATRIOTS (2-0) vs. RAMS (1-1*)
*Thursday, August 26, 2010 at 7:30 p.m. EDT
Gillette Stadium (68,756)
The New England Patriots return to the confines of Gillette Stadium to face the St. Louis Rams on Thursday night. The Patriots are coming off back-to-back weeks of joint practice sessions. Prior to the preseason-opener vs. New Orleans on Aug. 12, the Patriot practiced against the Saints for two days. Last week, the Patriots traveled to Atlanta and worked with the Falcons prior to Thursday night's game. The Patriots are off to a 2-0 start in the preseason following a 27-24 victory over the Saints and a 28-10 last week against the Falcons.
TELEVISION: This week's game will be broadcast by the Patriots Preseason Television Network and can be seen in every New England state as well as Eastern Canada, Alaska and Hawaii. The network's flagship station is WBZ-TV Channel 4 in Boston. Veteran CBS broadcaster Don Criqui provides play-by-play and is joined by three-time NFL Pro Bowler and CBS analyst Randy Cross. Steve Burton will serve as the sideline reporter, while former Patriots QB Scott Zolak will serve as an onfield analyst.
RADIO: 98.5 FM, The Sports Hub, is the flagship station for the Patriots Radio Network. A complete listing of the network's 36 stations can be found here. Play-by-play broadcaster Gil Santos is in his 34th season as the voice of the Patriots and will call the action along with Patriots Hall of Famer Gino Cappelletti. Santos and Cappelletti are celebrating their 27th season as a tandem.
PATRIOTS TO HOST POP WARNER'S NATIONWIDE KICKOFF AT THURSDAY'S GAME AGAINST ST. LOUIS
Pop Warner Little Scholars, Inc., the world's largest youth football and cheerleading organization with more than 400,000 participants and the only youth sports organization that emphasizes academics as a prerequisite for participation, will celebrate the start of football season and the NFL's and USA Football's Play Football initiative by conducting the fifth annual Pop Warner Nationwide Kickoff, hosted by the Patriots and Gillette Stadium prior to Thursday's game. The event will include a ceremonial kickoff by Greater Boston-area Pop Warner participants. President of the New England Patriots Jonathan Kraft will be joined by NFL Hall of Famer, former New England Patriots linebacker and current Executive Director of Community Affairs Andre Tippett to participate in the event and conduct a pre-kick pep talk.
GILLETTE STADIUM UNVEILS HIGH DEF VIDEO BOARDS
The Patriots unveiled new high definition Daktronics LED video boards that were installed during the offseason to enhance the in-stadium game day experience. The two screens--41.5-by-164-feet in the south end zone and 45-by-100-feet in the north end zone--total five times the size of the original screens. It would take 1,700 televisions to fill those dimensions using a standard 37" HDTV. The new video boards also provide much greater resolution, with the ability to display more instant replays and an array of graphics, including live statistical updates and out-of-town scores. The video boards utilize more than 5 million individual LED pixels that offer superior brightness in direct sunlight, with the capability of showing up to 4.4 trillion shades of color. The image clarity also greatly enhances the wide-angle visibility of the screens from inside the stadium. "This type of video board simply didn't exist eight years ago when the stadium was built," said Patriots President Jonathan Kraft. "The resolution is incredible. It is amazing to see how far the video technology has come in the past decade."
SERIES HISTORY
The Patriots and Rams have played ten regular-season games with each team winning five times.
New England scored one of the greatest victories in franchise history when it defeated the favored Rams for the NFL championship on Feb. 3, 2002 in Super Bowl XXXVI. That victory followed a tight game in the 2001 regular season that ended in a 24-17 St. Louis victory at Foxboro Stadium.
The last time the two teams played was in 2008 when the Rams fell, 23-16, in their first-ever visit to Gillette Stadium on Oct. 26, 2008.
The Patriots and Rams have played eight games in the preseason, with each team winning four games. The last time the teams met in the preseason was in 1994 when the Patriots won 28-10 in Los Angles. This week's game will be the first preseason meeting since the Rams moved to St. Louis in 1995.
The series dates back to 1974, when the Patriots defeated the Los Angeles Rams by a 20-14 score at what was then Schaefer Stadium.
SERIES BREAKDOWN
(Includes Postseason)
Overall Record - 6-5
Home Record - 2-3
Gillette Stadium - 1-0
Schaefer/Sullivan/Foxboro Stadium - 1-3
Away Record - 3-2
Anaheim Stadium - 2-1
Trans World/Edward Jones Dome - 1-1
Neutral Site Record (at Louisiana Superdome) - 1-0
Total Points - Patriots 223, Rams 215
Longest winning streak - 2 games (two times)
Longest losing streak - 4 games (12/24/89 - 11/18/01)
Bill Belichick vs. St. Louis/LA. - 3-2 (3-1 with New England)
Rams head coach Steve Spagnuolo is a native of Whitinsville, Mass. Graduated from Springfield College and received his Master's from the University of Massachusetts.
Patriots WR Sam Aiken and Rams C Jason Brownwere teammates at North Carolina during the 2001-02 seasons.
Patriots LBEric Alexanderand Rams P Donnie Joneswere college teammates for four years at Louisiana State University from 2000-03.
Patriots C Dan Koppen and Rams DT Chris Hovanplayed together at Boston College for the 1999 season.
Patriots QB Tom Bradyand Rams DE James Hall were four-year college teammates at Michigan from 1996-99.
Patriots QB Brian Hoyer and Rams DT Clifton Ryanwere teammates at Michigan State from 2004-06.
Patriots S Patrick Chung and Rams WR Jordan Kent were teammates are Oregon from 2005-06.
Patriots TE Aaron Hernandez, DE Jermaine Cunningham and LB Brandon Spikes and Rams C Drew Millerand T Phil Trautwein were all teammates at Florida from 2006-08.
Patriots LB Gary Guyton and Rams S James Butlerwere teammates at Georgia Tech in 2004.
Patriots T Nick Kaczurand Rams G John Grecowere teammates at Toledo during the 2004 season. Greco took over the left tackle position after Kaczur left to go pro.
Rams C Mark Setterstrom helped open holes for Patriots RB Laurence Maroney while the two were teammates at Minnesota from 2003-05.
Patriots LB Jerod Mayoand Rams T Eric Young were four-year teammates at Tennessee from 2004-07.
Patriots LB Tyrone McKenzie and Rams CB Jerome Murphy and DE George Selvie all played on the same defensive unit at South Florida during the 2007-08 seasons.
Patriots OL Rich Ohrnberger and Rams LB Josh Hull and CB Justin King played together at Penn State for the 2006-07 seasons.
Patriots DL Myron Pryor and Rams WR Keenan Burtonwere teammates at Kentucky from 2005-07.
Patriots QB Zac Robinson and Rams RB Keith Toston shared the backfield at Oklahoma State University for their entire collegiate career, from 2006-09.
Patriots RB's Chris Taylor and BenJarvus Green-Ellis and Rams DE Victor Adejanju were teammates at Indiana University from 2003-04.
Patriots OL Sebastian Vollmer and Rams WR Donnie Avery were members of the same offensive unit at the University of Houston from 2004-07.
Patriots DL Damione Lewis was drafted by the Rams with the 12th overall pick of the 2001 NFL Draft.
Patriots T Mark LeVoirspent the 2007 season with the Rams.
ROSTER REDUCTION DATES
The NFL roster limit during training camp is 80 players. The first mandatory preseason roster reduction date is Aug. 31, two days prior to the Patriots' final preseason game. On that date, rosters must be reduced to 75 players. On Saturday, Sept. 4, rosters must be reduced to the regular-season limit of 53 players. On Sept. 5, clubs may establish an eight-man practice squad.
Randy Moss enters the 2010 season with 64 career 100 yard receiving games and needs 12 to tie Jerry Rice (76) for first place in NFL history.
Moss enters 2010 with 35 games with two or more touchdown receptions and needs to catch two or more touchdowns in nine games in 2010 to tie Jerry Rice (44) for first in NFL history.
Moss enters 2010 in sixth place on the NFL's all-time receiving yards list with 14,465 yards and needs 744 receiving yards in 2010 to move into second place all-time, behind Jerry Rice (22,895). Ne needs 535 receiving yards to become the third player in NFL history with 15,000 receiving yards. Jerry Rice (22,895) and Isaac Bruce (15,208) are the only two other players to accomplish the feat.
Moss enters the 2010 season in tenth place on the NFL's alltime list for receptions with 926. He needs 74 receptions in 2010 to become just the seventh player in NFL history with 1,000 career receptions.
Moss enters 2010 with in fourth place in NFL history with 149 overall touchdowns. He needs one more touchdown to become the fourth player in NFL history with at least 150 touchdowns. He needs two to join Jerry Rice as the only players to top 150 TD catches.
Moss has recorded 1,000 receiving yards in a season 10 times in his 12-year career. Moss can join Jerry Rice (14) as the only players in NFL history with 11 seasons with 1,000 receiving yards.
Tom Brady enters 2010 30th on the NFL'S all-time passing yard list with 30,844 yards. He needs 2,618 yards to move into the top 20.
Brady currently has 97 wins and needs three wins to become the 11th NFL QB to reach 100 wins.