The little things in life can really make a difference to someone's day. On Tuesday, roughly 60 veterans felt their spirts lift as they had the chance to speak with current and former players from the Patriots.
As part of the NFL's Salute to Service initiative, long snapper Joe Cardona, defensive end Trent Harris and offensive tackle Eric Smith visited the Brockton VA Hospital along with Patriots alumni: offensive tackle Ed Ellis, defensive end Garin Veris and defensive end Brent Williams. Stopping by the spinal cord injury unit, the six guys met former military service members who the hospital cares for.
The energy in the unit shifted as the Patriots made their way from room to room. Some veterans brought out their special jerseys for the occasion after months of wearing hospital gowns. Others struck their best poses for photos that would live on their walls and phones.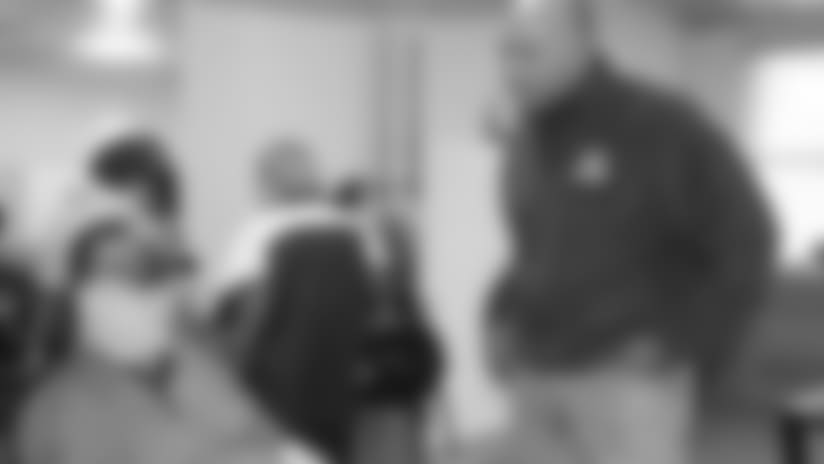 "It just gives me chills every time that I come here because they have sacrificed so much. To see that they're so proud of that and how proud they are that we're Patriots and they can meet us," Garin said. "It's a great feeling, and every opportunity that we have to come help them and be around them, I think that we should do it."
The guys not only learned of the sacrifices that veterans made but also the stories of their time in the service. In exchange, they shared their own experiences of suiting up on game day and playing football at a national level.
"For a lot of people that was a special time in their lives and we're sharing that same experience with our time right now with the Patriots," Joe said.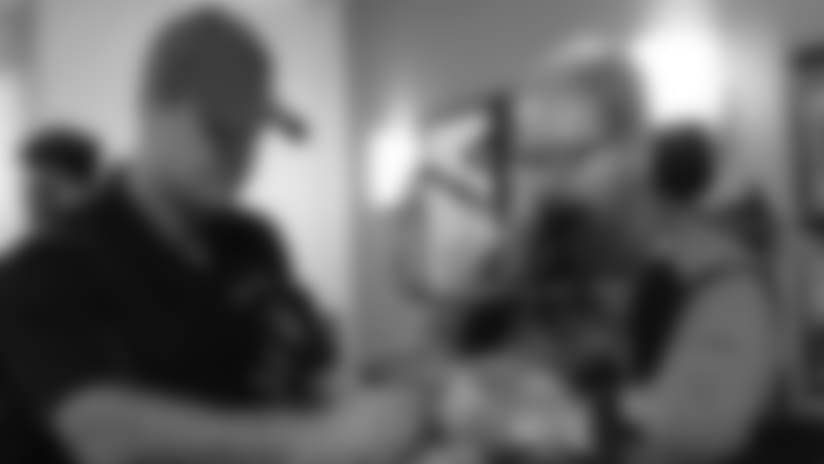 The ability to have conversations about the veteran's experiences allowed the guys, particularly Joe, to reflect on the brotherhood that both the NFL and the military have given them. Through both experiences, he's seen the similarities of how supportive the camaraderie can be.
"It's a community where you know each other has one another's back, and whether that's us with the team or whether that's me coming back and getting a chance to visit some our nation's heroes, you know from all generations of service, whether it's WWII, Korea or Vietnam, a lot of these guys went through it all. To get to come and just hear about their stories and get to hear about how much pride they have, it's a special thing," he said.
After the visit in Brockton, two more Patriots made another visit to the New England Center and Home for Veterans in Boston.
The Center provides a support system for veterans, as well as services for those facing or at risk of homelessness. No matter their circumstances, meeting players like linebackers Brandon King and Calvin Munson helped to energize them on dreary afternoons like Tuesday.
As they grabbed slices Papa Gino's pizza and chatted with the players. The buzz of excitement and gratitude surged as roughly 45 guests filled the room. To protect their privacy, we have omitted last names of the Center's guests.
For Kristopher moments like this help him to take his mind off adjusting to life as a civilian. When one of his comrades, a fan of the Cleveland Browns, had a difficult time enjoying the visit, he reminded him that he just need to appreciate sports to savor the moment.
For another, the day felt like Christmas.
"You know we all got issues here, but this just made us forget about them," said John." It doesn't get any better than this, and for them to take their time out of their schedule and come do this, that's crazy. I mean come on."
Like Joe, spending time with those who served the country helped Brandon to put things into perspective. Brandon has personal ties to the military and hearing accounts of active duty from the veterans gave him more understanding of life away from home. Being able to give back to them gave him the chance to show his gratitude for everything they do.
"It's great for us to just show our appreciation for all that the military does to keep us safe and to keep our country running the way that it is," he said. "It puts everything into perspective that no matter who you are, no matter what you've been through everyone is human."