It had that surreal look and feel of Times Square, the morning after New Year's.
A vast gathering place, scene of so many fun, recent memories. Yet suddenly – starkly – empty and strangely quiet.
There was some lingering activity: small pockets of people rummaged through piles of shoes, shirts, hats, and other detritus, trying to decide what to keep and what to discard; guys with trash bags slung over their shoulders, carrying home whatever items they deemed worthy.
There were hugs and well-wishes, a few laughs here and there. Some chose to clean up hurriedly and be done with it. Others felt compelled to say goodbye patiently, deliberately, to the year that just passed and those with whom they shared it so closely.
This was the Patriots locker room on Monday afternoon. The first day of their longer-than-expected off-season.
The table where, normally, the players engage in spirited games of dominos was now littered with authentic jerseys, miniature and full-sized helmets, tackified gloves, and other Patriots-related merchandise, all of it adorned with the John Hancocks of teammates.
Memorabilia, perhaps, for the players themselves to bring home with them and treasure. Permanent reminders in permanent marker of just how special a season 2008 was, in spite of it all – the injuries, the abrupt end, the exclusion from the playoffs.
A day later, a sense of disbelief still permeated the locker room.
"For it to end like it does every year, it's still brand new every year, man," cornerback Ellis Hobbsmused. "It's always amazing."
"Yeah, I was hoping we had a home playoff game. I was kind of looking forward to that," admitted defensive end Richard Seymour, who missed the finale in Buffalo with a back injury.
"It didn't happen, but I felt like we finished the season strong. You look around, and I think you have to be impressed with the guys in this locker room."
"My hats off to these guys the last month," echoed linebacker Adalius Thomas, one of many starters whose season ended prematurely due to injury. "They played great ball when a lot of guys went down and other guys stepped in."
"You know, we were playing good ball late, regardless of who was in here. Guys were stepping up … we started a little late, I guess," a dejected linebacker and co-captain Mike Vrabel told reporters, regret evident in his voice.
"You look at Indy, that game against us … carried them right on through …" his continued, his words trailing off at the thought of what might have been.
"Maybe we just started a little late."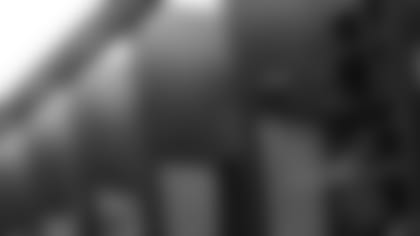 ]()Whatever the case, their off-season has started early. Which means the Patriots players and coaches will have more time than usual to rest, self-assess, re-energize, and look ahead to 2009.
One thing they might not do much of is watch the playoffs.
"I might flash through them, but, I mean, just to sit there and be a loyal football fan … probably not," Hobbs predicted. "I'll check out the scores and stuff. There's always going to be a 'what if' in my mind, but I've got a wife, got kids running around the house. They'll keep me distracted. I'll go out in the garage and do stupid stuff, or wash the car or something. I'm not going to be too worried about the playoffs."
Seymour gave a reasoned response when asked if he felt cheated that his 11-5 Patriots wouldn't be playing in the post-season, while other teams with lesser records would.
"Well, we did the best we could," he explained. "When you look at the teams that are in there, we lost to Indy, lost to Pittsburgh, San Diego, so, how mad at it could you really be? I felt we could have played better in those games and left ourselves in a better situation. In the past, we've won those tough football games. This year, we came up just a little bit short.
"Usually the saying is 'Win 10 and you're in' … it's disappointing because I feel like we were hitting the right stride at the right time and could've done damage [in the playoffs]. We'll get some rest – more than we've had in the past, and hopefully we can capitalize on that."
Some, like Thomas, will need more than rest. He spend considerable time rehabbing his injured arm, which forced him out of action since the beginning of this month.
Hobbs, for one, was able to find a bit of humor in his team's unplanned extra time off.
"I tell you, if I'm supposed to die at 89, man, I'm definitely going to die at 83," he deadpanned, drawing a good laugh from the assembled media.
"The years are chipping away at me. It's the job, it's the business. From the AFC Championship Game we lost at Indianapolis, to the long season going to the Super Bowl and into this season, there pretty much was no off-season. You might get two weeks off and then you're into the grind again. The body needs [rest]. I definitely need it. I'm just blessed I don't have any surgeries this off-season. With a little R&R, I should be ready to get back out there.
"It's funny," Hobbs concluded, "because as much as we complain about the rest we need, three weeks from now I'll be getting the itch to play again."
Patriots fans can hardly wait.