Bill Belichick's ability to disguise coverages and confuse quarterbacks was written about early and often in 2000. But when the season actually started, it was the defense that seemed confused as young quarterbacks like Tampa's Shawn King and Minnesota's Daunte Culpepper made the critical plays to walk out of Foxborough winners.
Don't think Belichick didn't take exception to a third-and-19 conversion and plays of the like. Don't think he didn't seethe when the Jets went 72 yards in 33 seconds to beat the Patriots in Week Two. Don't think his blood didn't boil as he witnessed 103 third-down conversions in 237 attempts.
He did all these things while maintaining his public composure and plotting a strategy to change things. The changes made his feelings about the personnel in the secondary obvious.
He released Antonio Langham and Larry Whigham. Not that those moves qualify as major, but he then drafted three defensive backs and signed three more in free agency.
While a subpar pass rush deserves its share of the blame, Belichick thrives on his secondary getting the job done and it didn't do that well enough as a group last year.
In the first six weeks of 2000, the Patriots allowed conversion rates of 37.5 percent (Tampa), 41.7 (at Jets), 58.8 (Vikings), 42.9 (at Miami), 41.2 at Denver and 52.9 (Indy). They then allowed rates of 40 percent or higher six more times on the season.
The Patriots allowed 60 percent or higher completion percentages on seven occasions including two games (at Indianapolis and at Chicago) where the opposing quarterback clicked on 80 percent of his throws. It's one thing to allow Colts quarterback Peyton Manning to beat you at that rate, but the Bears Shane Matthews? Not only did Matthews complete 81.5 percent of his passes, but also a Bears franchise record 15 straight.
Additionally, their 23 passing touchdowns allowed was 2.5 more than the league average. Simply put, they didn't do the job despite having two former and potential Pro Bowlers lining up in the secondary in Lawyer Milloy and Ty Law.
Those ugly numbers were enough for Belichick to address the position in every way imaginable. He drafted cornerbacks Brock Williams and Leonard Myers as well as safety Hakim Akbar. He then re-signed safety Matt Stevens and acquired cornerbacks Terrance Shaw, Ray Hill and Terrell Buckley.
Williams will spend his rookie season on injured reserve and Akbar had to miss mini-camp because the University of Washington had yet to hold graduation ceremonies, which by rule, kept him from participating. His late arrival in Foxborough has him well behind his teammates on the learning curve. Myers has impressed the coaches with his toughness and football smarts, but lacks top speed.
On the free agent front, Hill, who came over from Buffalo, will be a longshot to make the roster, but Shaw and Buckley will battle it out for the starting job opposite Ty Law, who could be pressed himself for the first time in his pro career. Both Buckley and Shaw are proven players, who like Law, enjoy playing aggressive coverage against opposing receivers. Shaw was excellent as Miami's nickel back last year after a strong career in San Diego that ended with his release while he recovered from a knee injury. Buckley also is a former Dolphin who played last year in Denver and led the Broncos with six interceptions.
Along with Otis Smith, Belichick now has four experienced corners who love to be up in a receivers' face playing aggressive football. That depth should result in the secondary having better success disrupting the timing of opposing passing attacks.
One things is certain and that is that Belichick will have more flexibility in his calls with the group of defensive backs he assembled for the 2001 season — a tool he may not have had last year to the desired degree.
Those two impact free agent signings could push Smith down to fourth on the cornerback depth chart and to have a fourth corner with his experience and ability is a luxury. But where any of the four fall on the depth chart may be irrelevant with all the spread formations used today. The more cover guys a team has the better it is equipped to deal with the four- and five-wide formations. Smith is a workhorse who demonstrates the leadership Belichick likes through his professional approach to the game as well as his study habits. He's made his share of big plays in his career, but also given up his share. He undoubtedly provides excellent depth with the flexibility to play free safety in a pinch.
Law is coming off a year that didn't meet his lofty standards, but he has the proven skills to be a top cover man. He had 74 tackles and two interceptions last year.
Milloy is as solid as any strong safety in football and will get to play alongside free safety Tebucky Jones for a second season, which should help the secondary's continuity. Milloy led the Patriots with 121 tackles and two interceptions while Jones added 55 stops and two picks. Belichick would probably prefer someone in the front seven take over the tackle lead this year because that may mean he's using Milloy more in coverage.
Despite all the additions, it is Jones who piques the most curiosity this year. After wallowing away for two years as an ineffective corner, Jones moved to the position he played as a senior at Syracuse — free safety. Now in his second year at that spot, he will be expected to improve substantially while also maintaining his Pro Bowl caliber special teams play.
The depth chart also includes Stevens, third-year man Tony George and Akbar at safety with Kato Serwanga, Hill, second-year man Antwan Harris and Sean Morey at corner.
Morey and George spent the spring in NFL Europe and are both solid special teamers, but will face long odds to beat out the rookies and Harris — players who were acquired by this coaching staff. What makes it tougher on those two is that most of the veteran players acquired in free agency will play special teams, making their chore to make the club as only a special teamer that much harder.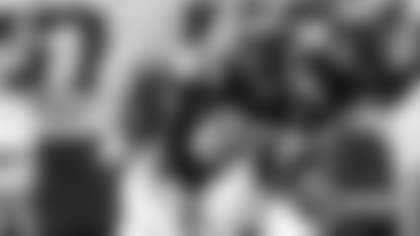 (4) Tebucky Jones, Ty Law, Lawyer Milloy, Otis Smith
(5) Tony George, Antwan Harris, Sean Morey, Kato Serwanga, Matt Stevens
(5) Hakim Akbar (R), Terrell Buckley (UFA-Denver), Ray Hill (UFA-Buffalo), Leonard Myers (R), Terrance Shaw (UFA-Miami), Brock Williams (R-injured)
(2) Antonio Langham, Larry Whigham
The Patriots ranked 28th in third-down defense, allowing conversions at a 43.5 percent clip; their worst rate since 1990
Can Terrance Shaw overcome last year's knee problems and regain his starting form?
Ty Law must be a shut-down corner regardless of what style he is asked to play.
The Patriots went without a defensive touchdown last year for the first time since 1993 and they allowed 23 passing scores, 2.5 above the league average.
Tebucky Jones - FS
Ty Law - CB
Lawyer Milloy - SS
Terrance Show - CB