The Patriots passing game was incredibly limited in 2000. First off, the protection problems were obvious. But for most of the season, Drew Bledsoe was limited to two receiving threats in Troy Brown and Terry Glenn. The tight end was non-existent in the offense until Jermaine Wiggins arrived late in the year and provided a boost. But for the most part, it was Glenn and Brown. That's it.
Not that those two aren't capable and accomplished receivers, but with just two threats, the Patriots were extremely easy to defend.
Brown caught a career high 83 passes, but for only 933 yards and an 11.4 yards per catch average. Because Brown doesn't provide much in the way of a deep threat defenses could focus deep coverage on Glenn and limit his big-play ability.
Brown is capable of making the big play because he is so adept at turning a short catch into a big gain with his tenacity and toughness. His longest reception of the season was 44 yards for a touchdown — 5 yards longer than the speedier Glenn's long reception of 39 yards. But most of Brown's yards on that play did come after the catch on a nifty play against the Broncos.
Glenn, like Brown, posted an impressive reception total, but a low yards per catch average for a player of his ability. He finished with 79 catches for 963 yards for a 12.2 average and a team high six touchdowns. Both guys had solid seasons, but the Patriots need to find a way to get Glenn open deep on a more regular basis. The way they hope to accomplish that is with additional weapons in the passing game.
After passing on David Terrell in the draft, Bill Belichick went out and signed veteran free agents Charles Johnson and Torrance Small, both who played for the Eagles last year, as well as former Dolphin Bert Emanuel and former Brown David Patten.
From among those, the Patriots hope to find a pair of viable targets. The addition of those experienced veterans should force defenses to game plan for the entire receiving corps rather than just two guys, and everyone should benefit.
So while Glenn and Brown may see their reception totals dip, if their yards per catch averages increase, that will only mean positive things for the Patriots offense. Whether Brown starts or not, he will see plenty of action in the slot where he is so effective, just as he did last year in multi-receiver formations.
Johnson and Small are the front-runners to be the third and fourth receivers as both provide more size in the lineup. At 6-3, Small is the tallest receiver on the roster. Johnson was second on the Eagles in receptions last year with 56 for 642 yards and seven touchdowns. Small added 40 catches last year for 569 yards and three scores.
Patten is a fifth-year player on the rise who posted 38 receptions for the lowly Browns last year. It must be taken into account as well that when Tim Couch went down, Cleveland didn't have much else at quarterback and struggled in the passing game.
Emanuel has 330 receptions in his seven years with the Falcons, Bucs and Dolphins.
The rest of the wide receiver group is made up of young guys trying to make their mark as special teams contributors. Both Shockmain Davis and Curtis Jackson saw time in multi-receiver sets last year. Also, Tony Simmons, who found his way into Belichick's dog house at the end of last season, has an outside shot of reclaiming his roster spot. He did have a strong spring playing in NFL Europe and if that carries over to training camp, his chances of making an impact this season will obviously increase. Dane Looker and rookie Ronney Daniels round out the position.
At this point, one can only assume that the tight end position will again be only a minor part of the Patriots offense. While the position produced a respectable 51 catches last year, there was no consistent threat and it contributed to the offense's inability to utilize the middle of the field in the 15-20-yard range.
Wiggins did jump into the mix late in the year after being signed off the Jets practice squad and had 16 catches in just four games for 203 yards (12.7 ypc). He definitely showed the ability to catch the football, but one has to wonder how effective the East Boston native will be once teams start game planning to slow him down, if indeed he becomes that much of a threat.
Certainly the team wasn't satisfied with the returning trio of Wiggins, Rod Rutledge and Chris Eitzmann. While Wiggins is a solid receiver, his blocking skills are in question. For Rutledge and Eitzmann, it is their receiving skills that need polishing. This could be Rutledge's last camp unless he plays inspired football in the month of August. This team needs the blocking from the position as much as the receiving, although that hardly brings the notoriety.
After drafting Jabari Holloway and Arther Love in April, the team also signed Johnny McWilliams away from the Vikings. He had just 22 catches last year for Minnesota, but he may provide the best combination of receiving and blocking skills at this point, or at least until Holloway and Love develop. That will be a slower process for Love, who comes from a small school and also underwent surgery on his groin similar to what J.R. Redmond had done last year.
If nothing else, receiving production in the red zone would be a huge plus from this position group. After enjoying the labors of Ben Coates and his red zone productivity for so many years, the Patriots received just four touchdowns from the tight end spot last year. Coates averaged nearly six a year himself until dropping to just two in 1999, his last season with the Patriots. Having that additional threat near the goal line can help free up other options as well.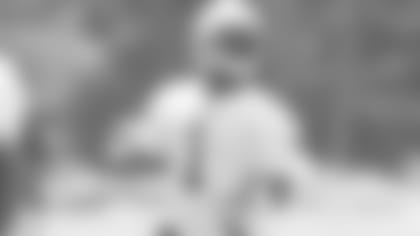 (3) Troy Brown, Terry Glenn, Rod Rutledge
(6) Shockmain Davis, Chris Eitzmann, Curtis Jackson, Dane Looker, Tony Simmons, Jermaine Wiggins
(8) Ronney Daniels (R), Bert Emanuel (UFA-Miami), Jabari Holloway (R), Charles Johnson (UFA-Philadelphia), Arther Love (R), Johnny McWilliams (UFA-Minnesota), David Patten (UFA-Cleveland), Torrance Small (UFA-Philadelphia),
Wideouts Terry Glenn and Troy Brown combined for 162 receptions. The rest of the wide receivers combined for 35 catches.
Will any of the new additions provide Bledsoe with additional weapons?
The Patriots need more options in the passing game to keep the safeties from rolling over into double coverage on the outside receivers.
The four veteran receivers signed by the Patriots have 1,080 career receptions. The Patriots five returnees have just 598 career receptions.
Charles Johnson - WR
Troy Brown - WR
Johnny McWilliams - TE