The Patriots bounced back from a dismal preseason opener in Washington with an eventful 42-35 win over the Eagles Friday night at Gillette Stadium.
It was a game that included a number of big plays – both good and bad for the home team – as well as plenty of storylines to break down as preseason action moves forward. Halfway through the exhibition schedule the battles for roles, jobs and roster spots will begin to really crystalize moving forward.
Here are half-dozen blogservations from a flag-filled night of fun in Foxborough:
Good Solder? – Is Nate Solder a budding franchise left tackle or just a good, solid blocker who's best suited, at times, being used as an extra tight end? After the Patriots picked up his fifth-year contract option this offseason, at a price tag of nearly $7.5 million for 2015, it seemed Solder was on his way to consideration as a Pro Bowl left tackle. And while that's probably still the case, it's weird seeing the former first-round pick being used so often as an extra blocking tight end. When he's working that role, Marcus Cannon takes over at left tackle. After blocking as a tight end, by rule Solder then has to sit out a snap before he can return to his tackle spot. Why couldn't Cannon simply handle the job as the extra tight end? Is Solder so valuable as an extra tight end – a position he outgrew when he got to college – that it's worth losing him at tackle for at least two snaps every time the need arises? Maybe it won't be an issue when/if Rob Gronkowski and Michael Hoomanawanui both get healthy, but it's still a unique deployment of supposed top line talent.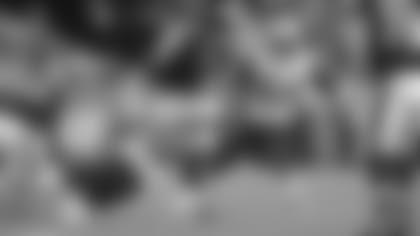 Swarming D** – It was just a small sampling, but it looks like the Patriots might be in the infancy of a pretty athletic, swarming defense. Malcolm Butler's opening forced fumble came thanks to help from Dont'a Hightower as the two converged on the ball. Nate Ebner got his pick as he and Chris White targeted the ball in the air. Rob Ninkovich made a nice third-down play. Things will change as we near the regular season and the starters get the main action, but there is at least a hint or vibe of the Patriots being the type of athletic unit that could put a lot of bodies around the football in 2014. When multiple bodies converge on the ball on each snap, it can lead to turnovers, even if they aren't always truly forced turnovers. Good things happen when defenses get as many hats as possible to the football with regularity.
Develin continues to impress – James Develin looks the part of a fullback with his badass neck role. But the more he gets chances to catch the ball, the more the converted Brown defensive lineman looks like an underrated athlete. He had two catches for 27 yards against the Eagles, including an impressive 15-yard touchdown. Develin also led the way for a portion of a rushing attack that churned out 250 yards after a disappointing ground effort a week ago. Develin is never going to be Larry Centers, but he might just be a guy in the passing game who can hurt a defense if he's ignored. As Josh McDaniels works to find as many weapons as possible to throw into weekly game plans, Develin might just be more than he looks. Add in his special teams value and work as an extra tight end and Develin is one of those undervalued but important players who make good teams reach their potential.
Josh Boyce disappoints** – I really want to embrace Boyce's athleticism and see if he can add a dynamic element to the offense but the fact remains the second-year wideout lacks the consistency to do that on a regular basis. Friday night saw Boyce turn in a nice 13-yard run on an end around followed by a solid catch that he turned into another first down. Shortly thereafter he failed to hold onto a catchable pass thrown behind him, and later he had a chance to make a big play from out of the Patriots end zone but couldn't corral Ryan Mallet's bomb. With Brian Tyms continuing to surge, Boyce cold be in trouble.
Mallett's pocket presence – Mallett isn't considered a scrambler by any means, and at times in Washington he looked quite stiff in the pocket, but against the Eagles he appeared to move around quite effectively. Several times the backup quarterback bought some extra time with subtle movements, and he stepped up in the pocket on occasion before drilling some quality throws. Mallett isn't going to make a living rushing for touchdowns like he did against Philadelphia but Tom Brady showed us you don't need to be a speed demon to move around with a purpose and Mallett's presence was much better tonight than in the opener.
Whither Will Smith – The veteran defensive end appears to be a man without a position in the Patriots new-look 3-4 front. He's been predominantly a 4-3 pass rushing end, but 282 pounds Smith doesn't seem to be a perfect fit as a 3-4 end or outside linebacker. He also appears to have lost a step or two as he attempts to start his 11th NFL season. On Friday he was used as a sub rusher on the inside as the lone down lineman, but once the injured defensive linemen return to full strength, I'm not sure there's a place on the roster for Smith.