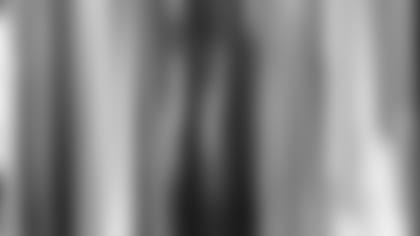 ]()
             **DATE:**  

December 2, 2001
SITE:
Meadowlands (80,062) - Grass
TELEVISON:
This week's game will be broadcast regionally on CBS (locally on WBZ Channel 4 in Boston). Gus Johnson will provide the play-by-play detail and will be joined by broadcast partners Brent Jones.
RADIO:
WBCN's Rock Radio Network 104.1 FM. Gil Santos, now in his 25th season as voice of the Patriots, will call the action along with Gino Cappelletti. The tandem is enjoying their 18th season together. For a complete listing of all local affiliates, please see page 13.
The New England Patriots (6-5) travel to the Meadowlands to battle the New York Jets (7-3) this week with hopes of avenging a 10-3 loss earlier this season and looking to snap a four-game series losing streak against their arch-rivals.
The Jets are among the hottest teams in the league, having won four straight and six of their last seven games. Their only loss during that span was to the St. Louis Rams. This week, the Jets return to action to host the Patriots after enjoying a bye last week. While the Jets own the league's best road record (5-0), they are just 2-3 at home. The last time the Patriots defeated the Jets was in New York in 1999, 30-28.
The Jets are the league's most opportunistic team, boasting a 22 turnover ratio. Their league-leading 33 take-aways are equally distributed with 17 interceptions and 16 fumble recoveries, while their 11 give-aways are second only to Oakland's 10 turnovers.
A Patriots victory this week would pull them to within half a game of the division-leading Jets and would snap New York's current four-game win streak. The win would also improve their record within the division to 4-2 on the season. The Patriots have now won three of their last four games and two of their last three on the road.
Patriots quarterback Tom Brady improved to 6-3 as a starter after last week's 34-17 victory over the Saints. For the third consecutive game, he has completed over 70 percent of his passes and now has a 93.5 passer rating, which ranks second in the AFC and fourth in the NFL. His favorite target continues to be Troy Brown, whose 70 receptions ranks second in the AFC and third in the NFL. He is currently on pace to become the first Patriot receiver to record 100 receptions in a season. Ben Coates, who had 96 receptions in 1994, holds the franchise's single-season reception record. Running back Antowain Smith has rushed for over 100 yards in three of his last four games and has scored a team-leading eight touchdowns this year, tying his career highs set with the Bills as a rookie in 1997 and again in 1998. The last Patriot to score eight touchdowns was Terry Allen, who led the team with nine touchdowns in 1999.
With five games to play, the Patriots find themselves tied with Denver for the seventh-best record in the AFC. Three of their next four games will be played against teams currently ahead of them in the conference standings, at New York Jets (7-3), Cleveland (6-4) and Miami (7-3)