I'm on the Giants Beat this week, along with my normal Patriots coverage duties. It's been sort of fun to get the perspective of the opposing team, take their collective temperature, and perhaps personalize New England's opponents a bit.
First player I wanted to speak with today was WR Hakeem Nicks, who didn't play in the Week 9 Giants-Patriots nail-biter at Gillette due to a hamstring injury. Of late, he's been suffering from a shoulder problem, which has limited his practice time, but almost certainly won't keep him from suiting up in Super Bowl XLVI.
I asked him about missing that game, and what he was able to take from it just by watching.
"I was actually at home watching it. It definitely had me up on my toes at home watching it," he replied smiling. "I feel like some things we can still take advantage of. It's pretty much a new season now. They're a different team, we're a different team. It's going to be played hard. It's going to come down to who wants it."
How then, I followed up, does he balance watching film with putting that game in the past?
"You study to prepare yourself for what you're going to face on certain down-and-distances, on certain coverages," Nicks explained. "To see what things might set you up and see what things they might have done and see if they're going to switch it up a bit. We looked at their most recent games. I think the last four games we broke down, their playoffs game, and we looked at our game against them as well."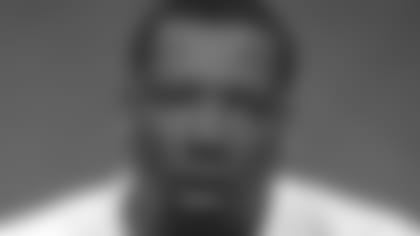 Another player with a compelling story is defensive end Jason Pierre-Paul. Aside from still being a relative newcomer to the game of football, his off-the-field adversity. His father, Jean, a Haitian immigrant, lost his sight before Pierre-Paul was born. As a result, he's never seen his son, let alone see him play football.
That, however, hasn't stopped him from listening to every game on the radio, offering advice and encouragement and general support. The Super Bowl will be the first time Pierre-Paul's father will attend one of his son's games.
"Yeah, he'll be here. My mom, my whole family will be here. It's going to be a great thing," Pierre-Paul said. "It's going to be the first time they've all been to a football game and they're all going to be here."
Jean Pierre-Paul has served as an inspiration to his son, who nearly chose to give up football in high school because he needed to take a part-time job to help support his family. He eventually reworked his schedule to accommodate school, football, work, and family, the example of his father's perseverance
"Just knowing my dad, my dad never quit no matter what. He never let that stop him. Most people, when something like that happens, they just think they're life is over. But that's not true. My dad can still do things like a normal person. He still cooks, watches my sister's and brother's baby when my mom's not home. He does things like a regular person.
"What I bring to the table to help my team out," Pierre-Paul added, "is that no matter what it is, we could be down 20 points, two touchdowns, I'm never going to quit. I'm going to keep rushing to the ball until the whistle blows and it's the end of the game. That's how I'm going to keep on playing."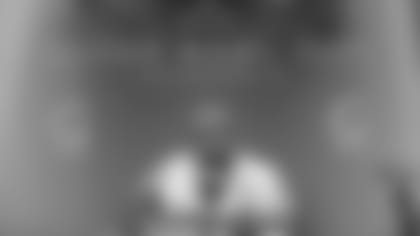 Meanwhile, RB Brandon Jacobs might've been a professional boxer today, had he taken a different fork in the road several years ago.
"It's something I've done, growing up, but I wanted to go to college," he explained, "and there weren't many schools I was interested in going to for boxing, like Notre Dame."
However, boxing is still in Jacobs' system, and he hasn't ruled out a return to the ring someday – as a manger. He's already gotten some experience in that area, even crossing paths with boxing luminary Bob Arum on arranging fight cards.
"I've been doing it the last couple of years, and it's stressful. Very stressful," Jacobs revealed. "The stressful thing about being a manager is dealing with promoters. But that's just the way they are. It's going to be tough dealing with them, no matter who they are."
Finally, it wouldn't be a Media Day without some frivolity. We got a taste of that just as we were about to leave.
A Spanish-language TV crew was camped out in front of WR Victor Cruz' podium, offering free salsa lessons (see yesterday's patriots.com "Behind enemy lines" story for more on Cruz and his touchdown celebration).
Naturally, my friend/colleague Lyndsay Petruny from Patriots Today had to give it a whirl. Below is the photographic evidence.