The rain is unrelenting on Tuesday afternoon, and while it changes their original plans, it doesn't damper the Patriots willingness to give back to the community.
For the ninth year running, the Patriots teamed up with UnitedHealth and Kaboom! to build a playground for Blackstone Valley Prep in Cumberland, R.I. While the weather put a halt to construction temporarily, Lawrence Guy, Ralph Webb and Jomal Wiltz manage to find ways to help out.
The Patriots test their artistic ability, painting chess and tic-tac-toe boards that will be placed outside, and go from classroom to classroom, visiting students.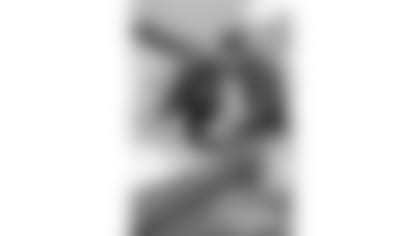 The kids, in return, grill the guys about Tom Brady, ask for autographs in pencil and show off their latest projects.
"Getting to see each individual classroom and people in there and what they're doing, it was amazing. I met a kid today writing a two-part series of a book about a chicken and a tiger," Lawrence said. "I take away the joy of seeing young children learning a little bit more and giving them a playground outside." 
With each classroom the guys walk into, the kids can hardly contain their excitement, and every time they walk out onto their new playground, they will be reminded of this day, the Patriots and the more than 200 volunteers who took time to build something just for them.
The volunteers are employees of UnitedHealth Group and their families who participate as part of its Do Good, Live Well initiative, according to Operations Manager Lenae Picco. She said as the volunteers got to work, the kids pressed their noses against their classroom windows to watch.
"They're so excited. That's what it's all about," she said. "It's all about the kids and how excited they are for the playground."
You can check out more photos from the visit in the gallery below.
Patriots players Lawrence Guy, Ralph Webb and Jomal Wiltz teamed up with UnitedHealthcare, the Cumberland community and KaBOOM! on Tuesday, Sept. 18, 2018 to transform an empty site at Blackstone Valley Prep into a kid-designed, state-of-the-art playground. The players also visited a few classrooms.