INDIANAPOLIS – The perception has turned into a reality.
Running backs, not so long ago, were coveted in large numbers early in the draft. Today, not nearly as much.
And that seems to be the case again this year, with most mock drafts projecting only one or two players at the position as first-rounders.
Yet, looks can be deceiving. If you ask the real experts (those tasked with making the actual selections), backs haven't lost much, if any, of their luster.
"It's a fine running back class," declared Atlanta Falcons general manager Thomas Dimitroff. "There's some speed there, some versatility there … you have some big guys that are going to tote the rock with a lot of power and you have other guys that can catch the ball, run, and create.
"As it stands to other running back classes, once again, this is one where, throughout the draft, you can pop off some very significant players."
"I think it's another solid class," echoed Kansas City GM Scott Pioli. "There are a lot of underclassmen that make it a solid class of running backs."
To Pioli's point about underclassmen, six of the top 10 all-around backs are coming out early for the draft, including the head of this year's class, Alabama's Trent Richardson (5-11, 225), the only consensus first-round talent. Virginia Tech's David Wilson (5-10, 205), also a junior, is slowing working his way into that territory.
As Dimitroff pointed out, there are backs that possess speed, others known more for their size and power. Richardson is one of the few in this crop who possesses all three.
He was outspoken about not being able to work out at the Combine due to a minor surgical procedure from which he's still recovering.
"I'm very disappointed I can't do the stuff here. I kind of irks my nerves when I hear guys say they don't want to do this and that at the Combine," Richardson asserted. "This is something you dream of and want to do your whole life. I always wanted to be in the spot I'm at now and show my skills at the Combine."
Richardson bristled at the notion that backs are being viewed less favorable than they once were, because of the pass-first mentality that prevails in the league these days. He said he felt it was almost his mission to change that perception single-handedly by being that every-down back that teams covet.
"The quality and effort I'm going to bring to the game … I'm a whole, complete back," he proclaimed. "Not to be cocky or anything, but I work on my game every day, even if it's not the physical stuff. I work in the classroom, learning plays and formations or learning the defensive line and what the linebackers are doing, trying to see what the safeties are doing, trying to pick up my blitzes. I love to block.
"Everybody knows I can run the ball," he added, almost as an afterthought.
"A lot of people are trying to find a negative anything in my game. There aren't too many negatives I have. I don't fumble … that's one thing I do not do."
OK, so what part of his game needs the most improvement?
"I don't say one part of my game does need work," he immediately replied. "I would say all of my game does. Because when it comes down to being a football player, you need to work on everything."
Wilson, meanwhile, is climbing up most draft boards because of his speed quotient, which he puts to use not only as a ball carrier, but also a kick returner.
"My sophomore year, I had two key kick returns for touchdowns. Last year, I was a return man … high school also," recalled Wilson. "I'm very comfortable being back there catching kicks. I think that's an asset I bring that not all the running backs in this draft bring."
He admitted, however, that had he not received a second-round grade from the NFL office, he would have elected to stay at Virginia Tech for his senior season. His decision to leave school early appears to be paying off, as he could be the second player at his position to come off the board in April – even though that might not be until late in the first or early in the second round.
The second and third round, where New England picked a pair of backs last year, could be where most teams choose to target ball carriers this April. And if the Patriots elect to grab another runner, they'll have to look in this area as well, since, at the moment, they don't have any picks in rounds 5-7.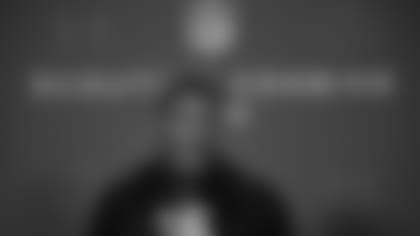 LaMichael James (5-8, 195) andLamar Miller (5-11, 212) are two more juniors who could hear their names called early in the draft. James, from Oregon, is smaller than most backs, but he's added a good five pounds of muscle mass since the college season ended.
"I'm getting stronger in my lower body half," he explained, "and I think that's going to help me tremendously [in the pros]."
Miller, a Miami junior, says he's been getting a lot of comparisons to former Hurricanes back and NFL veteran Clinton Portis.
"I'm just trying to stay humble throughout this whole process and show teams what I've got. I'm a fast running back, a play-maker, a game-changer," he said during his Combine media interview session.
Seniors have a case to make for themselves, too, of course.
Florida's Chris Rainey (5-8, 178) expects to do something that no one has ever done at the Combine – run a sub-4.2 40-yard dash. He guaranteed he'd do so, too.
"I'm going for the 4.1, man. I'm going for the big one," he boldly declared, surrounded at a table by reporters, microphones, and cameras. No going back on this prediction, therefore.
The Titans' Chris Johnson still holds the Combine record of 4.24, but not for long, he was asked?
"Oh, definitely," Rainey responded.
He just might do it, too. His fastest career 40 was a 4.23. "And that was on the grass [at Florida]," he was quick to add. "There's [artificial] turf right here [at Lucas Oil Stadium], so, I know I'm going to run faster than that."
If he does, every team will be interested in him, but even if he doesn't shatter the land-speed record, New England will likely have an interest in him. Rainey loves playing special teams, and he already has met head coach Bill Belichick, who enjoyed a close relationship with the Gators program during Urban Meyer's tenure as head coach there. And Rainey revealed that he'll be meeting officially with Belichick and the Patriots soon.
"My agent's been talking to me about him," said Rainey. "He's ready to interview me, so, I'll be ready."
Another senior that could catch New England's eye is Doug Martin (5-9, 220) of Boise State.
"I have a lot of qualities similar to Ray Rice, Maurice Jones-Drew, some of the smaller backs in the league right now," he said when asked to self-evaluate. "I definitely think my style is more of a violent runner, but I'm also elusive at the same time. I can catch well out of the backfield."
Martin conceded that he could use more work in two areas of his game in particular: recognizing defensive looks pre-snap, and being more decisive in his decision-making.
When it comes to later rounds, or even rookie free agents, Terrance Ganaway (6-0, 240) could be a different type of back than the Patriots are used to seeing, at least since Corey Dillon left town in 2007.
He has an interesting story, too. Originally a blue-chip recruit out of high school, Ganaway enrolled at Houston and gained 550 yards on just 109 carries as a true freshman, along with six touchdowns.
However, when his mother died of kidney cancer, he left Houston and went to Texarkana College in Texas and took a year off from football.  His former head coach at Houston, Art Briles, convinced him to get back in the game when he took the head job at Baylor.
Ganaway contributed as a backup for two seasons before starting as a senior and finishing with 1,547 yards (best in the Big 12 last year) on 250 carries (6.2 average) and 21 touchdowns. He's clearly still a raw talent, which is why he might be available later in the draft.
Many Patriots and NFL Draft observers were a bit surprised last April when the Patriots took not one, but two running backs with back-to-back picks (pun intended). They should not be surprised, however, if New England decides to go back to the backfield this April.
In 2011, second-round choice Shane Vereen, the first of the two picks, battled a hamstring injury from the start of training camp and was a virtual non-factor all season. Stevan Ridley, though, was a pleasantly surprising addition. The third-round choice was a frequent contributor, although holding onto the football proved problematic, particularly late in the season. That was one of Ridley's few flaws in what was otherwise a solid debut season.
Incumbent veteran and rushing leader BenJarvus Green-Ellis is due to become a free agent this spring, and there's no guarantee he'll be back in Foxborough come the fall. Ditto for elder statesman Kevin Faulk, who's mulling retirement a year after coming back from serious reconstructive knee surgery. If both go, that would leave only Danny Woodhead on the Patriots' running back roster.
Odds are, unless New England grabs a back or two in free agency in March, running back could be a position they target in the upcoming draft.