We're in the thick of the preseason and questions about the 2019 Patriots still abound. Though Bill Belichick told the media before practice "I don't know what the bubble is," nearly three weeks of roster competition and injuries have only made the roster bubble more clear.
Belichick added "We go out there with all of the players, give them an opportunity, and evaluate them. Some guys are improving. We'll see where they end up. We'll just take it day by day and try to do the best we can to try and put the most competitive team on the field that we can."
Where will the final spots of that most competitive team be decided? Let's reset the roster bubble after learning a lot about the team through the start of training camp, joint practices and the first preseason game.
Cornerback
The top line of Stephon Gilmore, Jason McCourty, J.C. Jackson and Jonathan Jones seems pretty set. All have had strong training camps and give the team as good a starting foursome as you'll find in the league. It's with the draft picks from the last two years where things get interesting, including Duke Dawson, JoeJuan Williams and Keion Crossen.
That trio saw extensive time against the Lions with Williams (97 percent) and Dawson (67 percent) leading the entire defense in snaps. Both players had their up and downs, while Crossen (38 percent) had the best game of them all in more limited action.
What separates this positional battle is that each player in unique. Dawson has been primarily a slot cornerback while Williams is a long, outside option. Crossen has some flexibility as an outside corner who played a quarter of the 2018 special teams snaps. It's doubtful the Patriots would cut a second-round rookie, so penciling in Williams on the roster makes sense. But a year removed from his own second-round status, Dawson has all he can handle to defeat the 2018 seventh-rounder Crossen.
Defensive End
It's hard to remember a year the Patriots defense has been more stacked at defensive end/outside linebacker. Often a position the team has been desperate to fill, there's just an embarrassment of riches with the returns of Jamie Collins and John Simon, and the already stellar pairing of Don't Hightower and Kyle Van Noy. Add in the surprising emergence of Shilique Calhoun as well as solid-so-far rookie Chase Winovich and third-year Derek Rivers, and the team has a collection of 7 potential pass rushers who can can play on the edge of the defense in a variety of roles.
Rivers and Calhoun would appear to be the two who are at the bottom of the depth chart, despite both having strong camps. This is the spot where the hardest decisions will have to be made. Regardless, the Patriots third down defense, including Michael Bennett dominating the interior, will be a force to be reckoned with.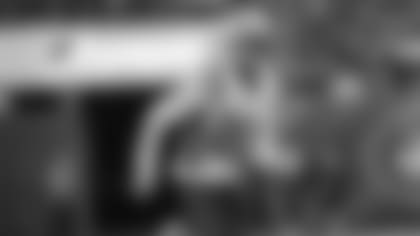 Safety
The Patriots have won three Super Bowls with safeties Devin McCourty, Patrick Chung and Duron Harmon on the back end, but only Harmon is under 30 so it wouldn't be a bad idea to have an eye toward the future at the vital position. Terrence Brooks has seen plenty of action with the top unit, likely due in part to Chung recovering from injury. Then there's Obi Melifonwu, a former second-round pick who joined the team mid-way through 2018 and has gotten some looks as well.
Nate Ebner, just off of PUP on Monday, is also considered a safety but his primary contributions come on special teams, where Brooks has been a solid pro. For Brooks or Melifonwu to win a roster spot, beating out Ebner would be the most direct route to the 53-man roster. It's hard to see all three making it.
Wide Receiver
With N'Keal Harry absent from practice on Monday, the competition at wide receiver should get even more intense with additional quality reps for Maurice Harris, Phillip Dorsett and Dontrelle Inman. Without Julian Edelman and Harry on the field there isn't a true receiver lock out there, except for undrafted rookie Jacobi Meyers who has been the most consistent receiver in camp.
Braxton Berrios had a good first preseason game playing from the slot and should get a chance to show what he can do with Tom Brady sometime in the next two games. The receivers have been solid but can they be more than solid? That's what we need to find out in the second and third preseason games.
The Patriots needed some new receivers to come in and contribute, and while Meyers has been one to fully seize the opportunity, the roster spots for the rest of them are still very much up in the air.
No Depth Battles – Tackle and Tight End
Some positions are stacked this year but two are clearly not – Tackle and Tight End. Yes, by October a starting tackle duo of Isaiah Wynn and Marcus Cannon, with Ben Watson at tight end should be fine. But for now, Wynn is just easing his way into competitive reps, while Matt Lacosse, the tight end penciled in as Watson's replacement for September, was conspicuously absent from practice on Monday after sustaining an injury against the Lions. The reported trade for Eric Saubert can't be a great sign for Lacosse's outlook. Meanwhile, Stephen Anderson, Ryan Izzo and Andrew Beck have done little to state their case for a roster spot. Time may be running out on them. Lance Kendricks was back at practice Monday in a red no-contact jersey and he's got a golden opportunity.
As for Wynn, Monday provided his most extensive work to date since his injury last summer and it also gave the team a chance to see Dan Skipper over the right side. Skipper is in a battle to make the roster but there isn't really anyone else to choose from, as rookie Yodny Cajuste remains on PUP/NFI. The return of Cole Croston to the team on Monday only reinforced how fluid the tackle spot is, with two open jobs and no clear answers.
Anyone not named Wynn, Cannon or Watson are on the bubble and it's not so much who they're competing with, it's whether or not they're even players who can help the team, as Belichick puts it.