Last week, Sebastian Vollmer took time out from training to say "hallo" to one of the Patriots biggest fans from his home country of Germany.
Sebastian greeted Dirk Salfemeier, who made a special pilgrimage to Gillette Stadium while vacationing in New England. The two chatted for a few minutes before Sebastian recorded a message for Dirk to share with all the Patriots fans in Germany. He also got to take a look at a special banner representing the team's fan base in the European country. The banner was a gift for the PFW crew, who helped arrange the meeting.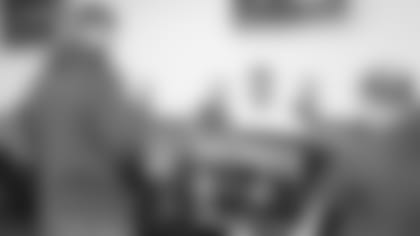 Dirk is the president of New Berlin Patriots, a popular fan club based in Berlin, Germany, that has been active since 2005. During the football season, the group gets together every Sunday at a local Irish pub to watch the Patriots play, despite the time difference. They are also part of a larger coalition of German Patriots fan clubs comprising more than 1,300 members.