Musings, observations and the occasional insight as NFL training camps begin to open and the league's players and coaches head back to work over the course of the next 10 days….
* If I'm the Cowboys, I've got plenty of reasons to be nervous about the possibility of an Ezekiel Elliott holdout this summer, and how it could set a very damaging tone for the team's highly-anticipated 2019 season.
These two truths we hold to be self-evident when it comes to the Cowboys: Elliott is an absolutely crucial component — and the most irreplaceable cog — on a team that went to the league's final eight last season and harbors legitimate Super Bowl dreams this year. And secondly, make no mistake, this is a critically important season in Dallas, with head coach Jason Garrett working in the final year of his contract and the club attempting to win consecutive NFC East crowns for the first time since 1995-96. As it embarks on the 60th season in franchise history, Dallas hasn't even made the playoffs in back-to-back years since 2006-07.
Anything less than another playoff berth seems likely to inspire a coaching change and perhaps other organizational and roster adjustments, and that adds an element of now-or-never to the Cowboys' impending season.
With Elliott reportedly considering a holdout that could extend all the way into the regular season, despite having two years left on his rookie deal, he could cripple the Cowboys' 2019 efforts almost before they have begun. The fourth-year running back is that instrumental to the run-heavy Dallas offense, and he's easily one of the three best backfield talents in the game. The Cowboys might be more focused on extending quarterback Dak Prescott and No. 1 receiver Amari Cooper, both of whom are eligible for free agency in 2020, but they best not take Elliott's potential threat lightly.
Without Elliott as the centerpiece of the offense for any length of time, the potency we saw from the Cowboys' new "triplets'' combination in the second half of 2018 could be significantly lessened, with Prescott and Cooper unable to make up for an attack that uses the Dallas running game to in effect set up the passing game.
The Cowboys, I'm presuming, know Elliott indeed has leverage and is aware of his importance to the franchise. With two years left on his five-season rookie deal, he's not worried about getting to free agency. He's worried about getting paid while he's still in his prime and producing heavily for a Cowboys team that leans mightily on him.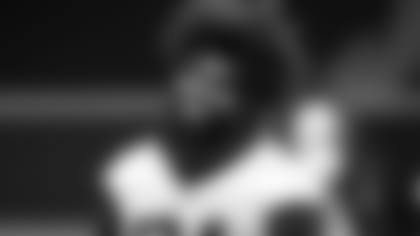 This is no DeMarco Murray flashback five years ago, when Murray led the league in rushing and set a team record in the process, but was still allowed to enter free agency in 2015 without a new deal. Dallas knew what it was doing back then, having used up the best Murray had to offer, and his career only extended three more seasons. This time, if Elliott is serious and stays away from the team throughout the summer, you can bet the Cowboys will be the first ones to blink at some point in September, acknowledging they can't get to where they hope to go this season without their most elite weapon.
* I don't think the Chargers on the other hand will give much ground at all when it comes to a possible Melvin Gordon holdout. The fifth-year running back is making all kind of noise about his intention to skip training camp, and his willingness to miss regular season games or even demand a trade if need be.
Gordon is huffing and puffing, but I don't think all that hot air is going to do any real damage to the foundation the Chargers have built. He's simply isn't in the same class of running backs that Elliott is, and Los Angeles isn't anywhere near as reliant on him as he's presuming (Austin Ekeler, anyone?)
At some point this season before Week 11 arrives, Gordon will have to report in order to get credited for a fifth year of service and put himself into position to enter free agency (providing the Chargers don't franchise him for a year or two, which they could easily do). Otherwise he's in the same position as he was in at the start of 2019, only one year older and closer to exiting his prime earning potential.
That reality means Gordon is relying on the Chargers to do right by him, but he can't really force them into such a move unless Los Angeles genuinely believes its Super Bowl window of opportunity is right now due to quarterback Philip Rivers' advancing years. Yes, he has outperformed his rookie contract and is a top 10 running back in the NFL, and at $5.6 million this season he'll be underpaid. But that's the advantage teams have in the current CBA with the fifth-year option for first-round draft picks, and the Chargers are likely to take full advantage of the situation.
Maybe L.A. will want a happy and contented Gordon on hand this season and at some point give him a short-term deal that rewards him for his previous production and pushes him into the top 10 pay scale for running backs. But the Chargers certainly don't have to do that, because they hold most of the good cards in this poker game. Gordon might stay away for a good portion of training camp, but chances are he'll be back in the Los Angeles lineup before missing out on too many regular-season game checks.
* Call me skeptical the NFL will ever convince or entice the players to go along with the 18-game regular season, a topic that is again being renewed and debated thanks to its likely inclusion in the ongoing negotiations for a new collective bargaining agreement.
With both players and fans seemingly against the increase to 18 games, the league is on a bit of an island unto itself, and I still haven't heard it make a convincing case for the move other than it would increase revenues for everyone involved. An obvious money grab doesn't make for much of a rallying cry.
Everyone has their price, to some degree, and I suppose the players could some day go along with 18 games if they won enough concessions from the owners in regards to other components of the CBA they're against. Would the NFL drop the franchise and transition-tag mechanisms in exchange for 18 games? And would that be enough, or would it take doing away with the fifth-year option, testing for marijuana and a host of other issues to get the players to sign up for two more games per year? Miles to go before we sleep on that front.
The plan that still makes the most sense to me is the 17-game schedule that includes eight home games, eight road games, and one international or neutral site game for each team. I could see that earning enough support as a compromise solution, and it would also help the league grow the game beyond the U.S. while not dramatically affecting the toll of the season from a health and safety aspect.
For now, 18 games just remain a news cycle talking point and nothing more. I'm going to have to see some real progress — and real soon — to believe it, but if the NFL really does think a new CBA might be forged before the 2019 regular season opens, there's virtually no chance the 18-game schedule will be part of the new deal. It just doesn't have enough wind at its back.
* This is the point where I hike up my proverbial suspenders, point a bony finger and tell all you noisy kids to get off my lawn, but for the life of me I can't fathom how much energy is spent every July by NFL players who are upset by their Madden rating.
Really, DeMarcus Lawrence? The Cowboys defensive end got a huge new contract this offseason, the richest in franchise history, but he's still not happy. Why? Because the Madden 20 game gave him a rating of 89, tied for the sixth-best in the league. Shoot, even five other Cowboys had higher ratings, an indignity no man can swallow without taking action.
Lawrence actually took to Twitter to call out EA Sports, which produces the wildly popular video game, and call for a boycott of Madden by Cowboys fans. Because, you know, there's nothing much else important going on these days.
"Hold up, (EA Sports)," Lawrence tweeted, via Pro Football Talk. "(You're) not just going to disrespeck me like that with an 89 and get away with it. PUT. SOME. RESPECK. ON. MY. NAME. UNTIL THEN COWBOYS NATION IS ON MADDEN STRIKE! RT @dallascowboys Nation show em we ain't playin bih."
I might respect him more if he could spell just a little bit.
* We won't know anything for sure until the preseason games start and the calls start being made, but does anyone seem to have a good feeling about how the new replay review rules for pass interference (flagged or otherwise) are going to play out? The general prevailing opinion at the moment is that the league over-reacted to the blown non-call in the Rams-Saints NFC title game and you're never going to get an inherently subjective judgment call to be seem uniformly by multiple people. Thus more replay is only muddling the situation, not illuminating it.
It certainly sounds like a mess in the making, but in reality we're probably over-reacting to the over-reaction. Let's give it some time and see how often these news rules impact a game. And if it's too often, you just now there will be a course correction coming from the league officiating office, as was the case last year with the roughing the quarterback point of emphasis, and the new rule against initiating contact with the helmet.
Chances are the new replay rules will be here to stay if they don't set off a firestorm that rages longer and more intensely than the one that inspired them in the first place — the Saints getting denied a Super Bowl berth because of the missed pass interference by the Rams. Because that's the new standard in the league for the you-know-what hitting the fan. And it's a high bar.
But if the new rules do some how spark such a fallout, and become wildly unpopular with the fans, coaches and players alike, you can start the countdown on when the NFL will do away with them and perhaps try again. Or not, perhaps opting this time to leave well enough alone.
* That video that surfaced the other day of freakishly gifted Chiefs quarterback Patrick Mahomes throwing a ball out of Arrowhead Stadium was interesting, in that now-I've-seen-it-all-on-the-internet sort of way. You wonder if it's going to catch on league wide and become a challenge and a point of pride for other NFL quarterbacks?
Can Tom Brady heave it out of Gillette? Maybe over the lighthouse in the open end zone? Does the Chargers' Philip Rivers have an advantage, with his funky sidearm delivery still making his capable of throwing one over the relatively low walls of the cozy StubHub Center? And what do we do for quarterbacks who play in domes? Will the Colts open the retractable roof for Andrew Luck to join the club? And is there any upside in this for Drew Brees, even if he tries to hit the highest catwalk in the Superdome? Shouldn't he be saving his arm for one last Saints Super Bowl run?
That Mahomes. He has changed the game yet again.