Musings, observations and the occasional insight in a Week 9 in the NFL that finished far better than it started…..
* Sure, the 1972 Dolphins of 17-0 fame are happy today, because the last remaining undefeated team of the 2018 season just took its first loss of the season. But in truth, football fans everywhere should be just as pleased, because if Sunday's shootout in the Superdome was a preview of the NFC Championship game as many presume, it's going to be an epic afternoon or evening of football.
New Orleans survived against the visiting Los Angeles Rams 45-35 in a game that was as good as its hype, and it is difficult to see anyone staying with either one of these teams before they inevitably collide again in January. For now, you'd have to give the nod to the Saints as the team to beat in the NFC, but just barely, with the caveat that the outcome could be different if the game is played in the L.A. Coliseum.
If you love offensive football played at a break-neck pace, this showdown was for you. It had a little bit of everything, including a 21-point rally by the Rams to tie the game at 35-35, a Joe Horn cellphone-in-the-goalpost impersonation by unstoppable Saints receiver Michael Thomas, and huge games from both New Orleans running back Alvin Kamara and quarterback Drew Brees.
New Orleans (7-1) has won seven in a row since dropping its home opener to Tampa Bay, while the Rams fell to 8-1 and lost for the first time since last year's wild-card round at home to Atlanta. In the end, Brees did a great job dissecting the Rams superb defense, and New Orleans was the first time all season to really hold Los Angeles running back and MVP candidate Todd Gurley in check. Gurley only had 79 yards from scrimmage, about 65 fewer than his season average, and Brees was on fire, throwing for 346 yards and four touchdowns. Add in Thomas' team-record-setting 211 receiving yards on 12 catches, and Kamara's three touchdowns, and the Saints answered the season's biggest challenge in Week 9 in resounding fashion.
But stay tuned, because the NFC is now officially a race to be continued.
* Surprisingly enough, the Chargers have now won 15 of their past 20 games, or 12 out of their most recent 15 if you care to slice it a different way. That's a lot of success for a club next to no one is talking about as a potential AFC Super Bowl contender, but you can probably in part blame Kansas City's fast start in the AFC West for that.
Los Angeles (6-2) notched itself a very impressive 25-17 win at Seattle (4-4) on Sunday, knocking off a Seahawks team that had won four of its past five and is always tough to beat at CenturyLink Field. Just imagine how good the Chargers might be once pass rusher Joey Bosa returns to the lineup with full health, or if the Bolts ever locate a reliable kicker (and Caleb Sturgis is not that, with two missed point-afters and a botched field goal try against the Seahawks)?
While all eyes have been on the high-powered Rams or Chiefs this season, the Chargers deserve our attention as well. Their offense is darn close to being top-shelf, and the defense is coming on as well, led by the exploits of rookie safety Derwin James. Los Angeles is a hotbed for quality NFL teams this season, and it's not just the Rams who have gotten it done.
* That's the loss that just might seal the deal for Broncos second-year coach Vance Joseph in Denver. In falling to visiting Houston 19-17, the Broncos dropped to 3-6, with six losses in their past seven games. In Denver's latest meltdown, kicker Brandon McManus was wide right on a potential game-winning 51-yard field goal try on the game's final play.
Though there are seven more games for the Broncos this season, Denver is 5-16 in its past 21 games and defeat has become the team's default setting. It finds a way to lose, no matter how promising the scenario appears. The Broncos defense limited the Texans to just a field goal in the second half and still couldn't take advantage.
Houston is doing just the opposite, of course, winning even when it doesn't play its cleanest game. The Texans are 6-0 after beginning the season 0-3, and now own the league's second-longest active winning streak, trailing only New Orleans, which has won seven in a row. If the Jaguars and Titans keep floundering, Houston will win the AFC South in a cakewalk, claiming its third division title in four years.
* The standings don't say so just half-way through the season, but it feels like the Steelers just won the AFC North for the third year in a row and fourth time in five years. Such was the import of Pittsburgh's gutsy 23-16 conquest of the desperate Ravens in Baltimore on Sunday, the Steelers' fourth win in a row.
Pittsburgh is 5-2-1 after eight games, with Cincinnati right on its tail at 5-3 as it takes its bye. But we all know the Steelers have owned the Bengals for a while now, so it was Baltimore (4-5) that Pittsburgh had to face down and defeat, and Mike Tomlin's club got it done despite losing at home to the Ravens in Week 4.
The play of the game from my vantage point was the throw backup quarterback Josh Dobbs made in the fourth quarter, with Ben Roethlisberger sidelined for one play after getting the wind knocked out of him on a crunching hit by Baltimore linebacker Za'Darius Smith. Entering the game cold, Dobbs coolly fired a 22-yard pass to JuJu Smith-Schuster on second-and-20, deep in his own territory. The play got Pittsburgh out of a hole and two plays later Roethlisberger hit tight end Jesse James for a back-breaking 51-yard completion down the right sideline.
The Steelers are making almost all the key plays in any particular game these days, and have the look of a team that has played its worst ball, steadied itself and then managed to recapture its swagger and momentum. With two months to go, Pittsburgh knows the playoffs will once again be in its future.
*The future is now very murky indeed in Baltimore, where I expect the heat to intensify exponentially on 11th-year Ravens head coach John Harbaugh. This season of promise and urgency has gone south in Baltimore, and Sunday's loss to the Steelers was the Ravens' fourth in five games after a 3-1 start. Baltimore now opens its bye week while questions about Harbaugh's status will begin dominating the narrative among the media and the team's frustrated fans.
The Ravens essentially lost the game in the first half when they had two deep red zone drives but could only turn them into a pair of short Justin Tucker field goals. Pittsburgh by comparison was great on third downs (10 of 16 converted) and scored a pair of touchdowns in the first half to lead 14-6 at the break. Ravens quarterback Joe Flacco missed too many open receivers and came up small when the moment required clutch play.
At 4-5 the Ravens aren't buried in terms of the wild-card race in the AFC, but they probably would have to win six of their remaining seven games to make sure they'd qualify at 10-6. Otherwise it's going to be a fourth consecutive playoff-less season in Baltimore, and almost certainly the end of the team's Harbaugh and Flacco eras.
* Todd Gurley has been positively machine-like. Drew Brees is as dangerous as ever. But can we just give Patrick Mahomes the league's MVP honor now and dismiss the suspense? Nobody has been better than Kansas City's second-year quarterback this season, and he proved it again Sunday, throwing for 375 yards and three touchdowns in the Chiefs' workman-like 37-21 destruction of the Browns in Cleveland.
Through nine games this season, Mahomes has 29 touchdown passes, just one shy of Len Dawson's 54-year-old team record of 30, set in 1964. Mahomes' 2,901 yards passing this year puts him on pace for more than 5,100, which would shatter Trent Green's 2004 franchise mark of 4,591. And with his eighth straight game of at least 300 yards passing, Mahomes is just one game short of tying Brees' NFL record of nine in a row, a feat Brees has accomplished twice.
At 8-1, the Chiefs are rolling again, with a three-game winning streak coming off their lone loss, at New England on the Sunday night of Week 6. Kansas City has two more games before its bye: Next week's expected rout of Arizona at home, then the huge showdown with the Rams in Mexico City on Monday night in Week 11. Good luck trying to find more than two additional losses on the Chiefs schedule. At worst they appear headed for 13-3, maybe 14-2.
* The Browns never truly threatened to upset the Chiefs, but Cleveland's injury-depleted ranks at least gave a fairly good effort in interim head coach Gregg Williams' first game on the job. Cleveland's secondary was particularly thin and that proved to be easy pickings for Mahomes and Co. Kansas City had four touchdown drives of at least 75 yards and an offense that entered the game averaging 36.3 points per week scored 37 against the Browns.
If Williams can stay away from the ridiculous press conference moments, he has a chance of improving the product in the season's second half by more than a little bit. He took an aggressive approach on Sunday against the Chiefs, and why not? The Browns weren't going to slay the giant by playing conservatively. Remember, it's all about taking care of and developing rookie quarterback Baker Mayfield this year in Cleveland, and the No. 1 overall pick played a quality game against Kansas City, throwing for 297 yards with two touchdowns and one interception on 29 of 42 passing.
A fourth loss in a row stings for the Browns (2-6-1), who once were 2-2-1, but at least Cleveland owner Jimmy Haslam finally cut the cord on the Hue Jackson mistake. That's real and obvious progress right there.
* The Bills are nearly unwatchable on offense and pretty much have been since that still-shocking upset win at Minnesota in Week 3. Chicago has a quality defense, and even without an injured Khalil Mack (ankle) playing for the Bears, Buffalo had absolutely no chance to move the ball and score points in its 41-9 home loss to Chicago. In fact, the Bears defense wound up out-scoring the Bills, with Chicago getting two defensive touchdowns on a 65-yard fumble recovery by safety Eddie Jackson and a 19-yard pick-6 by outside linebacker Leonard Floyd.
Buffalo (2-7) has scored a measly nine, six and five points in its past three games, and only twice all season has topped 13 points in a game, and not since Weeks 2-3. Tell me again why the Bills decided to retain veteran running back LeSean McCoy at the trading deadline instead of getting some value for him? In the immortal words of Ricky Watters, "for what, for who?'' McCoy is wasted playing on this offense and he's not producing much any way, carrying 10 times for just 10 yards on Sunday.
* The Bears are 5-3 for the first time since 2013 and their worst-to-first story continues to unfold. Chicago will retain its hold on first place for another week and Matt Nagy has been the most successful of the seven first-year coaches in the NFL, with Chicago already matching last year's win total of five games.
It's a shame Mack had to miss his second game in a row with his bad right ankle, since he starred at the University of Buffalo and would have been playing in front of some friendly fans against the Bills. But Chicago didn't need him, forcing four Buffalo turnovers, including three Nathan Peterman interceptions.
Now comes the biggest three-game stretch of the season thus far for the Bears, with three consecutive division games, the first of which are at home: Detroit, Minnesota, then at Detroit for the traditional Thanksgiving Day early game. The Bears need to be no worse than 7-4 coming out of that stretch to keep their playoff drive alive, because they still have tough games at home against the Rams and Packers, plus a trip to Minnesota in the season's final four weeks.
* It figures the Lions would go touchdown-less in the first game they played without the traded Golden Tate, and that's only going to add fuel to the debate over why Detroit dealt away their most proven play-making receiver when they were only a game out of first place in the NFC North?
The Lions offense was overmatched in the 24-9 loss at Minnesota, especially its offensive line. Detroit quarterback Matthew Stafford endured a nightmare afternoon that included a career-high 10 sacks and a fumble lost when he unwisely tried to pitch the ball back to rookie running back Kerryon Johnson while scrambling. Vikings defensive end Danielle Hunter scooped up the loose ball and took it back 32 yards for a game-clinching return touchdown. Detroit saw its streak of scoring at least 14 points end at 25 games.
It sure looked to me like Stafford took some of those sacks because he didn't have the kind of reliable, hot-read receiver who was there to help when the quarterback was under pressure. Tate always served that role nicely for Stafford and the Lions clearly missed him. And now at 3-5, Detroit would seem to have a pretty decent grip on last place in the NFC North as the first half of Matt Patricia's first year on the job comes to a close. Tate will make his Eagles debut next week with Philadelphia coming off its bye, but in the meantime, the posture of reporters covering the Lions has definitely improved under Patricia.
* The Vikings pass rush was absolutely relentless against the Lions, with six different defenders recording at least a half sack in that franchise-record 10-sack onslaught. Hunter led Minnesota with 3.5 sacks, plus that fourth-quarter fumble recovery for a touchdown. He was a beast all day, registering nine tackles and four quarterback hits, and was a major part of a defensive effort that held the Lions to a paltry 214 yards of offense. He now leads the NFL with 11.5 sacks this season and has been worth the big-money deal (five years, $72 million) he signed in June.
On offense, Adam Thielen's season-long streak of games with 100 yards or more of receiving ended at eight (he had only 22 yards) but he still showed up in the box score with a touchdown catch in his sixth consecutive game. The best news for Minnesota's attack was seeing second-year running back Dalvin Cook blow through the Lions defense on a 70-yard run in the first half, after missing five of the past six games with a hamstring problem.
Cook gained 89 yards rushing on 10 carries, with 20 more yards on four catches, helping offset the absence of injured receiver Stefon Diggs (ribs). Very quietly the Vikings (5-3-1) have gotten pretty hot, winning four out of their past five after starting 1-2-1. After their bye in Week 10, Minnesota plays at Chicago in Week 11, in what should be a battle for first place in the NFC North.
* That was the win of the year thus far for Atlanta, which has scratched its way back to .500 at 4-4, on the strength of a three-game winning streak. Washington came into Week 9 with its own three-game winning streak, but the Falcons finished that in dominating fashion, pushing Washington around en route to a 38-14 victory. It was Atlanta's first road win of the season after an 0-2 away record, and the Falcons ran wild against a pretty good defense, rolling up 491 yards on offense and four Matt Ryan touchdown passes.
It's not like 4-4 puts the Falcons in great position to make a second-half drive for the playoffs, because the NFC is still plenty deep. But a break-even first half records sounds pretty good after a 1-4 start and what looked to be a lost cause of a season in Atlanta.
* As for Washington, facing a big deficit like it did against Atlanta is a recipe for disaster because Jay Gruden's club isn't built to be able to score quickly and mount big comebacks. The running game that Adrian Peterson leads was basically rendered a moot point, and multiple offensive line injuries made Washington's plight even more severe once it fell behind. Peterson totaled just 17 yards rushing on nine runs, and Washington's 68 yards rushing on the day made the game an uphill climb.
Washington still leads in NFC East at 5-3, but it has been outscored by 12 points this season and the collapse of the defense against Atlanta was an ominous sign for the season's second half. Running the ball successfully and stout defense are two of the main ingredients in Washington, so when it is forced to play from behind, things can get pretty ugly pretty quickly.
* The Panthers offense is a blast to watch and I can't remember writing that sentence too often in the past. All credit to offensive coordinator Norv Turner, who is bringing out the best in quarterback Cam Newton and getting all of his team's many play-makers involved. Turner's razzle-dazzle touch was in full effect in a 42-28 win over visiting Tampa Bay, especially on that double reverse to receiver Curtis Samuel that went for 33 yards and a touchdown run, even though he weaved his way on the field for almost 104 yards according to NFL Next Gen Stats.
Next generation is what the Panthers offense looks like when it gets going, with Newton and Samuel and running back Christian McCaffrey and tight end Greg Olsen and rookie receiver DJ Moore all doing damage against the Bucs. Carolina improved to 6-2 with a third consecutive win and now has to be considered among the elite class in the NFC. The Panthers have scored 78 points in wins over Baltimore and Tampa Bay the past two weeks, topping 30 points four times in eight games this season.
The Bucs (3-5) trailed 35-7 before making a game of it, scoring 21 straight points to pull within a touchdown early in the fourth quarter. But Tampa Bay's defense is a sieve and seems to always bend and break when the other team has to have points. And last place in the NFC South again looks like it has the Bucs' name on it.
* Consider what passes for offensive football these days in the AFC East outside of New England. The Bills are dreadful on that side of the ball, and the Dolphins and Jets just played a 13-6 snooze-fest that included all of one touchdown, scored by Miami rookie linebacker Jerome Baker on a 25-yard interception return in the fourth quarter.
Jets rookie quarterback Sam Darnold had his worst game as a pro, throwing four interceptions and taking four sacks. New York (3-6) was a miserable 2 of 15 on third or fourth down, and Darnold now has 14 picks in nine games, as his first season continues to be a rollercoaster ride that includes more downs than ups.
Brock Osweiler wasn't great either but at least Miami got the win and stays above .500 at 5-4. The Dolphins defense played well after being torched for 42 points in Houston last week, but the Jets anemic attack had more than a little to do with that. And don't look now, but while Miami heads for Green Bay next week, the Jets and Buffalo collide next week in the Meadowlands in what promises to be one of the most tedious games of the year in the NFL.
* Raise your hand if you saw the out-of-nowhere Nick Mullens phenomena coming? Anyone? It was like he won a contest and got to come out of the stands and play quarterback for the 49ers for a night, that's how much of an unknown he was entering play Thursday night against Oakland. But hey, he played great, and what a revelation it was to see him take it to the Raiders defense, throwing for 262 yards and three touchdowns on 16 of 22 passing in the 34-3 rout of the Raiders.
That was no typical third-string quarterback performance and now the 49ers have one of those nice problems to have, in that they can't bench Mullens and give the starting job back to C.J. Beathard when his sore wrist heals. And what about next year, when Jimmy Garoppolo's knee is healthy? Mullens makes for a very quality backup, or do you use him as a premium trade chip this offseason to acquire more talent on the roster? If nothing else, the 49ers will likely shop Beathard around the league and see what he brings in trade.
Mullens is a one-week wonder at this point, but if he can continue to thrive, his story is going to get even better. He's accurate and seems to know where to go with the football, playing as if the game isn't too fast or too big for him. There's a lot to work with in his game, and even though we didn't know much about him before Thursday, he demands our attention now.
* Just wondering where's rock bottom for these Raiders and how can it possibly be that Oakland went 12-4 and made the playoffs in 2016, less than two years ago? The Raiders are an absolute train wreck under new/old head coach Jon Gruden, and Thursday night's 34-3 loss to the 49ers in Santa Clara was an embarrassment for a franchise that knew more than its share of indignities from 2003-2015, when it strung together 13 non-winning seasons in a row.
Oakland slumped to 6-10 last season but that's a record Gruden can't even fantasize about at this point. The Raiders are 1-7 and in a mere half season Gruden has returned Oakland to punch-line status, even though he claims players are calling him and professing they're "dying'' to play for the Silver and Black. Yeah, and Gregg Williams just got offered another three NFL head coaching jobs over the weekend.
The Raiders merely went through the motions of playing a game Thursday against San Francisco, with little or no energy, execution or enthusiasm. And to think there are still another two long months to go in Oakland's 2018 season. It could get beyond ugly if the Raiders can't summon up some pride and start putting forth better effort. To be sure he has his money and contract security, but Gruden has to be wondering if leaving the TV booth for this level of humiliation in coaching is worth it?
Ridiculously Cool Football Card of the Week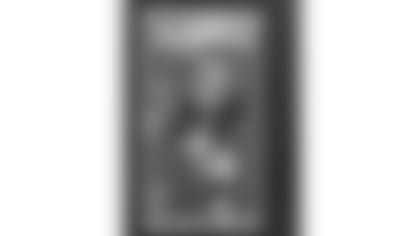 The game of pro football lost one of its true giants last week with the death of my friend and former Sports Illustrated colleague, Paul Zimmerman. He was 86 and had spent the past 10 years fighting the effects of a series of strokes suffered in November 2008. "Dr. Z'' — as he dubbed by someone long ago — loved to write about offensive line play and he knew the intricacies of it better than anyone else who covered the game for a living. His cover-story profile of Patriots guard John Hannah for Sports Illustrated in August 1981 was one of his most well-known and distinguished pieces of work, in which he declared Hannah to be "The Best Offensive Lineman of All Time.'' It was a label few if any quibbled with.
In Zimmy's honor, we celebrate an offensive lineman who was one of the best in the business in the AFL, the league Zimmerman wrote about and grew to love while covering the New York Jets in the 1960s for the New York Post. Buffalo guard Billy Shaw wasn't unheralded, given he was an eight-time AFL all-star and became the only player ever inducted to the Pro Football Hall of Fame without ever playing in the NFL (he spent his entire nine-season career with the AFL Bills from 1961-69). But there aren't any less glamorous positions in football than guard, because they're the guys who do plenty of the grunt work. Here's Shaw on his beautiful 1965 Topps card, in his stance and ready to pull and lead the way on the sweep once more. Zimmerman helped illuminate the work of offensive linemen and brought some much-deserved attention to their craft. In the process, we got to appreciate his. R.I.P., Paul.