Tailgating is one of the reasons that coming to Gillette Stadium is so much fun; getting the gang together, grilling some food and prepping for the excitement of the big game. Sometimes, though, you need to refuel a few hours later, and luckily, there are plenty of in-stadium options to keep you going.
Before each home game this season we'll highlight one of the food concepts you can find at Gillette Stadium, and there's no better way to kick off than with the always popular Backyard BBQ.
Found at section 140, Backyard BBQ is Gillette Stadium's very own grill pit. The smell of barbecue wafts out of the kitchen, which is home to a big, commercial smoker, not to mention the hardworking staff that pulls, shreds and slices the meat for your sandwiches, all by hand.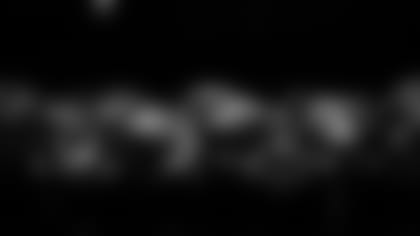 The smoker was added to the stadium in 2005. During an average week ahead of a home game, it goes non-stop from Tuesday or Wednesday right through the action on Sunday. The Backyard BBQ team, led by Executive Chef Brad Ozerdem and Pit Master Orlando DePina, rub the meat in a secret spice mixture – "If I told you what's in it, I'd have to kill you," jokes Chef Brad – and then smoke it for several hours using green hickory wood for added flavor. The pork and brisket are cooked at a low temperature overnight, while the chicken takes about three hours.
The result is tender meat that's piled into sandwiches and, in the case of the pulled pork, on top of baked potatoes too. If you're more into ribs, half and full racks are available as well, and there's also the Mexican-inspired options of burritos and loaded nachos.
Although Chef Brad explains that the smoked meats are a good alternative to fried food, he admits they are still a bit of an indulgence. No problem, though, he says. Treat yourself on Sunday and have a reason to be good the rest of the week.
In addition to Backyard BBQ at section 140, Gillette Stadium's homemade barbecue is available at sections 112, 311, 333, the Smokehouse Grill in the south end zone and the food courts at sections 101 and 126.