Sometimes, Sunday football comes with all-out indulgence, from barbecued goodness to sweet treats. If you're trying to be healthy, a trip to Gillette Stadium might seem like you're waving the white flag, but it doesn't have to be so. Sure, the stadium offers its fair share of rich foods, but you can find some lighter options as well – just head to Market Fresh Deli.
There are no nachos or hot dogs here. Instead, the deli offers healthier meals and snacks as well as some choices for fans with dietary restrictions.
"There's been quite a health kick recently, so stadiums should do more than just hamburgers, hotdogs and sausages," said Gillette Stadium's Director of Concessions Bret Hartley, "Options are really important. We took a look at that and said, 'What are we missing? At a game, what do I want to eat?'"
The answer to that question was sandwiches, wraps, salads and soup.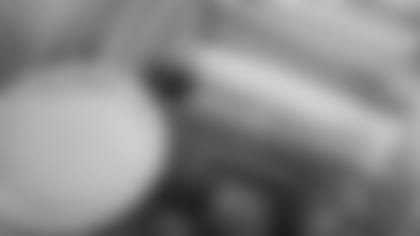 "We've had some people come up to us and say, 'Hey, we don't have to tailgate anymore because we can just come up to the deli and get a panini sandwich,'" Bret explained. "They love our chicken pesto panini, but we wanted to make sure we had something vegetarian as well, so we have a tomato, mozzarella and basil panini too."
The deli menu also features a grilled veggie wrap, Caesar salad and made-to-order, gluten-free pizza.
For those chilly days ahead, though, a cup of soup might be just what you need, and at Market Fresh Deli you can choose from three different kinds; you can go for classic New England with clam chowder, enjoy a little bit of spice with white bean chicken chili, or get a taste of the season with the deli's newest menu item, pumpkin bisque.
Market Fresh Deli is located at sections 113 and 129 inside Gillette Stadium.