As confetti fell down from the ceiling and Brunel Etienne Jr. and his mother held two massive Super Bowl LIII tickets, the moment felt straight out of a game show or a dream.
At the Patriots Hall of Fame, Brunel was surprised by Patriots captain, Walter Payton Man of the Year nominee and his good friend, Devin McCourty. Aside from the sheer honor of being the Patriots Walter Payton Man of the Year nominee and the chance to win money for a cause of his choice, Devin and the 31 other nominees were given a pair of tickets to this year's Super Bowl. They were to give these tickets away to anyone they saw fit, and for Devin, the choice was easy.
Through his work with Tackle Sickle Cell, Devin was introduced to Brunel, a sickle cell patient, and his mom, Esther Augustin, and since their first meeting years ago, Devin and Brunel have become friends.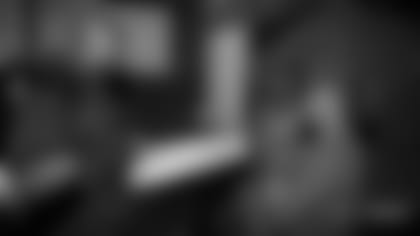 Because of this friendship and knowing Brunel's journey with sickle cell disease, Devin decided he was the perfect person to surprise.
"I was like, 'Man, Brunel would love these tickets,'" Devin said. "Just thinking of it and thinking about the different things he's been through, but he's always a Patriot. Like he said, he'll text me after games we win, text me after games we lose, [saying], "Just keep your head up. It'll be alright. We'll get them next week." He's just been a good friend and happy that I could supply two tickets to the Super Bowl. Hopefully we'll be playing there too."
For his part, Brunel thought he was just getting a tour of the Patriots Hall of Fame. He never thought he would be flying to Atlanta for Super Bowl LIII, and for those tickets to come from Devin meant even more.
"It's amazing," Brunel said. "He's been there for me a lot. Like every time he plays a game, I watch his games and everything. Win or lose, I'm a Patriots fan for life."