Gillette Stadium has been at the center of iconic photographs throughout Patriots history. For a Patriots fan, it is holy ground.
So as Texas teenager Katie Jailliet (pronounced the same way as the stadium) thought about where she wanted to take her high school senior pictures, there was one place that made perfect sense.
After a day of training camp, Katie, who is from Austin, posed for her senior photos in a Tom Brady jersey at the home stadium of her favorite team.
"That was so incredible. Most people don't get something like this and I was so lucky. It was so awesome and it was just incredible. I can't believe this is happening," Katie said. "I'm going to have the best senior pictures out of everyone, the most different. I think it's very cool."
Though it was her first time at Gillette Stadium, Katie knew it would be one of the "happiest places" she could have thought of for this moment. And one of the most meaningful.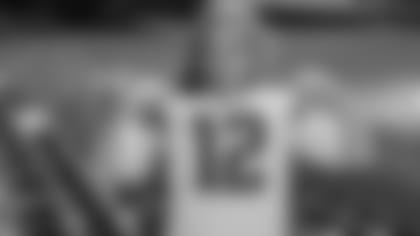 She is a dedicated sports fan, something she and her father bonded over. In 2011, her father was diagnosed with ALS. Katie and her dad would watch games together, and as the Patriots kicked off the 2014 season, he told her he had a feeling this team would go all the way.
Of course, they did, but her father didn't get to see it. He passed away in December 2014.
"When the Patriots won, it was like my dad showing through," Katie said.
As she smiled and struck poses all over Gillette Stadium, preparing for a major milestone in her life, Katie said she knew her dad was shining through again.
"I know he'd be amazed and wish he could be here to take some with me, but unfortunately, that can't happen," Katie said. "It's just wonderful, and I know he's so happy."