Thanks to the Patriots, New England art lovers have something new to celebrate.    
On April 17, The Clark Art Institute in Williamstown, Mass., unveiled "Puget Sound on the Pacific Coast," an iconic 19th-century painting that is on loan from the Seattle Art Museum (SAM). The latter sent the prized artwork for a three-month stay on the east coast after losing a friendly Super Bowl bet.
The wager, which became known as the Museum Bowl, was set in the days leading up to the big game, after SAM Director Kimerly Rorschach reached out to the Clark's staff.
"She thought it would be a lot of fun and also a way to celebrate our regions and do something more for the fans, even beyond the football game," explained Kathy Mooris, Marx Director of Collections and Exhibitions at the Clark. 
Each museum selected a painting that represented its region. The Clark wagered Winslow Homer's New England seascape, "West Point, Prout's Neck," and SAM went with Albert Bierstadt's dramatic depiction of the west coast. Then, they, like much of the country, watched with bated breath to see the outcome of Super Bowl XLIX.
"By the end of the game, we were just practically in agony," Kathy remarked. "We were looking at each other going, 'Oh my god, I can't believe we're going to have to pack up our Homer and send it to Seattle.' That last-minute interception by Malcolm Butler, I mean, we were screaming probably as loud as Tom Brady. We were so thrilled."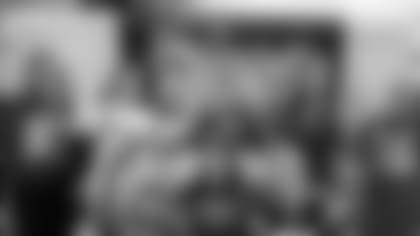 Unlike the Patriots, who lifted the Lombardi just minutes later, the Clark staff had to wait a couple months to see their prize. When it arrived in Williamstown ahead of its public unveiling on April 17, the entire curatorial staff put on Patriots gear to give it a proper New England welcome.
"We've tried to really celebrate [the painting] and the Patriots victory, and we look at this as another great thing for the people of New England," Kathy said.   
"Puget Sound on the Pacific Coast" will remain on display at the Clark through July 19.