Patriots head coach Bill Belichick and quarterback Tom Brady agree with most fans and media who've been talking about the team's need to spread the ball around a bit more in the passing attack.
Through two weeks of action Brady has completed 56.4 percent of his throws. He has a 78.9 passer rating. He's tallied two touchdowns and no interceptions. No. 12 leads what through two weeks is the NFL's 27th-ranked passing attack.
The unit hasn't scored a touchdown in the second half. It fell apart under a barrage of pass rush in the opening day loss in Miami and bounced back with a victory that saw an efficient but less than impressive passing effort in Minnesota.
The one real constant for the passing game is that so far it's revolved around Julian Edelman. The receiver not only leads the team with 12 catches for 176 yards (14.7 avg.) and one touchdown. Like the offense as a whole, Edelman's production has been greatly weighted toward the first half, with just one of his dozen receptions coming after halftime.
The other somewhat consistent target of Brady's throws has been Rob Gronkowski, who's been targeted a team-high 17 times. Those targets have led to just eight catches for 72 yards and a score.
The 2014 offense in New England looks a lot like the unit down the stretch last fall. When Gronkowski is on the field it's a two-man show with Edelman. When he's not, as he works back to a full workload, then it's all about No. 11 and not much else.
The duo has combined to be the target on 32 of Brady's 78 passes this season, which equates to 41 percent. Together they've hauled in 18 of TB12's 44 completions, again 41 percent.
Things were actually even more lopsided in Minnesota as 13 of Brady's 22 passes (59 percent) targeted the duo. Same for the completions, which saw 10 of Brady's 15 (67 percent) successful throws land in the hands of his two obvious favorite targets.
There may be specific reasons the early-season attempts are lopsided toward Edelman and Gronkowski. Other guys aren't getting open. The team used three-step drops in Minnesota that called for quick reads and throws. Go right on down the line.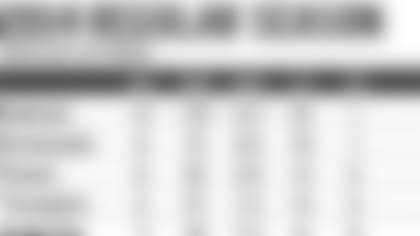 But the bottom line is that the coach and the quarterback know that a passing game with just two regular options isn't good enough for the Patriots to reach the goals they look to achieve each and every season.
"I think that's definitely a big part of what we're trying to do offensively to make us hard to defend is to be able to throw the ball to everybody," Brady said. "Those guys have seen a majority of throws, and I've got to do a better job finding the other guys because it's a lot of good routes, they're big targets, guys are working really hard to get open. So hopefully it shows up this week in our pass game. We're going to work hard this week to see if we can all be on the same page more often."
The not being "on the same page" with other receivers is obviously somewhat concerning. The guys that the team drafted and signed at the receiver position over the last two years – Danny Amendola, Brandon LaFell, Aaron Dobson, Josh Boyce and Kenbrell Thompkins – have caught a sum total of nine passes for 66 yards (7.3 avg.) in two games. Amendola was targeted just once in Week 2. LaFell, who has yet to catch a pass despite six targets in the opener, was never targeted against the Vikings. Dobson was a healthy scratch in Week 1;Thompkins in Week 2. Boyce is on the practice squad.
The complete overhaul of the receiver position over the last two offseasons has left Brady throwing to guys who've been in New England the longest and with whom he has the best working rapport. That's understandable, but not necessarily OK.
"I think offensively we could certainly stand to get a lot more balance into our attack overall, period. We didn't have it in the run-pass ratio in Miami and we didn't really have enough of it in the passing game last week or really for Miami for that matter," Belichick acknowledged. "We have to do a better job as a coaching staff. I have to do a better job of creating a little more balance on our team offensively with our personnel, our play calling, our plays and so forth. We have a lot of good players. We have to be more effective utilizing all of them."
Amendola, the man signed to a $30 million contract to replace Wes Welker in the spring of 2013, has been the focal point of much analysis and criticism. Fans and media alike have questioned whether he and Brady have a solid working relationship or if the quarterback trusts Amendola.
"I have a lot of trust in Danny," Brady responded this week. "He battled through some injuries last year and has had a great spring, great training camp, and he's been out there quite a bit. It's my responsibility to get him the ball and there were a few catches that got turned back, a few big plays that would extend drives.
"But I don't think our passing game has been really stellar to this point, so it's hard to sustain much over the course of the game and get those guys the ball when we're not doing as good a job as we're capable of. We've got to keep going after it, and guys get more opportunities to get balls, and I need to do a better job finding those guys when they're open and running the routes that we talk about all week. That'll go a long way to help us win."
And just because Brady doesn't necessarily love where he and the Patriots passing attack are right now doesn't mean the veteran passer isn't confident that the issues can be worked out in the coming weeks.
"We've got a long way to go," Brady admitted. "It's really early in the year; we've got a lot of football left. We're still trying to figure out what we're good at, and we'll probably be trying to figure that out for a long time. All the way through the season, that adapts and changes with the guys that are out there and what we think we need to do to win, but we're trying to make improvements. I don't think we're ready for the Super Bowl this week. I think we've got a lot of work to go, and certainly playing against Oakland gives us some big challenges because they have a great pass defense, and we have to understand where their strengths are and hopefully go out and execute better than we have the first two weeks."