For the second year in a row, the NFL asked America, "Why do you love football?" Thousands of people across the country answered by posting their stories on TogetherWeMakeFootball.com, and now, after three rounds of judging, the list has been whittled down to six finalists. Three individuals and three groups are in the running for a once-in-a-lifetime trip to the Super Bowl and it's up to you to decide who gets to go.
The finalists range from the coach of a pop warner Patriots team to a girl who's redefining what it means to be a football player. They are all ordinary people with extraordinary stories and, as Digger O'Brien of NFL films said, they are making contributions not only to the sport of football but also to their communities.
"In all these cases there's been a positive net impact for the town that these people are playing football in," he said, referencing the six finalists' stories, which have been turned into short films as part of the contest.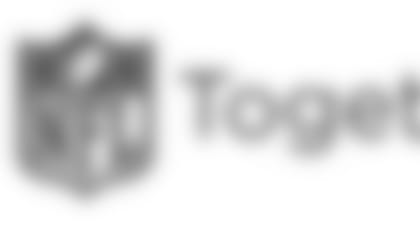 "If you believe the game of football can teach values and instill character, and has people of high quality and high character playing the game, then it's always worthwhile to create those stories and send them out," Digger added.
So, get to know the finalists below and then head over to TogetherWeMakeFootball.com to watch their films and vote for your favorites. You can also get in on the conversation using #TWMF on social media. (Warning: you may want to grab a box of tissues before pressing play on those videos.)
Christian
Thanks to football, Christian Osterhout has a family. After the high school senior's dad passed away three years ago, his coach, Chris Roberts, became a father figure. Then when Christian's mom lost her battle with cancer in September, Chris and his wife Sarah welcomed him into their home and became his legal guardians.
Tra Sean
As a teenager, Tre Sean Lyons suffered an injury that was expected to leave him in a wheelchair for the rest of his life. Filled with determination, Tre Sean learned how to walk and talk again but still wasn't able to return to the football field. Now he devotes himself to teaching young men how to deal with the challenges of life with his special approach to coaching football.
Karlie
As a young girl, Karlie Harman always played sports, starting out with soccer and basketball. Somewhere along the way, though, she fell in love with the game of football. Today, she's the starting quarterback, kicker and only girl on her youth league tackle football team. Karlie is also dedicated to giving back and runs her very own sportswear business that raises money for veterans' causes.
Boron Bobcats
In the middle of the Mojave desert, the town of Boron, Calif., doesn't have a mall or gas station or even a stop sign But, it does have football and it means the world to them. The people of this remote mining town rally around their team, which involves about 50 of the 75 boys enrolled at the local high school. The boys are required to play both offense and defense, but that doesn't stop them from winning league titles on a regular basis.
Team Felicia
Felicia Correa-Garcia has faced a number of hurdles in life. Not only is she a single mom of five, but she also works two jobs and was recently diagnosed with multiple sclerosis. Still, she finds time to coach two of her sons and three of her nephews on the Tiny Mite Patriots of Charlottesville, Va. Felicia says her team and the pop warner community have kept her going through difficult times.
The Wright Family
For the Wrights, football is the family business. The patriarch, Bud, has been coaching at Sheridan High School for 49 years; his three sons work as football coaches and his daughter is an assistant high school athletic director. Despite the family's passion for the sport, when Bud's wife committed suicide in 2003, everyone thought he would retire. Instead, the family came together and Bud focused on football. The 73-year-old coach has led his team to three state championships in the years since.