The schedule of an NFL player is demanding. Between practices, games, recovery time, training and meetings, time is precious. For Joe Cardona, this schedule combined with his duties as a Lieutenant Junior Grade in the Navy, it would be understandable if he wasn't able to volunteer or spend as much time in the community as his teammates.
And yet, it is exactly the opposite.
Whether it's a typical Tuesday in the community or a project of his own, Joe is constantly living the Patriots Foundation's motto of "Celebrating volunteerism." His sense of duty to both his country at large and the New England community made Joe the perfect recipient of the 2018 Ron Burton Community Service Award.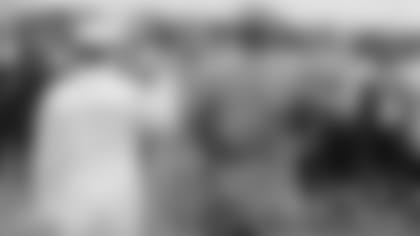 Every year, the Patriots Foundation celebrates the philanthropic legacy of Ron Burton by honoring a current Patriot who embodies the same community spirit at their annual Patriots Premiere fundraiser. Through his work in the community since day one in a Patriots uniform, Joe has lived up to that.
Tuesdays are typically the Patriots day off, and that means many of the guys spend the afternoon volunteering with the Patriots Foundation. Whether it is a running drills at a Football for You clinic at a local Air Force base or flipping pancakes for kids at Boston Children's Hospital, Joe is a regular on the Tuesday volunteer outings.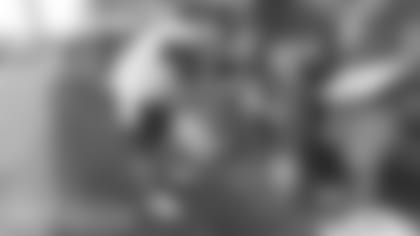 But he often seeks out his own ways to give back, as well.
While Joe didn't do any of these things with the intent of being recognized, he was pleasantly surprised by the honor. As Robert Kraft described the Ron Burton recipient, Joe said he slowly realized Mr. Kraft was talking about him.
"It means a lot because of the people that have won it before," Joe said. Just to be mentioned the same notion as them is extremely humbling. It's just a very big honor for me. "
Mr. Kraft said it best as he introduced Joe as the recipient.
"He wears two very different Patriot uniforms and is a true Patriot in every sense of the word," he said. "We are very proud and honored to have a hero like him on our team."