Favorite workout: HIIT (high intensity interval training). HIIT workouts are beneficial because they increase your metabolism. They're also very easy and convenient. An example would be 50 sit-ups, 40 jump squats, 30 push-ups, 20 burpees and a one-minute plank. I would do this set four times.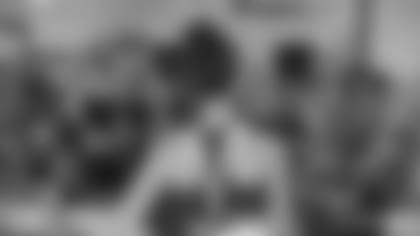 Go-to exercise:** Stairmaster. It works on toning and strengthening the legs, hips, thighs and butt, while improving agility and balance. This is perfect because it helps me stay strong and have stamina for all the dancing that I do on the sidelines during a game.
Must-have gear or accessory: My gallon of water. I carry it everywhere I go, whether it's to the gym or the market.
Post-workout meal or snack: After every workout I have a rice cake with peanut butter and a protein shake.
My current workout playlist:
1. Addicted to You (David Guetta remix) – Avicii
2. Sweet Nothing – Calvin Harris ft. Florence Welch
3. I Wanna Go – Britney Spears
4. Spectrum – Matthew Koma ft. Zedd
5. Seven Nation Army - The White Stripes
6. Play Hard – David Guetta ft. Ne-Yo & Akon
7. Clarity (Tiësto Remix) – Zedd ft Foxes
8. Red Lights - Tiësto
9. Take Over Control – Afrojack ft. Eva Simons
10. Safe and Sound – Capital Cities
11. Hey Brother – Avicii
12. XO – Beyoncé
13. Wild – Jessie J ft. Big Sean & Dizzee Rascal
14. Your Body – Christina Aguilera
15. Bang Bang- Jessie J ft. Ariana Grande & Nicki Minaj