Favorite Workout: My favorite workout has to be everyone's favorite: leg day! In fact, I like leg day so much that sometimes I'll do it twice, with one day for heavy lifting and the other for plyometrics (jump training). Doing both stimulates muscle confusion, which allows me to get lean and increase stability. I'm a big fan of box jumps and box step-ups as well as dead lifts and glute cable kickbacks. I'll finish off my leg day with a 30-minute cardio workout on the Stairmaster and a BMAX Core Chiseler.
Go-to exercise: I never thought I'd ever say this, but I started running last summer and it has done wonders. When I stopped playing soccer I was originally against running because of the "dreadmill," which was murder on my knees. This year, though, I ran on sidewalks, grass, track and trails with no issues. When I have a lot of energy to burn, I run a few miles to the local track and do sprint circuits. It's great to be able to exercise outdoors and enjoy my surroundings. Plus, running is an exercise you can perform anytime and anywhere, which is helpful while traveling.
Must-have gear or accessory: My Lululemon ear warmer. It's comfortable, breathable and blocks out the wind while I'm running.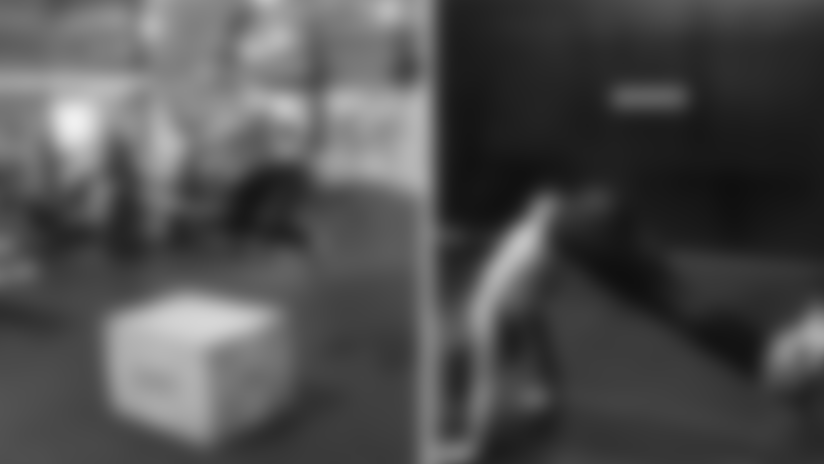 Post-workout snack: Fellow Patriots Cheerleader Brittany D introduced us to Nuts 'N More, a local company that makes several types of nut butters and protein powders. I am addicted to their chocolate almond butter. It is all natural and has added whey protein and flax seed, providing me with a healthy way to refuel my body after a tough workout. Plus, it tastes amazing! You can add it to shakes, on Ezekiel Bread or just eat it alone by the spoonful (and I have no shame in admitting I do that quite often).
My current workout playlist:
1. The Phoenix – Fall Out Boy
2. Adrenaline – Shinedown
3. Antisaint – Chevelle
4. Ayy Ladies – Travis Porter ft. Tyga
5. Beast Mode – B.O.B.
6. Belt - Say Anything
7. Blackout – Breathe Carolina
8. Can't Be Tamed – Miley Cyrus
9. Clique – Kanye West ft. Big Sean and Jay-Z
9. Wild Boy – MGK ft. Waka Flocka Flame
10. Get Back – Ludacris ft. Sum 41
11. Play Hard – Krewella
12. Warning Shot – Machine Gun Kelly ft. Cassie
13. Bullet with Butterfly Wings – Smashing Pumpkins
14. Settle Down – No Doubt