It's been more than three weeks since Drew Bledsoe officially found out he would be the Patriots quarterback likely for the remainder of his career. While that news hardly came as a shock to the eight-year veteran, it was a welcome occurrence just the same.
Although he never really gave much credence to various theories that suggested his days in New England were numbered as his contract negotiations dragged on for more than a year, Bledsoe was aware of the whispers that were circulating.
Maybe the Patriots would be better off trading their star signal caller in order to gather draft picks and speed up the rebuilding process as a result.
Maybe Baltimore and the Giants proved once and for all that you don't need a strong presence at quarterback to go to the Super Bowl, and Bledsoe would be more valuable in what he could bring rather than with what he could do on the field.
Maybe drop-back, pocket passers like Bledsoe indeed have become dinosaurs and the new millennium NFL was all about mobile, athletic types like Virginia Tech's Michael Vick, odds on favorite to become the No. 1 overall pick in the draft later this month.
Bledsoe is a proud and confident man. He knows what he's capable of doing with a football and he's supremely confident that he has what it takes to bring a Super Bowl title to New England. But he's also an intelligent man, and only a fool would have been blind to the stories and radio talk show banter that was prevalent ever since the regular season ended on Christmas Eve.
"I had confidence all along that [the contract] would get done," Bledsoe said after finishing an offseason workout on a gloomy late March afternoon in Foxborough. "I'm happy that it's done so I don't have to talk about it anymore. But it really wasn't a great source of stress for me at all because I want to be here and I felt like the team wanted me here.
"You hear stories and rumors of trades and this and that, but never did I really think, even for a second, that I wouldn't be back. You just have to put [the negative talk] out of your mind and do whatever you can to help the team improve and make yourself better. That's how you win championships and that's what we're trying to do here."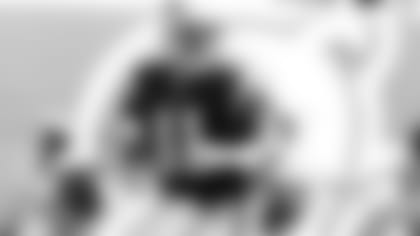 Sounds simple enough. Sign a contract extension, go home for the offseason, workout and prepare for the upcoming year and win a Super Bowl. So far, that last part has been what 41 years worth of quarterbacks have tried and failed to do for the Patriots. Bledsoe knows he'll never gain full acceptance in this area without that gaudy piece of jewelry on his finger, and he believes that's the way it should be.
After all, Boston is a tough sports town. Red Sox stars such as Ted Williams, Carl Yastrzemzski, Jim Rice, Roger Clemens and Mo Vaughn all suffered through the love-hate relationship with the fans currently being endured by Bledsoe. They heard the boos and Bledsoe hears the critics now.
True adoration in these parts is reserved for the likes of Larry Bird, Bill Russell, Bobby Orr — guys with a certain something on their resumes that set them apart from the average superstar.
"It's very simple, people want their teams to win and I want to win." - Drew Bledsoe
"It's very simple, people want their teams to win and I want to win," Bledsoe said. "Until we bring them a championship, people are going to be disappointed. I don't expect people to be satisfied with what we've done because I'm certainly not. From that standpoint, it doesn't bother me that the fans are critical. The reason is New Englanders so badly want a championship, which they haven't gotten for a while."
Bledsoe continued saying, "1986", signifying the Celtics last championship, and the last title of any kind in Boston. He knows that no matter how many passes he completes or yards he throws for or touchdowns he tosses, people around these parts judge you based on titles won.
Right or wrong, that's reality.
Now he has something else to make things difficult in his title quest. Actually, it's more like 103 million additional things. Bledsoe's contract extension is a 10-year, $103 million pact that has him among the highest paid players in the game. His production over the last two seasons frankly doesn't rate him in that echelon, causing his critics to rear their heads once again.
Those critics feel Bledsoe is limited. They say he's as good a passer as there is in the game, but only under ideal circumstances. Bledsoe feels the fans "have been appreciative and supportive for the most part" saying it's all part of the job.
As for the contract, Bledsoe seems almost embarrassed by it, admitting, "the numbers are silly, really." But the deal isn't all that bad for both sides. The team has several options to release themselves from it and "only" roughly $32 million is guaranteed, meaning if Bledsoe doesn't produce, the Patriots won't be stuck with the bill.
For a laid back kid from a rural background with schoolteachers for parents, the millions of dollars are almost surreal. Bledsoe retells a story from his rookie season of 1993 when he received his first paycheck and called to check on his bank account.
"I was used to hearing, 'Your balance is $1.15,' Bledsoe explained. "They deposited my check in my existing college bank account and I called and heard, 'Your balance is $1,604,000.' I still shake my head just thinking about that, and that happened eight years ago."
Can it really be possible that eight years have passed since that quiet, unassuming kid with the rifle arm came to town? Seems like only yesterday when the Patriots were putting together annual postseason runs with Bledsoe at the helm. But now many of the players that were part of those playoff runs are gone. Curtis Martin, Ben Coates, Shawn Jefferson, Chris Slade and now, most likely, Bruce Armstrong.
Bledsoe says all of the losses have been painful, but none more so than Todd Rucci, who he calls "his best buddy on the team." He's aware of the economic climate in the game today and he understands difficult decisions must be made.
Now it's been two seasons since New England has been a playoff team and Bledsoe is itching for a return.
He's also itching to get a chance to break in the new CMGI Field currently in progress. With the state-of-the-art facility set to open in 2002, Bledsoe can hardly wait to put the old Foxboro Stadium out of its misery.
"I didn't know if it was ever going to happen when I was around," Bledsoe said. "The credit goes to the Krafts for getting that done, obviously, but I do take some pride in the fact that it was done while I was here, whatever small part I might have played in getting it done."
Bledsoe likely had more than just a small role in CMGI Field becoming a reality. When he arrived in 1993, interest in the Patriots was as low as it had ever been after a disastrous 2-14 season the previous year under Dick MacPherson. Bill Parcells and Bledsoe came in and Robert Kraft arrived the following year and suddenly the franchise had instant credibility and its fortunes have never been consistently greater.
Now, he's anxious to take the next step in a career already filled with loads of team and personal accomplishments. He wants a Super Bowl.
"There's no question I feel that I need [to win a Super Bowl] to fulfill my career," Bledsoe says. "Just look at the difference between the way [John] Elway is perceived now and the way [Dan] Marino is. They're both great quarterbacks. Marino did so many things statistically in regards to touchdowns and all that stuff, but I think you'd find most people would say Elway is the greater of the two because he's got the two rings."
After eight seasons and many ups and downs, Bledsoe is comfortable in New England — both in his play and with what he's become. He recently brought his wife, Maura, and three sons back east from his offseason retreat in Montana as he started his work in the conditioning program. In many ways, New England has become his home, and he has strong feelings for the area. He still admits to feeling like an outsider at times despite his fondness for the place he calls home.
Perhaps the acceptance of the fans — both for Bledsoe's quarterback legacy and for his home — is tied to the elusive Super Bowl ring he and his teammates continue to chase.