From an effort standpoint, no one gives more or gets more out of his body every NFL Sunday than Patriots linebacker Tedy Bruschi. Whether it be as an every down linebacker or playing on one of the many special teams units where he draws an assignment, Bruschi plays up to the sign that hangs near the north end zone at Foxboro Stadium for each home game — "Full Tilt Full Time."
While his team did very little winning in 2000, Bruschi saw his efforts rewarded individually in triplicate. In December of last season, he received the Shaw's Supermarket 12th Player Award in voting by the fans and then added to his trophy case by winning the New England Patriots Unsung Hero award and the Ed Block Courage Award, which his teammates selected.
"My mom said they come in threes," Bruschi joked after completing a workout in the team's offseason conditioning program. "My teammates are the most important because they know you on the field. They know you off the field. They know you in the locker room. They know everything you do for the team.
"It's a gratification [to receive the awards], but the best result you can get for the effort I put out is winning football games. This is like second-tier gratification."
After a 5-11 season that featured many more downs than ups, Bruschi can at least take something away from the season, but he knows that he and his teammates must build.
"I want to maintain what I did last year, but take it up another level in terms of making bigger plays — making interceptions, scoring touchdowns — changing the course of a game," Bruschi said of his own play.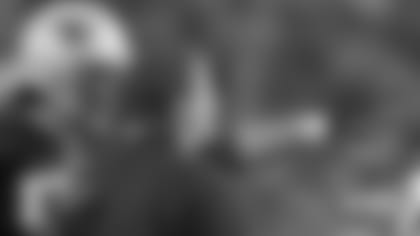 In fact, his high-motor attitude would be helpful in a few of his teammates who maybe didn't buy into the team concept like Head Coach Bill Belichick would have preferred.
"There needs to be more of a team-goal situation," Bruschi said. "Maybe guys see things one way and should see things more as a team. If we win, everything's cool. Don't worry about how many tackles or how many picks. Just worry about winning games and that should be the bottom line."
That sounds simpler than it actually may be. Last year, not everyone embraced that approach and the team felt the effects. Of course, the awful start to the season didn't help anyone's attitude.
"When you start 0-4, it tough," Bruschi stressed. "It's climbing Mt. Everest. The character of guys comes out. How many guys will stay the course and really try to focus on winning one game at a time and how many guys are thinking about where they're going to be playing next year? There were certain guys thinking that way," he confirmed without specifics.
One reason some of the attitudes may have went sour was a void in leadership, something getting a lot of ink this offseason. There are enough players on the roster that can offer leadership by example, but not enough to speak up and say what oftentimes needs to be said while also backing those words up through example.
Perhaps Bruschi will start to assume some of that role. In 2000, he called the defensive huddle, played almost every defensive snap, played special teams and did it all with a reckless abandon that left him looking like he couldn't play another snap as he walked off the field. He also studied opponents with diligence and thoroughly knew Belichick's defense.
"I know what's going on out there," he said. "I know the offenses. I know tendencies. I know the defense inside and out. I probably know three or four positions out there. My ability to think is a strength."
While filling a leadership void is a must, Bruschi is keenly aware that an infusion of young talent is necessary after some poor drafts.
"I hold drafts up to my draft. First round: Terry Glenn. Second round: Lawyer Milloy. Third round: me. Fourth round: Chris Sullivan and Heath Irwin. I hold every draft up to that standard. This draft is very important. We have the sixth pick and this is where Scott Pioli and Bill Belichick earn their money. They have to bring in players who will help us out and get the job done because we need some young players to step up."
Actually, the Patriots need some veterans to step up and young players to step in. Young or old, any player would be well served to model his effort after Bruschi's. Perhaps if he had more competition for those awards, the Patriots would have finished with more than five wins last year.