Life in the NFL nowadays is much different than in years past. Time off for players has shrunk to the point where players take a couple of weeks off in February before getting right back into the rigors of working out in March in preparation for the following season.
Things are no different in New England, and Head Coach Bill Belichick spent the early portion of May putting his troops through the added wrinkles of today's NFL offseason: quarterback school and passing camp.
Quarterbacks and centers participated in workouts early in May that consisted mostly of mental work — making line calls, adjustments and things of that nature. Those positions are called upon more than others to make decisions in these areas, thus they're put through extensive training to prepare.
"Those are things we don't need to waste everybody else's time with that are most important to the people in the middle of the formation, either in the running game or the passing game," Belichick said. "There are a lot of things that can change after the snap [based on] what the defense is doing. It's more mental stuff than anything we're doing physically.
"Also, we're going through tape and looking at blitzes against different protections and how we handled it last year and if we've made changes how we'll handle it this year."
Some physical work took place at the school as well. Things like route adjustments, footwork and throwing mechanics were part of the routine for the quarterbacks. The idea is to lay the groundwork and to develop proper work habits for training camp rather than waiting until July to instruct the players on how things are to be done.
Later in the month, Belichick conducted a passing camp that was geared mostly to the young players and newcomers. While most of the Patriots quarterbacks and receivers were in attendance, the veterans didn't spend nearly as much time working out as the others.
"The passing camp is really just an effort to close the gap to the veteran level," Belichick said. "The guys [with experience] who don't have any background in the system, like [Mike] Compton or [Damon] Huard, need to have a much greater understanding of the system than a rookie walking in off the street. From that standpoint, it's really geared toward a different type of player."
One of those newcomers is wide receiver David Patten. Even though he's been around the NFL for five seasons, Patten understands the importance of this offseason work.
"Whenever you have an assignment, you have to go out there and perform," the former Browns and Giants receiver said. "That's why we practice day in and day out. When game time comes, you either have to show up or you are going to be out of here. For the young guys and new guys, it's a matter of learning the game and learning your blitz assignments. The more you know, the more comfortable you are, which enables you to go out and play."
Belichick also uses the camps to settle the playbook for the coming season. Each year, Belichick estimates, the content can change anywhere "between 10 and 25 percent." He says most of the adjustments are a combination of adding new wrinkles and changing the team's philosophies.
For example, a team might have defenses in place to go against a specific offense — like the run-and-shoot — that aren't as prevalent in the league as they once were. In that case, the coaching staff might decide to eliminate those from the playbook so the volume doesn't get too large.
"My rule of thumb is anytime you put something in, you take something out," Belichick said. "That way when you start to see things that become trendy — like the empty backfield for example — you put stuff in during the course of the year to combat that and you see what's successful and you end up using it more and more. In that case, you might decide to just keep it in there and use it all the time."
The mental aspect of these camps can be somewhat overwhelming for the rookies. Most don't encounter nearly the amount of off-field work as they did as collegians. That holds true especially for a guy like Drew Inzer, an undrafted free agent offensive lineman who played in the Ivy League at Brown. There, the majority of his off-field time was spent in the classroom and not studying film.
"It can seem a bit overwhelming when you see the amount of information that you are expected to know," Inzer said. "It is definitely more than I had to know for the college level, but at the same time, it is pretty exciting to think about what it is we are doing. You have to expect a big challenge."
It took several meetings to agree upon the right proposal, but the NFL owners needed less time than it takes to order a cup of coffee to approve a realignment plan that will begin next year with the arrival of the expansion Houston Texans. The owners unanimously passed the first of seven potential options at the spring meetings in Chicago on May 22 and, as expected, the Patriots will be losing the Indianapolis Colts as a division rival.
The new AFC East division will still have a familiar look with Buffalo, Miami and the New York Jets remaining with the Patriots in one of the eight, four-team divisions making up the 32-team league. The Colts will move to the AFC South with Houston, Jacksonville and Tennessee, meaning Belichick will not have to deal with preparing for the Colts young guns Peyton Manning, Edgerrin James and Marvin Harrison twice a year.
Under the new format, each team will play a home-and-home series against its division rivals plus another division from each conference. The remaining two games will be determined by order of finish. For example, the third place team in the AFC East would play the third place teams from the other two divisions in the AFC not already on the schedule.
The playoff format has yet to be decided, although the owners currently plan to keep the 12-team setup in use today. Rather than three division winners and three wild cards per conference, the NFL would simply shift that to four division winners and two wild cards. There is a possibility the league could add two wild card teams to the mix, allowing 14 of 32 teams to qualify for postseason play, but that decision has yet to be made.
The lone team asked to make a major shift was Seattle. The Seahawks switched conferences, moving from the AFC West to the NFC West, joining Arizona, St. Louis and San Francisco. Seattle actually entered the NFL in 1976 as a member of the NFC West but changed to the AFC a year later, where it remained until now.
Head Coach Mike Holmgren and President Bob Whitsitt originally balked at the move, but Commissioner Paul Tagliabue convinced the owners last January to pool visiting-team revenue equally so realignment wouldn't hurt any team where it mattered most — in the pocketbook.
Former Patriots Owner Victor K. Kiam II died on May 27 at his home in Connecticut from complications related to a heart ailment. Kiam was 74 years old. He bought the Patriots from the team's original owner, Billy Sullivan, in July of 1988 and became the majority owner in October of that year. He remained in control until he sold the franchise to James B. Orthwein in May of 1992, thus ending the most disastrous and unsuccessful period in Patriots history. The team enjoyed just one winning season (9-7 in 1988) during his tenure and suffered through a miserable 1-15 campaign in 1990. Kiam was best known as the owner and Chief Executive Officer of Remington Products Co., which he also served as lead pitchman for in numerous advertisements for his razors.
The Patriots made a few roster moves throughout the month, most notably the signing of tight end Johnny McWilliams on May 24. McWilliams, 28, spent last season with Minnesota where he caught 22 passes and three touchdowns after spending the previous four seasons with Arizona. The 6-4, 271-pounder has 73 career receptions for 690 yards and nine touchdowns and figures to be in the thick of things in a crowded tight end field that includes Rod Rutledge, Jermaine Wiggins, Chris Eitzmann and draft picks Jabari Holloway and Arther Love.
The Patriots also released some players to make room for their additions, with the biggest names being offensive linemen Max Lane (see page 5) and Sale Isaia. Isaia was picked up just before the start of last season and started 14 games at right guard before being let go on May 15.
Linebacker John Eskridge was waived on May 7 after spending the 2000 season on injured reserve. Rookie free agent long snapper Ryan Burch, out of Boston College, was released on May 24.
In the we hardly knew ye department ... defensive tackle Emarlos Leroy was claimed off waivers from Jacksonville on May 24, only to fail the team's physical and subsequently be placed back on waivers less than a week later.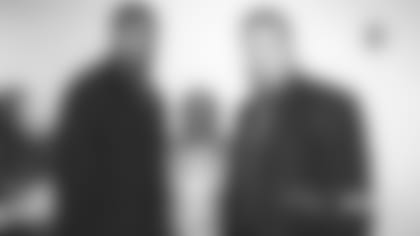 Patriots Quarterback Drew Bledsoe became just the second individual in the 72-year history of the Pop Warner Little Scholars program to receive the Glenn S. "Pop" Warner Inspiration to Youth Award on May 26 in Phoenix, Ariz. The award is presented to an individual who "has inspired the youth of today to become great achievers of tomorrow."
Whatever happened to commitment and team play? Somewhere along the line, these ideals have become as anachronistic as the rotary telephone. How else to explain a player like Randy Moss? By all accounts Moss is as talented a wide receiver as the NFL has to offer, but somehow something seems to be missing with the 6-4 greyhound.
While he's put up impressive numbers in his three seasons with the Minnesota Vikings, there have been too many instances where he appears to be playing for himself rather than his team. In the past, he's admitted to taking plays off occasionally and not always putting his best effort forth. After the Vikings blowout loss to the Giants in the NFC Championship, he blasted the organization for a lack of commitment to winning.
Excuse me? Commitment to winning? I guess that's why he's spending his summer playing basketball for a USBL team in Pennsylvania instead of working on pass routes with young quarterback Daunte Culpepper somewhere in Minnesota. Instead of helping to improve himself and the team, he's making headlines playing cut-rate basketball in a league that in the past has featured a rap star/agent (Master P) and a world class boxer (Roy Jones Jr.).
Are there any unselfish reasons Moss could possibly have for doing this?
It's easy to root for a guy like Bobby Hamilton. He fought his way into the NFL the hard way, overcoming his undrafted status to become a solid starter on the Patriots defensive line. For his efforts, he signed a three-year contract extension midway through last season, but the hard-working defensive end hasn't forgotten how he got here.
"I know that I never had a signing bonus and I always worked for the minimum," he said recently. "You look around the league and see what some other guys are getting, but that doesn't concern you. I signed for three years for $3 million and it was a blessing. I have to go out there on Sunday and play for 60 minutes and not worry about the contract and just play ball.
"You can't carry that money out to the football field. When you're lined up across from a guy making $6 million and you're beating him every play, then what are you going to do?"
Hamilton also hasn't forgotten his roots. He grew up in Columbia, Miss., and his mother, Charlene, still lives there. Each spring, he hosts an event he calls a summer jam in an effort to motivate and inspire the area's youth.
"When I grew up, we had three TV channels — ABC, NBC and on a rainy day CBS. Nowadays you have like 100 options. I love Columbia, but now you have kids having kids and it's hard to get through to them because they're doing what they're seeing. I'm trying to get these kids to work hard and fight for the things they want. I tell them to go to college and get an education. It's easy to get a job if you have skills."