CB - Will Allen - 25
Ht: 5-10 Wt: 192  Age: 22  Exp: R
The New York Giants learned the hard way the value of having solid pass coverage during their 34-7 Super Bowl loss to Baltimore.
It wasn't that the Giants had poor cover men. They only allowed 153 passing yards and one touchdown. However, it was a coverage breakdown that allowed Brandon Stokley's 38-yard touchdown catch to open the scoring. Later in the game, the Ravens Duane Starks put New York in a 17-0 hole with his 49-yard interception return for a touchdown. It was just one of four picks Baltimore had on the game.
With the pain of that loss still fresh when the NFL draft rolled around, New York grabbed Will Allen of Syracuse in the first round. After Nate Clements of Western Illinois was taken with the 21st pick, the Giants traded up from 30 to 22 to get Allen.
Now he and third-round pick William Peterson are both expected to push incumbent left corner Dave Thomas for the starting job. Thomas, in his first season with New York, started every game last season but is an average player. At 6-3 and 218 pounds, he is far bigger than Allen (5-10, 192), but Allen is much faster and more athletic.
Allen was a playmaker both as a corner and kick returner for the Orangemen. In 31 collegiate games he had four interceptions and 39 passes defensed. Strong leaping ability helps make up for a lack of height, but most scouting reports on him say Allen struggles when he has to play physical.
Despite the overall strength of the Giants defense, the team is making several changes. The battle between Thomas and Allen is expected to be among the most competitive in camp, though Allen appears to be a big part of New York's future. His battles against the many veterans New England added this offseason should be a pretty good first test for the rookie.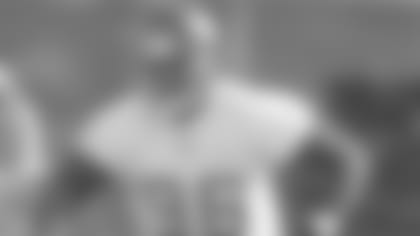 DE - Cedric Scott - 96
Ht: 6-5 Wt: 274  Age: 23  Exp: R
Life seems pretty ideal for Giants rookie defensive end Cedric Scott, the team's fourth-round pick. Scott, a three-year starter at the University of Southern Mississippi, should get the chance to ease his way into a very strong NFL defense. With Michael Strahan in place at the left end and free agent Kenny Holmes added from Tennessee on the right side, there is little to no pressure for Scott to be much more than a situational pass rusher.
New York has one of the best defensive fronts in the league with the combination of Strahan, Holmes, Cornelius Griffin and Keith Hamilton. With that much experience to learn from, Scott can be patient in learning the defense and adjusting to life in the NFL.
Scott showed at the college level that he could get after the quarterback. After a modest freshman season in which he totaled 10 tackles, he posted 25.5 sacks over his final three seasons. As a senior he set a school record with 12 sacks. With Strahan and Holmes combining for 17.5 sacks last season, the addition of Scott to the mix could provide a potent pass rush.
Scott also gets somewhat of a reprieve in his first appearance at the professional level. Most of the first-string players probably won't play long when the Patriots and Giants meet, meaning Scott should see a lot of action against young tackles. New England will be looking at several young tackles in Adrian Klemm, Greg Robinson-Randall, Matt Light and Kenyatta Jones. So regardless of which side he lines up on, or whether he faces the Patriots first- or second-string line, Scott will be rushing against an inexperienced tackle.
The Giants obviously will be monitoring Scott's progress. While Strahan has been a steady presence who has missed just two games since becoming a starter in 1994, Holmes has never started more than 13 games in a season and has played 16 games just once in four years.