If players get geared up to play their former teams, New England should fare well against Miami and Buffalo this season.
The Patriots have signed seven free agents from AFC East rivals, and all came from either the Dolphins or Bills. Buffalo running back Antowain Smith and cornerback Ray Hill, who actually played for both Miami and the Bills last season, were the latest to come on board. New England also went out of the division to sign defensive tackle Riddick Parker from Seattle.
Smith, who joined the team on the final day of mini-camp on June 7, may wind up having a big impact on the Patriots season. He is a former first-round draft pick and 1,000-yard rusher looking to resurrect a once promising career.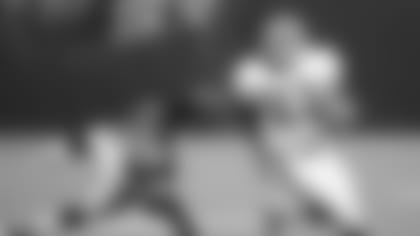 After gaining 1,964 yards in his first two seasons, Smith had just 968 yards over the last two, due in part to injuries and offensive changes for Buffalo. Last year he reached a low of 354 yards and was replaced as the starter after three games. His problems grew after he asked for a trade, making 2000 a year he'd like to forget.
"It just didn't work out for me there," said Smith, who suffered from knee, groin and toe injuries the last two seasons. "The offense changed from my rookie year. They brought in a different offensive coordinator, and from there it went down hill.
"Hopefully my situation will be similar to that of Tyrone Wheatley. He found his niche in Oakland. He is in an offense that works for him, and that's the kind of thing I want to do here."
Wheatley toiled with the New York Giants for four seasons before breaking out with Oakland in 1999. He never gained more than 583 yards for the Giants, but in two years with the Raiders he has established himself by running for 1,982 yards, 17 touchdowns and catching 41 passes, including four touchdowns.
"I'm just looking at this like it's a second chance at life right now," Smith said. "My feeling was that I had to look for the best situation for me. I wanted to come to a team where I had the chance to fight for a starting position. I didn't want to go somewhere where I was primarily going to be a backup. I think New England provides a good opportunity for me. I'm not knocking any of the running backs who are here, but they've got to prove themselves. I just wanted the chance to come in and compete for the starting job."
Head Coach Bill Belichick did not anoint Smith the team's new starter by any stretch. As is the case with most of the team's 17 signings this offseason, Smith came to New England with the purpose of improving depth and increasing competition in training camp. He certainly will get the opportunity to start, and having a one-year deal certainly gives him motivation to make the most of this season.
"It is in no way any kind of reflection or there shouldn't be any kind of negative connotation toward Kevin [Faulk], Robert [Edwards] or J.R. [Redmond]," Belichick said. "I have spoken with all those players and told them the way I feel, which is that those guys have all had real good off-seasons. I am very pleased with what they've done and the progress that all three of them have made and I am very excited about working with them."
Despite the offseason work, none of the three backs can be handed the feature back role without trepidation. Redmond, who worked with the first unit in mini-camp, failed to get through a whole game as a starter in his rookie year. Edwards has been away for two years because of an injury that nearly cost him his leg, and Faulk has been dogged by fumbling problems.
"There's a certain degree of uncertainty about all the players we currently have at that position, and this gives us a little bit more depth there," Belichick said. "I couldn't really ask J.R., Kevin or Robert to do any more than they've done. I think that they are all well prepared to go into training camp and to go into the season and we will just see how it turns out."
Smith said he got calls from Carolina, Dallas, Miami, Minnesota, Philadelphia and Cleveland, but he wanted to stay in the AFC East with a team for whom he could start.
"I know everything about the AFC East," Smith said. "There really wasn't that much difference between [New England] being in last place last year and Miami winning the division. It's just that they've had nothing to complement the running game. That's what my job is, to come in here and help get the job done."
Smith is the biggest back on the roster. At 6-2, 230 pounds, he is built more for running between the tackles, which is something he is accustomed to.
"I've been running inside my whole life," Smith said. "They say I am too big to run outside. I prefer running inside the tackles. You can't run outside unless you set it up by running inside effectively. I know my job is going to be to run inside the tackles. I have no problem with that, and that is what I will do."
Two days before Smith came, Parker was added to the defensive line competition. The 6-3, 274-pound defensive tackle spent the last four seasons with the Seattle Seahawks after going undrafted out of North Carolina.
Parker started all 16 games for Seattle in 2000, his first year as a full-time starter. Ironically, Parker was not brought back to Seattle after the Seahawks signed former Patriot Chad Eaton and Minnesota defensive tackle John Randle this offseason.
Hill joined New England off waivers from Buffalo June 13. Most of his three-year career was spent on special teams, where he had seven stops in eight games last season. His best year was 1999, when he made 14 special teams tackles for Miami. Hill was brought in after the Patriots lost rookie cornerback Brock Williams to a knee injury in passing camp. The third-round pick is expected to miss at least the bulk of the season, and his absence left the secondary depth a bit short.