Quality is better than quantity. That being a safe assumption, one has to wonder, then, if the Patriots free agent strategy will pay off. Bill Belichick and Scott Pioli worked the market hard as they promised they would, but did they simply come away with quantity or did they find value players on the positive side of their careers?
There is nothing wrong with paying out big money to lure a young stud player in the prime of his career as long as you pick your spots carefully and do your homework on the player's attitude and approach as well as his on the field prowess.
Generally, the biggest mistakes made in free agency are those involving once great players who moved beyond their prime, but received the massive contract based on reputation and resume. For example, it's hard to argue what Dallas and San Francisco did in signing Deion Sanders in free agency. The future Hall-of-Fame corner helped each team to a Super Bowl title. But Washington's desire to get a piece of the Deion pie last year will cost them when they finally decide to eat his contract and sever ties with the player who wasn't the same guy the Cowboys and Niners inked years earlier.
Jacksonville provides an example as well. Thinking they were close and feeling like a couple of key veteran defenders with strong resumes would get them over the top, the Jaguars went out and paid players like Bryce Paup and Hardy Nickerson only to fall short while also feeling the ramifications of salary cap manipulation.
The lesson is that unless you're signing a sure thing, then shopping for value is the way to go while developing stars through the draft. Sure, the Patriots signed a bunch of players and not all of them will work out. But the approach may be right on the money even if the players signed are not.
The prime example for the approach is the 1999 New Orleans Saints, who acquired players like Normand Hand, Joe Horn, Kevin Mathis, Jake Reed and Jeff Blake, who vastly improved their football team and helped them into the playoffs. They took a solid base that was in place and added to it with players deemed on the upswing, but who had not yet proven to be star caliber. They received great value for their money without sacrificing the future of their salary cap.
Signing offensive linemen Mike Compton and Joe Panos could work out the way the signings of Lomas Brown, Glenn Parker and Dusty Zeigler did for the Giants last year. Nobody lauded New York for those pick-ups, but those players were key contributors for the NFC Champions.
At wide receiver, the Patriots added veterans Charles Johnson, Torrance Small, Bert Emanuel and David Patten, but none received burdensome contracts while all have been contributors in the NFL. Essentially, the signings present a win-win situation for a Patriots team that still isn't championship caliber, but that needed help desperately. 
Go down the list and you find much of the same. Sure, defensive lineman Anthony Pleasant is in the twilight of his career, but the Patriots did not dole out a huge signing bonus to bring the 12-year veteran into the fold and he should help develop first-round pick Richard Seymour, who would be wise to observe veterans willing to show him the ropes.
Terrance Shaw, Antowain Smith, Larry Izzo — low risk-high reward potential. Shaw was a top-of-the-line cornerback in San Diego and earned a big contract before injuries limited him over two seasons. He is now healthy and ready to contribute. If he returns to form, he is a steal. Smith is another one who will get an opportunity to show he can be the back he was early in his Bills career or he will be gone with the Patriots no worse for the wear. Izzo is a special teamer and a character guy who filled a void this team had in that area. 
"I think that we are younger, but I also think we are more experienced," Belichick said of his team's makeup. "We have more players in the earlier parts of their careers, but guys who have still played. So I think we'll have a much more competitive camp than last year. If you remember last year when we cut down to 53, we went a couple players under that. We have tried to address every position on the roster."
No, the Patriots still did not go for the big-splash free agent, but focused on improving deficient areas (of which there are still plenty) while keeping the salary cap in check so that when the sure thing becomes available, the Patriots will finally be able to be a player in that level of the market.
The old adage that you get what you pay for isn't necessarily true in NFL economics. The Saints proved that last year as have many teams who have been burned in the market. Will the Patriots be the Saints? That's doubtful because New Orleans had other important elements in place — the biggest of which was probably an experienced, tough offensive line. It is impossible to predict how this combination of linemen will gel in New England or if Adrian Klemm and Greg Robinson-Randall can even play tackle in the league.
TERRY GLENN'S STATUS WITH the Patriots remains unchanged after his May 16 arrest for assault and battery and intimidating a witness, but there are signs that lead one to believe that his future may be elsewhere. Don't bet on that. Despite signing Johnson and Small at the wide receiver position and then withholding an incremental signing bonus payment that was due in mid-June, the Patriots may only be preparing for the ramifications involved if Glenn is found guilty or accepts any sort of plea and finds himself suspended by the NFL for violating its violent crime policy. In terms of the money, it would seem that withholding the payment in case of guilt is much easier than trying to recoup the money once it is paid out.
Glenn's failure to contact Belichick directly and apparent willingness to communicate with the team only through agent Jim Gould is remarkable. It would seem that if the player wanted to maintain a positive relationship with a team that recently awarded him with a hefty contract, he would call his boss to let him know where he stands. It is this sort of unpredictable behavior from a talented player that left the Patriots to insist on moral clauses in his contract. Glenn now stands to lose a substantial amount of money if found guilty, but also would have to answer to NFL Commissioner Paul Tagliabue. 
He certainly hasn't scored any points with Belichick, who took his shots at the sixth-year wideout on the final day of the June 5-7 mini-camp — one in which Glenn was given permission to skip and did just that.
"I know there are a lot of other players on our team that I don't think would have handled it this way," Belichick said. "I don't think he is doing himself any good. I certainly don't think he is helping himself on any front, but I think the more important issue is for him to get it resolved and hopefully that's what's happening."
Belichick also was displeased with Glenn's lack of commitment to any structured strength and conditioning offseason workouts. Glenn was working out at Ohio State and bailed on the program and, according to Belichick, did very little in New England. Glenn often returns to Ohio for much of the offseason to be with his son, but his failure to commit to the program at Ohio State will mean the return of conditioning questions once Glenn finally steps on a New England football field.
It will be interesting to see if Gould files a grievance with the NFL Players' Association on his client's behalf to receive the bonus installment that was withheld. The Patriots feel they have every right to hold back that money and without seeing the contract and/or receiving a legal interpretation, it is impossible to truly know. These sort of morality clauses, if they become trendy in the league, will surely be an issue in upcoming collective bargaining agreements. Patriots Owner Robert Kraft has suggested that money recouped for violating such clauses should go back into a pool that pays older veterans more without absorbing any additional salary cap hit. The purpose would obviously be to prevent veterans from being released solely because of the cap.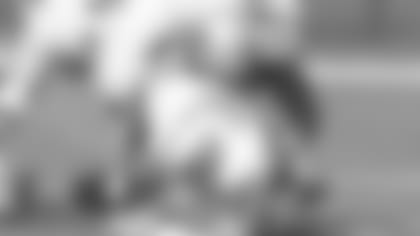 Willie McGinest's health is once again in the news, The Patriots crash end who hasn't been to a Pro Bowl since 1996 while being paid like a Pro Bowler, underwent what the team called a "minor procedure" on his back (if such a thing exists). McGinest apparently played through the back pain last year and both he and the team hoped that an offseason of rest would be enough to relieve the ailment. After the team's June mini-camp, McGinest had the surgery that will keep him out for the beginning of training camp. Belichick said he expects McGinest to be ready for the season opener, but one has to wonder if the missed time will adversely affect his conditioning and make him more susceptible to another injury once the season starts. McGinest, like Ted Johnson, can't afford another season battling injuries. This could be both players' last hurrah.
In Addition to signing Antowain Smith, Riddick Parker and Ray Hill, the Patriots made a few other minor roster moves. They released rookie free agent wide receiver Scott McCready out of South Florida and rookie free agent quarterback Ben Leard from Auburn. Also, rookie safety Hakim Akbar became the first member of the 2001 draft class to sign a contract, reportedly inking a two-year deal worth about $583,000 with bonuses totaling around $75,000. Akbar was a fifth-round pick out of Washington. As the draft picks continue to sign, expect more players to be let go as the team reaches the roster limit before training camp. The normal roster limit for camp is 80 players, but the Patriots will receiver some NFL Europe exemptions, although there seems to be some confusion as to just how many they get. At press time, there were 88 plays on the roster, but the unsigned draft picks don't count toward the limit, which is why some cuts will be made as some of those guys sign.
At press time, the only first-round pick to sign with his team was the draft's top pick, Atlanta quarterback Michael Vick, who signed a six-year deal reportedly worth about $22.5 million — an amount totally guaranteed. With some clauses, his deal could reach $62 million over eight years. All total, 80 of 114 NFC picks and 86 of 131 AFC picks remain unsigned. The only team to have signed all of its picks is Atlanta (10 of 10). Dallas, San Francisco, Tampa Bay, Cincinnati, the Jets, Oakland and Tennessee have signed none of their picks. Don't bet against a holdout in Cincinnati. Other than last year when Peter Warrick signed, the Bengals top pick always seems to hold out. If Richard Seymour is not in New England's camp on time, it would mark the second straight year a rookie wasn't signed at the start of camp (J.R. Redmond last year).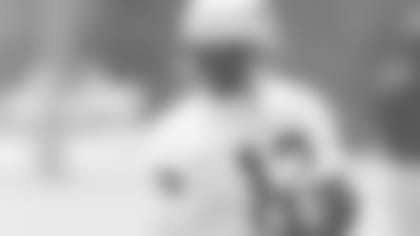 One characteristic the Patriots seemed to look for in free agency is character. Strong character appears to be a common trait among players like Charles Johnson, Torrance Small, Larry Izzo and the rest of the free agent class. The 2000 Patriots lacked that quality to a certain degree.
"Character keeps anything outside of football from being a distraction," Small said. "A lot of teams are factoring that in now because they want it to be all football."
"It's very important," added Johnson, "because it has a lot to do with continuity and unity. You get guys that generally like each other and play well together and it translates on the field. It helps guys develop trust among one another."
While Belichick wasn't overly excited about Glenn's offseason commitment, that cannot be said about most of the other players. Belichick said the participation in the 40-workout program was strong this year. "We [were] consistently over 90 percent every week and in some cases close to 100 percent," he said. "The players that [were] here [were] here very diligently." Belichick specifically named Kevin Faulk, Lawyer Milloy, J.R. Redmond, Adrian Klemm and Tom Brady.
Despite his comments regarding the hard work players put in this offseason, Belichick is all too aware of what can happen in the month-and-a-half between mini-camp and training camp. Last year, he was not pleased with the way several players reported for training camp and held some players out of a practice as a result. This year, he put an anchor in the locker room during the mini-camp to emphasize that no player should pull the team down by reporting overweight.
CMGI Field is growing out of the ground at a dizzying pace and on a recent tour of the new facility, about 20 members of the New England Patriots Alumni Club came away extremely impressed with the facility. Patriots Vice Chairman Jonathan Kraft led the tour, and the facility is going to be simply amazing compared to not only dilapidated Foxboro Stadium, but most other stadiums as well. The concessions, bathrooms, sight lines, concourses and just about everything else will make the game day experience so much better than at Foxboro Stadium, which doesn't compare with most Division I college facilities.